Windows 10: One for the suits, right Microsoft? Or so one THOUGHT
Redmond busts jarring desktop to apps break
---
Analysis Microsoft is courting corporate types with the newest version of its operating system, Windows 10.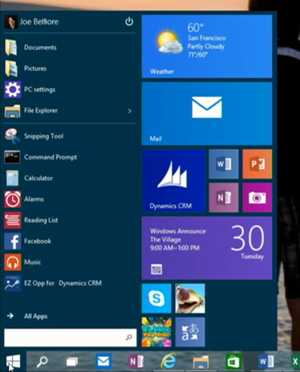 The new Start menu mixes elements similar Windows 7
with live tiles from Windows 8.
Redmond previewed an early build of the next Windows at a press event in San Francisco. The update, which skips a version number to signify a new generation of Windows, is likely to be released in the latter half of 2015. A technical preview is available for download from today, though it is not feature-complete.
The preview is supposedly aimed at enterprises, though in its press briefing Microsoft focused mainly on user interface changes. The reason, perhaps, is that most businesses have rejected Windows 8, finding little value in its chunky touchable apps, served from a neglected store, and preferring to stick with desktop applications that work just as well in Windows 7. This accounts for the conciliatory tone in the company's Windows 10 announcement. "It is our most open, collaborative OS product ever," claimed OS Group boss Terry Myerson.
In an effort to persuade users that it is worth their while to upgrade, the next Windows is intended to feel familiar for Windows 7 users, while offering useful improvements like multiple desktops. The Start menu is back, though in a new format, and the jarring transition between traditional desktop apps and touch-friendly Windows Store apps has been largely eliminated.
Store apps can run in a resizable desktop window. "The user does not need to think about how it is implemented," said VP Joe Belfiore, who admitted that in Windows 8 "we didn't quite get it right."
Death to the Windows Store app? Not quite...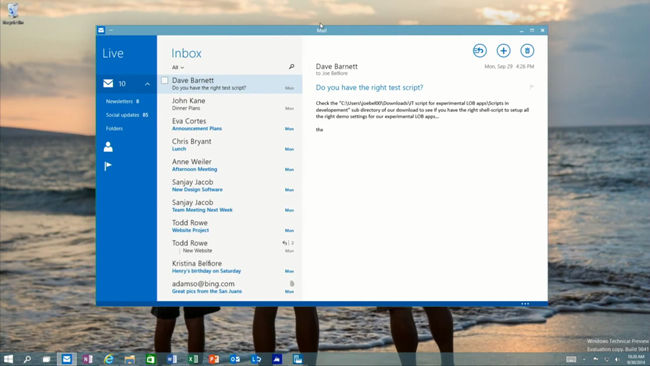 In Windows 10, Store apps run in floating windows on the desktop.
Although Windows 10 looks like a retreat from the radical reinvention in Windows 8, the core Windows Store app concept remains in place. Store apps run on a platform called the Windows Runtime, where they are isolated from each other and from the operating system, making them safer for users. They are also easily installed, updated or removed – all characteristics which are in theory attractive to businesses. Microsoft's thinking is that making these apps run seamlessly on the desktop will improve user acceptance and stimulate developer interest in the platform.
Windows 10 is also designed to adapt for tablet use. The mechanism for this is not yet fully in the preview, but the company showed a mock-up in which users can opt to enter "tablet mode," meaning the large Start screen and full-screen Store apps as in Windows 8.
Myerson also reiterated CEO Satya Nadella's claim that there will be "one Windows", across desktop, tablet, phone, Xbox One, and even "Internet of Things" devices without a screen. But is "one Windows" marketing or engineering? It is a bit of both. Desktop apps will never run on Windows Phone, nor would you want them to. The essence of "one Windows" seems to be what Microsoft calls a Universal App, which is a way of building Store apps for multiple device types, sharing code where possible. There will also be a single Windows Store covering both phone and PC, so you can buy an app once and install on both, though developers will still need to build apps separately and features may vary.
So what is new in Windows 10? The feature that will grab most attention is the revived Start menu. This has two panels, the first similar to the Start menu in Windows 7, and the second to the right displaying Live Tiles, blocky app shortcuts that can display dynamic content in the style of Windows Phone and Windows 8. You can drag a shortcut from the left panel to the right, where it becomes a tile. You can resize and reorder the tiles as required.
Nice idea; but do users actually want live tiles on their Windows desktop? The Start menu also features what Belfiore called "a simple power button" (unlike the hard to find button in Windows 8), and universal search that finds apps, settings, documents and web results in one list.