Windows 10: One for the suits, right Microsoft? Or so one THOUGHT
Redmond busts jarring desktop to apps break
---
And now for something completely ... USEFUL: Multiple virtual desktops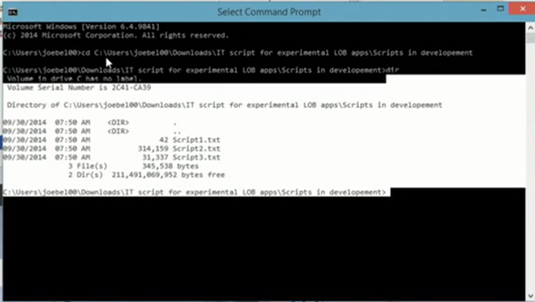 The Windows 10 command prompt has integrated clipboard support.
Another key feature is multiple virtual desktops. The engineering for multiple desktop support has been in Windows for years, but has now surfaced for the first time. Mac OS X and Linux desktops have this feature, so the puzzle is why it has taken Windows so long to catch up?
A new icon on the Windows taskbar brings up Task view, showing running applications (both desktop and Store apps) in miniature windows for easy switching or closing. Another new feature, Snap Assist, lets you easily dock or tile multiple applications, again mixing desktop and Store apps if required. The Windows 10 command prompt now supports the clipboard directly, rather than via an awkward window menu as in previous versions. Keyboard shortcuts like Ctrl-V (for paste) now work, and you can select text by holding down Shift and Ctrl (handy for more technical users).
What about those enterprise features? One is that Microsoft, according to Myerson, is expanding the scope of its mobile device management solution to include PCs and Windows tablets as well as smartphones – another aspect of "one Windows". No more details yet, but watch this space to see what that means for products like System Center and InTune (cloud-based device management).
Myerson also talked briefly about safe partitioning of personal and corporate data. Again no details, but this is likely to tie in with features of Windows Server and Windows Azure, with services such as Azure Rights Management, which attempts to protect data even if it is moved or copied.
Many questions remain unanswered, such as whether there is any future for Windows RT, the confusingly-named ARM build of Windows 8, and whether we will see larger tablets running the Windows Phone OS.
Microsoft says it will update the Windows 10 preview regularly for those who sign up for its Insider programme: see here if you are brave or curious. There will likely be a consumer-focused preview with new features in the first quarter of 2015, followed by a developer focus in April at the company's Build conference. ®