Music-mad Brits drive up hardware sales too – claims BPI
Chicken and egg - but which was first?
Amazingly, 12 per cent of British people watching TV are listening to music from another source as they watch. Or maybe that isn't so amazing. Maybe you need to play Napalm Death while watching The X Factor - and who could blame you?
Tech-mad Brits also spend more on music per head than the G7 average - but which drives which?
Since it's impossible to listen to recorded music without some kind of technology, even if it's a wax cylinder phonograph, the two advance in lockstep. Music creates a demand for gadgets on which to enjoy it. A peer-reviewed study by the BPI has had a go at unravelling the relationship – and there are a few interesting findings.
The UK spends 23 per cent more per capita than the G7 average, even more than wealthier per capita economies. Which means, amongst other things, that UK music is bigger than German music. Translated into a demand for tech, the study estimates that UK punters spent £11bn more on tech gear than they would have done if their music consumption were on a par with the G7 average spending on music.
The study was conducted by Ian Moss, ex-Treasury and an Economics PhD, and reviewed by Dr Stefano Ficco at Euro Economics, and uses modelling based on two data sets: sales of music, and sales of music-playing technology. It appears to show increased music income drives further tech sales – but the study throws in some important caveats.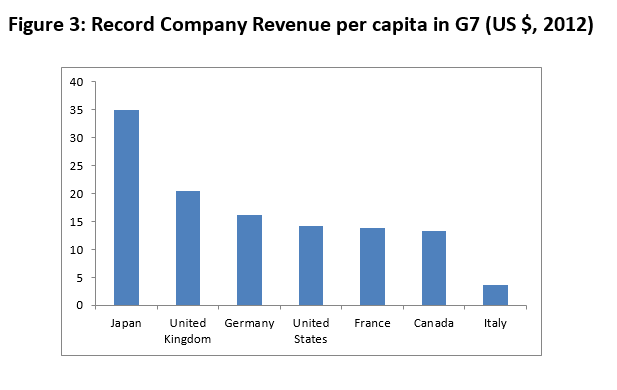 Using regression analysis, the BPI study reckons that a 1 per cent increase in music sales has a slightly negative impact on (0.1 per cent) broadband adoption and docks and wireless speakers (-1.4 per cent), but a positive impact on smartphone (+1.4 per cent) and fondleslab (+2.2 per cent) sales. Almost half of the tablet users use them for watching music videos, Ofcom found last year. Over five years, we arrive at the £11bn estimate.
Being commissioned by the BPI, the research has a point: the value of copies of music made in the cloud. As of yesterday, individual punters in the UK will get a copyright exception allowing them to make a private copy of a music CD, a privilege permitted by the EU. Google wants to be able to make industrial scale copies in the cloud for nothing. Naturally, music companies disagree. ®