This article is more than 1 year old
Blighty: Welcome your new, faceless MI6 chief – Alex Younger
Head spook enjoys: Mountains, sailing, music... and, er, MI6
Career spook Alex Younger has been named as the new head of MI6, replacing Sir John Sawers.
Before taking up his position as boss of the Secret Intelligence Service (SIS), which is more widely known as MI6, Younger oversaw its global operations. After joining in 1991, he was posted to Europe and the Middle East, before becoming the senior SIS officer in Afghanistan.
He holds an economics degree and also spent a spell in the British Armed Forces. Recently, he worked on counter terrorism in the three years running up to the Olympic Games.
In its official announcement, MI6 said, "Alex enjoys music, sailing and mountaineering," and is married with children.
We can only hope that the new C is a bit more clandestine than his predecessor, whose wife famously blew his cover by publishing a number of family photos on Facebook.
Younger said: "I am delighted and honoured to become Chief of SIS and lead one of the best intelligence agencies in the world. Our dedicated staff work tirelessly against an array of threats that this country faces. They do so in close partnership with both MI5 and GCHQ with whom I am looking forward to co-operating closely.
"I would like to pay tribute to John Sawers for his lifetime's dedication to the country and particularly to his time as C. He brought us into a new era, and I am determined to build on this and bring my ideas for a modern Service to life."
According to an unconfirmed list of MI6 agents published on Cryptome, Younger was born in 1963 and took up a post in Vienna back in 1995. He then went on to Dubai, where he was first secretary.
We are not supposed to print a picture of the new chief spook, because a D Notice has been issued calling upon the press to hold off from publishing any images of Younger.
This didn't stop the Beeb from running a picture, nor did it stop that notorious home of rabble-rousing journalism, www.gov.uk, from doing the same.
As more responsible souls, we have decided to redact the image which was carried on the BBC website.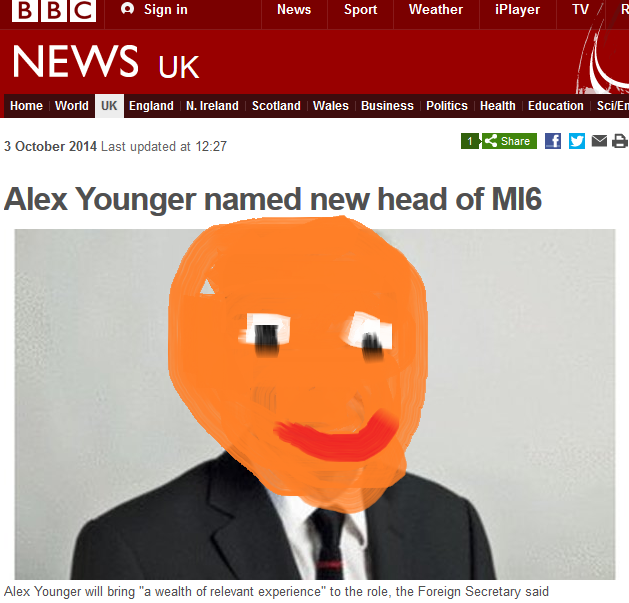 The DA committee wrote: "Although Alex Younger's appointment is now a matter of public record, DA Notice 5 asks that details of the families and home addresses of members of the intelligence agencies and any other information, including photographs, which could assist terrorist or other hostile organisations to identify a target, should not be published without first seeking DA Notice advice."
Here's what one member of the Twitterati had to say about the appointment:
New head of MI6 unveiled - a black single mum from Hackney! Only kidding - it's another middle aged white bloke with an economics degree!

— Voice of Bramley (@voiceofbramley) October 3, 2014
And this is what the chap who allegedly persuaded Brooks Newmark to flash his todger thinks about the appointment:
Love official bio of new MI6 boss: "Outside of SIS, Alex enjoys music, sailing and mountaineering." https://t.co/7UUK04Vxdg

— Alex Wickham (@WikiGuido) October 3, 2014
There's been no word on how Younger likes his Martinis. ®