This article is more than 1 year old
IBM goes gunning for Intel with Nvidia GPU-charged Power8 servers
Claims victory for OpenPower Foundation in war on 'proprietary tech'
Now that it's officially out of the x86 server biz, IBM is hitting the gas on its Power processor strategy with new Power8-based iron that incorporates GPU acceleration tech from Nvidia for the first time.
The IBM Power S824L is both the first Power server to include Nvidia Tesla GPUs and the first product to be born out of the work of the OpenPower Foundation, the ARM-like chippery consortium that Big Blue formed last year.
IBM has shipped Tesla silicon in its Intel-based System x servers in the past, but with the closing of its sale of the System x division on Wednesday, that line now belongs to Lenovo.
But never you mind, IBM says; its work with Nvidia and other OpenPower Foundation members means it can now deliver GPU acceleration in its Power servers, Intel be damned.
"The significance of this week's news is that IBM is making great strides in taking the opposite approach to the Intel way of remaining closed and proprietary, stubbornly adhering to Moore's Law with a strategy based on aging PC-era technology that ignores clients' shifting needs in the era of big data and cloud," Big Blue said in an emailed statement, ever striving not to put too fine a point on its message.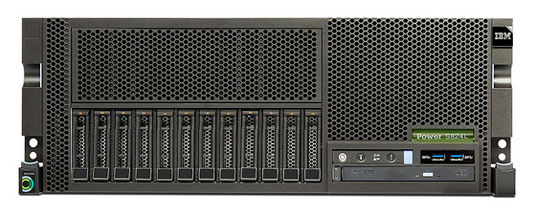 You wouldn't know it to look at it, but the latest addition to IBM's new black box is Nvidia GPU acceleration
The OpenPower effort now includes 59 members, up from the original five founders, including such firms as Altera, Canonical, Google, Hitachi, Mellanox, Samsung, Tyan, and ZTE.
IBM has been working particularly closely with Nvidia over the last year, in a partnership that Nvidia's Tesla boss Sumit Gupta has described as "the biggest technology endorsement that we've received."
The new GPU-accelerated servers are particularly handy for Big Data workloads, IBM says, by which it means not just the typical NoSQL/MapReduce jobs but also software for bioinformatics, finance, defense, and the oil and gas industry – stuff we used to know by the less-trendy term HPC.
Not that any of those applications running on the Power architecture can offload computation to GPUs today. IBM says it's working with a number of partners to deliver GPU accelerated versions of some of the most popular software for various verticals, in addition to optimizing its own products, such as the DB2 database.
It also plans to keep working with Nvidia as its exclusive partner on its GPU acceleration efforts. The next generation of Power8 servers will incorporate Nvidia's NVLink technology, which speeds up data exchange between the CPU and GPU, although those servers won't be ready until at least 2016.
The IBM Power S824L servers, on the other hand, are planned for general availability on October 31. ®