SanDisk hopes to lure in enterprise clients with a little TLC (SSD)
Sets up disk-to-flash conversion service too
Analysis SanDisk has launched its X300 3-bit per cell TLC SSD, which has neat-looking read performance – although the reported write endurance is less impressive.
The X300 comes in 128GB, 256GB, 512GB and 1TB capacity points and is classed by Sandy as a client SSD, a mainstream corporate drive, meaning it can replace business users' desktop and notebook computer disk drives. Its short life might mitigate against that. Oddly Sandy has a TLC Ultra II SSD, with similar capacity points, greatly overlapping the X300 in product and performance characteristics. Why does it have two such competing products?
Asked about this, SanDisk's Leo Huang said: "The two products are similar but cater to two separate markets, Ultra II for Retail and X300 for Commercial Business. The main difference is the value X300 brings to customers that are designing in, and also IT [which requires] a notification for any changes that occur during the life cycle of the product. Examples would be different DRAM, FW (firmware), capacitors, housing [which] would require SanDisk to notify them 60 days prior ... For Ultra II, which is a consumer drive, we may change NAND, FW, capacitors and housing at any given time so long as it meets the specifications we have published."
The X300 SSD comes in 2.5-inch 7mm, M.2 2280, and mSATA form factors, and uses 1Ynm NAND, meaning, we understand a sub-20nm cell size, probably around 19nm, as other SanDisk SSDS are built with 19nm flash.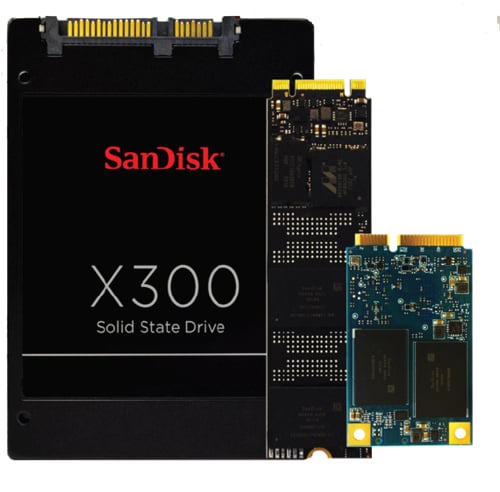 SanDisk X300 SSDs
The X300 features:
nCache 2.0, which uses a combination of SLC and TLC flash blocks to improve endurance, increase efficiency, and boost performance. By writing all the data to SLC blocks first, the write amplification on the TLC blocks is decreased.
On Chip Copy (OCC) mechanism, which independently copies the SLC cache blocks into the TLC blocks in main storage, thus offloading the burden from the controller and DDR resources. This leaves the controller and DRAM cache free for other tasks.
On-the-fly error handling mechanism called Multi-Page Recovery (MPR), which uses page-level striping with distributed parity for an added layer of data protection that recovers errors other traditional error correction mechanisms do not.
Improved cost structure - meaning it's comparatively cheap.
The X300 has an SLC (fast 1-bit per cell flash) caching scheme in front of the banks of TLC NAND. All incoming data is written to the SLC first, and then, once the three blocks fill, they are written to one block of TLC, reducing the TLC block write burden.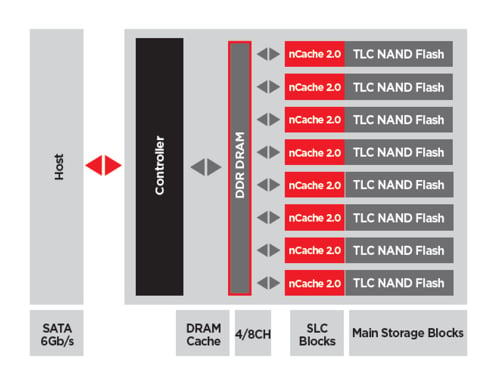 X300 SSD schematic
SanDisk bundles software in with the X300:
Downloadable Dashboard application, with tools for drive performance and health monitoring, manual or scheduled TRIM, notifications for firmware updates, and tips on how to maintain the drive at its peak operation.
Dashboard has life-remaining chart.
Apricorn EZ Gig IV cloning software to create an exact replica of a disk drive onto the X300 SSD in three steps, with no need to re-install the operating system or app programs and settings.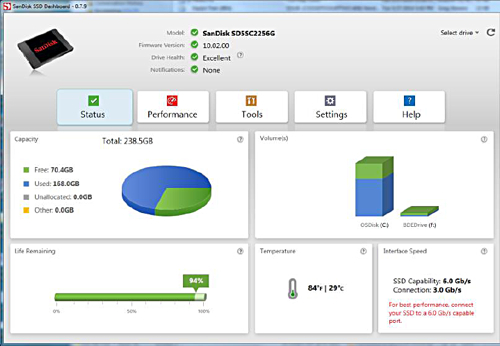 SanDisk X300 SSD dashboard
Endurance
The effect of the nCache write reduction is, in endurance terms, not that great. In fact, coming from the MLC flash world, where endurance is measured in full drive writes/day for five years, the X300's life is surprisingly short: 80TB written over the life of the 256GB, 512GB and 1TB models, and something over 72TB for the 128GB product.
The 1TB version will last 80 days after purchase if you write 1TB/day to it – although, as the firm points out, the average customer writes just 8GB per day – with the other capacity points lasting proportionately longer: 160 days at 512GB/day for the 512GB product, 320 days for the 256GB model at 256GB/day, almost a year, and 562 days for the 128GB model at 128GB/day.
This fall-off in endurance as capacity rises suggests that the amount of compensatory over-provisioning falls as the capacity rises. Why?
Huang said: "All of our client drives are tested to meet a certain endurance for 'client usage'. Just like [the] competition's client drives which are rated flat across their capacities. This is not due to hardware limitations but the fact that endurance testing takes up time and resources. To test for 80TBW (terabytes written) per model requires roughly two months. 80TBW for client usage equals 44GB/writes per day for five years. This is enough for client usage as, through our analysis, the average consumer writes 8GB per day."
Samsung comparison
Samsung has a PM835T SSD using TLC flash and topping out at 960GB, more or less identical to the X300. If we compare the Sandy and Sammy TLC SSDs in performance terms this is what we get:

The two SanDisk TLC SSDs have quite similar performance numbers, with the Ultra II being slightly faster on all counts.
Regarding the X300 and Sammy's PM835T, the random read IOPS (90,000) and sequential read bandwidth (530MB/sec) are identical. After that they diverge. The Sammy device's random write speed is a mere 14,000 IOPS, though that is a sustained number, with the X300 achieving 74,000. Sequential write bandwidth is 420MB/sec for Sammy and 470MB/sec for Sandy; pretty similar.
Both devices are optimised for reading with writing taking a backseat, further back in Sammy's case.
In general, all the TLC SSDs are built for reading data fast and not writing it as quickly.
We don't have endurance numbers for Sammy's TLC product.
Business conversion service
SanDisk has set up a disk-to-flash conversion service for the mass conversion of business desktops and notebooks to using X300 SSDs, STAR (SanDisk Tech Assisted Refresh).
It says STAR "relieves IT departments of having to manage all aspects of upgrading corporate laptops such as endpoint inventory analysis, employee service scheduling, system upgrades, data migration, daily progress reporting, post-upgrade analysis and support."
Within the STAR program, laptop disk-stored data is migrated to the X300s by SanDisk specialists.
Get an X300 datasheet here (PDF) and information on STAR here. The X300 will be available in October. ®