This article is more than 1 year old
Hiss-hiss! GIGANTIC SOLAR FILAMENT snakes around Sun
Burning beast is 100 times the size of Earth when unfurled
Pic NASA boffins have observed a massive filament of solar material snaking around the Sun.
When fully extended the scientists believe that the filament – a cloud of stuff suspended above the fiery star by "powerful magnetic forces" – would measure some one million miles across from end to end.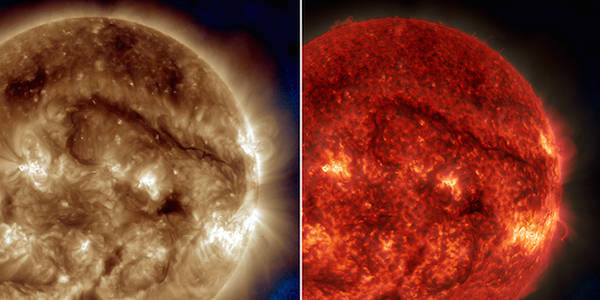 Solar filament (dark thread upper right of pics) captured in different wavelengths.
Image credit: NASA/SDO
That's about 100 times the size of Earth, fact fans.
The US space agency's Solar Dynamics Observatory (SDO) spotted the thread-like object on 30 September and witnessed it rotating around the Sun for several days.
"SDO captured images of the filament in numerous wavelengths, each of which helps highlight material of different temperatures on the sun," said NASA.
"By looking at any solar feature in different wavelengths and temperatures, scientists can learn more about what causes such structures, as well as what catalyses their occasional giant eruptions out into space." ®