Adobe unveils mobile app Cloud Atlas
Takes Creative Cloud to the MAX
Max 2014 Adobe's Creative Cloud obsession hasn't won over all its users, especially those with memories that stretch back as far as May this year when Adobe ID login credentials were refused in most parts of the globe. Yet the graphics behemoth has been busy joining the dots to make its Creative Cloud platform appear alluring to anyone with artistic flair and an internet connection.
At the MAX 2014 event today, Adobe takes the covers off even more mobile apps. Back in June, we had a sneak peek of what was to come with the arrival of Sketch and Line, for stylised illustration and precision drawing respectively. Now, the company has a complete suite of mobile apps to reflect its product portfolio, which involves a bit of renaming.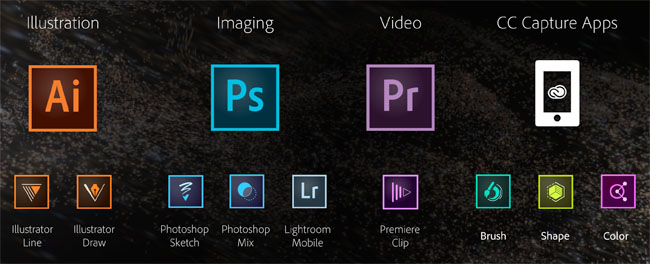 Adobe's new Mobile Canvas family of apps
Line becomes Illustrator Line and is accompanied by Illustrator Draw, formerly Adobe Ideas.
Anything created using these apps on an iPad can be delivered complete with their vector graphics paths to the desktop versions for additional editing – which is the whole idea behind this expanding ecosystem. Knock something up on the go and polish it later, all with a seamless cloud connection. Well, that's the theory.
Sketch is now Photoshop Sketch and Photoshop Mix has been overhauled to deliver better colour and font consistency with improved compositing functions as well as having an iPhone version for the first time.
Lightroom Mobile gets a few tweaks too, so Lightroom web gallery comments and favourites can be viewed from the app and GPS information from iPhone snaps are synced up to the desktop version.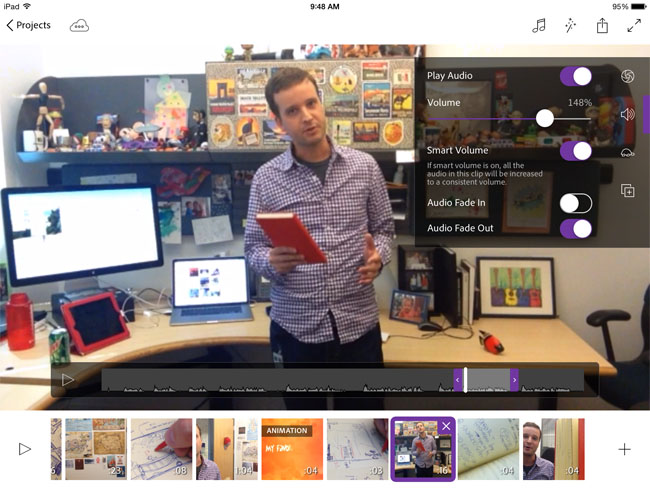 Timeline trimming in Adobe Premier Clip with audio tweaks on show
Where things get a bit more interesting is with the arrival of Adobe Premier Clip. Given that Apple has had iMovie on the iPhone since June 2010, Adobe is embarrassingly late to the party here. That said, since all these Creative Cloud mobile apps are free (desktop dependencies notwithstanding), budding videographers can at least have a stab at tidying up their content before sharing it with all and sundry.
Video professionals will be probably be pleased and dismayed in equal measure to discover that, thanks to Adobe Creative Cloud, Premier Clip allows content to be available to the desktop version for further tweaks. Editors, prepare to be deluged with iPhone 6 time-lapse footage showing not a lot going on other than somewhere pretty getting darker.
Still, capture of a different kind is where Adobe is excelling with some rather interesting new apps. OK, so Kuler, the photo colour-matching app, is now Color – but joining it in the new CC Capture Apps camp are Brush and Shape.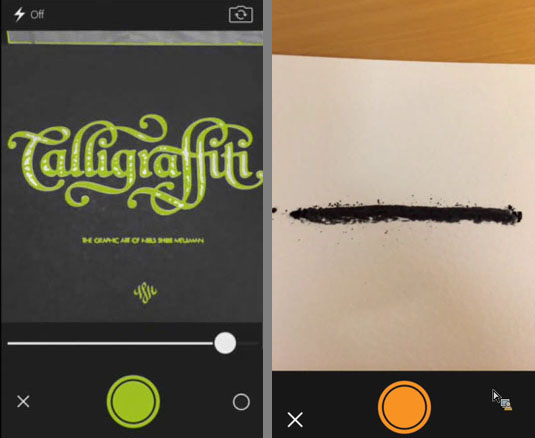 Capture apps Shape and Brush at work
With Brush, you can take a photo of anything but ideally a pattern or a rather more organic line – at the pre-briefing Adobe demo'd with a streak of charcoal – and that shape and texture become the template for a line that you draw. The pattern continuously flows seamlessly and can appear authentic, in the case of the charcoal, or curious and eye-catching with other shapes.
Adobe Shape is destined to be the designer's new best friend as it can turn shapes in any photo into vector graphics. The demo was impressively simple – take a snap of of logo, transform it using Shape and then resize and position it as desired in the project artwork.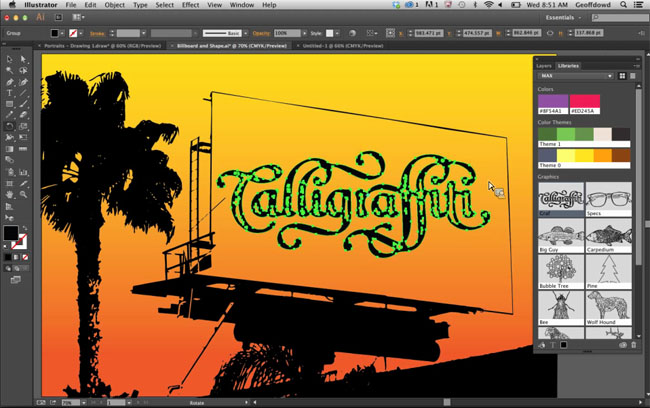 Adobe Shape vector art being positioned on the desktop app
Many of the features of these Creative Cloud mobile apps will be accessible to third party developers through the Adobe Creative SDK, which goes public today and is available for iOS here. The company is also making an Android version available on request, but for the time being at least, the roster of Cloud Connect mobile apps is iOS only.
The Creative Cloud desktop apps also receive enhancements but you can find out more about those optimisations from the MAX 2014 Keynote that kicks off live at 5.30PM BST here. ®