This article is more than 1 year old
Nokia Lumia 735: Ignore the selfie hype, it's a grown-up phone
Microsoft gets (almost) everything right in upgrade
Button it
The hardware has only one drawback — the inexplicable omission of a camera button. Given that Lumia owners can quickly wake their devices and bypass the screen lock using the camera button when they want to take a photo, and given the fact these are two nice cameras, forcing the user to use the software alternative is hard to understand.
You must now unlock the device, paw your way around until you find either the pull down camera shortcut, or the tile for a camera app. At the very least, there should be a lock screen gesture to unlock the device quickly to take a photo. Most 'Droids have this today.
Denim also brought an unwelcome and unexpected surprise. This year's budget Lumia models dispensed with the dedicated Navigation bar buttons (back, start and Bing), placing these on the display instead. It works pretty well when you can see them, but that's not always the case. Android permitted this change a while back, and many phone makers took advantage of it. For some reason, my retail box 735 hid this Navigation Bar by default, only rematerialising it when it thinks you need it. This will confuse the crap out of some new users. I'll give you an example.
The back key isn't just for returning to a previous application, it's the system's universal cancel button — a vital navigation tool. In many situations, if the back key is hidden, it isn't clear what to do. For example, if you decide to crop a photo, with the navigation bar hidden, there's only an "accept this crop" tick box shown to the user on the screen.
Turning the bar back on to show itself permanently wasn't too hard (just scroll down to Item No.31 in the Settings list, and you'll find it – easy!) but I do hope this policy is reversed. Older users may also regret the inability to use the phone in the old two column view – it uses three column view by default (meaning smaller tile text) and it isn't possible to reset it to a two column view, an accessibility snafu.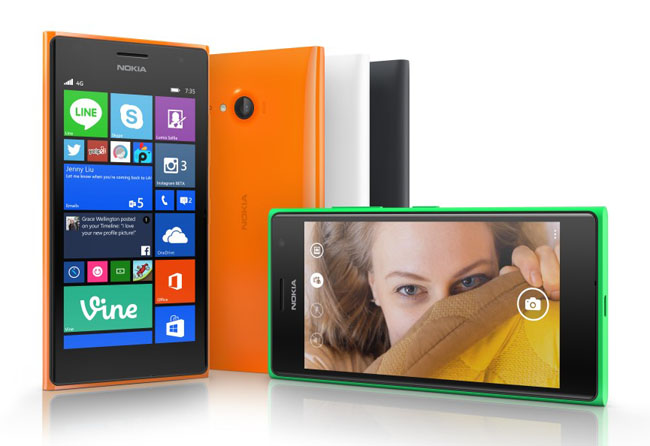 Selfie obsessed? There's more to the Lumia 735 than being the Narcissist's Nokia
What else? It comes in white, black, lurid green and orange, and I'd prefer a matte finish to the glossy on my orange review model. But now I'm carping. In fact, I might start a carp farm.
The Reg Verdict
Aside these two carps, and the inexcusable system crash, it's hard to find fault with a phone which offers so much in such an attractive package. It's a pity that the marketing is so niche and consumer-centric, ("great for selfies"), as it has much broader appeal.
Enterprise buyers who've settled on Windows Phone, and who are looking for a good, low cost, and reasonably future-proofed fleet phone should take this very seriously. The Lumia 730 and 735 are now available, the 4G Lumia 735 for £199.95 SIM free at Carphone Warehouse and on contracts under £20, which is very good value. If you see it slip to £150, bite the proverbial hand off.®

Nokia Lumia 735: Ignore the selfie hype, it's a grown-up phone
Quad-core 1.2GHz Snapdragon 400 Windows Phone with 1GB of RAM, 8GB internal storage and a 4.7in 1280 x 720-pixel, 316PPI OLED display.