This article is more than 1 year old
Moneymen dash to hand cash to storage upstarts
In pursuit of high-growth investment
Comment There has been a sudden rush of venture capital cash to storage startups as mainstream vendors respond to the upstarts' products and squeeze their growth window.
The backing VCs want fast growth to IPO level run rate revenues so they can get their exit before the startup's growth fizzles out.
Only last year, storage startups looked to need high double-digit millions of funding totals before they went through an IPO. Nimble Storage went public in December last year, having taken in a total of £98m in funding. Now it appears that triple-digit millions are needed, with Pure Storage's total now at $470m.
Here's a table showing startup funding rounds: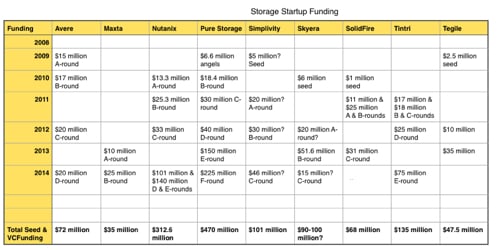 Click this table to get a larger version
Two notes. First, this table isn't anywhere exhaustive: Coraid, Kaminario, Nexenta and a lot of others are not included - yet. Secondly, we know Simplivity has taken in $101m funding in three rounds following seed funding, but we don't know the funding amounts in any one round nor the round's dates. So we've guesstimated it.
That said, let's look at some the entries.
Nutanix and Pure Storage have amassed growth war chests of $312.6m and $470m respectively, with Simplivity at $101m and Tintri at $135m. The sub $100m amounts raised by Avere, SolidFire and Tegile make them look possibly under-funded in comparison.
The two rounds this year for Nutanix, giving it an extra $241m on top of its previous $71.6m make it seem as if the exec management and backers decided on a massive and fast expansion of its infrastructure so that it could grow its revenues up towards a $200m/year run rate and so justify a billion dollar-plus IPO.
Pure Storage's $470m is easier to understand. It sells into enterprises and all the mainstream enterprise storage suppliers are competing strongly with all-flash array products of their own: Dell, EMC, Fujitsu, HDS, HP, IBM, NetApp – oh, and best not forget Cisco with its Invicta products, plus Violin.
Pure Storage has perhaps just two years in which to establish itself as a sustainable and growing business, penetrating the mainstreamer's customer bases and getting repeat business before the door is slammed shut. It's just got to get competitor-beating technology into the market and grow a serious and consistently high-performing channel.
SolidFire sells to cloud service providers with its arrays that scale out to 100 nodes and have guaranteed quality of service for multiple tenants. It also sells top enterprise private cloud buyers who need the same things. Is this market differentiation enough or will more backing be needed too?
Maxta is still developing, having received $35m in two rounds. We'd guess it'll need a $60-80m C-round to keep on growing and hold its own. Tegile will also need more cash.
Are some of these companies simply growing fast but with no realistic hope of profitability? Time will tell. If total funding for any of these startups rises above $500m, then people will surely ask if an investment bubble is blowing up, with a crashing deflation in investment valuations in possible prospect.
We're witnessing a high stakes poker game between players with hugely deep pockets. Not everyone will win and the losers will be ground out of existence by the remorseless super well-funded startups with business models and technologies that take them to and through IPOs (or acquisitions). ®