FireEye, Singtel pull on SOCs in Sydney and Singapore
CEO DeWalt labels rivals' security outposts more schlock than SOC
Telco and security giants SingTel and FireEye have injected $US50 million to establish two security operations centres (SOCs) in Sydney and Singapore as part of a new deal between the two companies to offer managed security services.
The SOCs will run out of SingTel's network operation centre (NOCs) to leverage the telcos' existing intelligence.
Some 150 security professionals, including malware researchers and incident responders, will be employed evenly between the two SOCs and trained from staff already running FireEye SOCs in California and Virginia.
FireEye chief executive officer David DeWalt said at a press meeting in Washington that the SOCs proactively sought malware as opposed to rivals McAfee and Symantec which monitored alerts.
"By leveraging all virtual machines and all intelligence including all the broadband information that SingTel offers we have point intelligence [to] proactively fix the threat," DeWalt told journalists at the MIRCon conference in Washington today.
"Symantec, McAfee, IBM and others who have developed MSPs (managed security provider) are very reactive, very alert based, and have very difficult times understanding what's a true problem versus a false problem."
DeWalt left McAfee as chief executive in 2011 after Intel purchased the firm for $7.7 billion.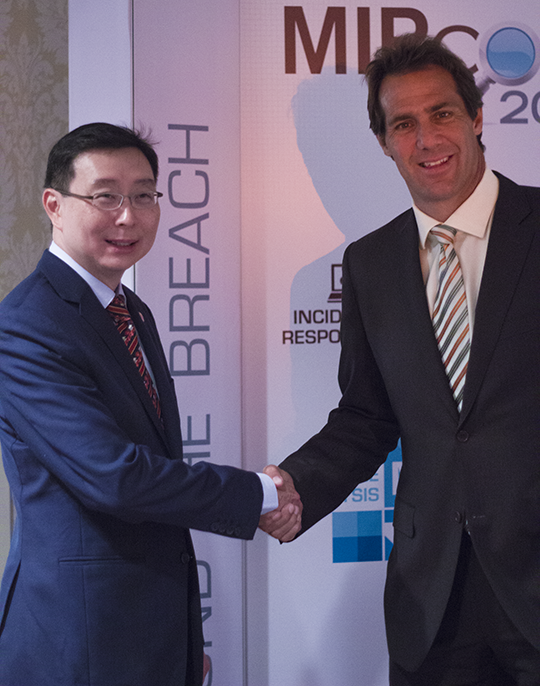 SingTel boss Bill Chang with FireEye's David DeWalt
The SOCs, dubbed Advanced Security Operations Centres by the company, were SingTel's first managed security service offering and would complete a follow-the-sun security service for FireEye. Intelligence from FireEye and SingTel would power the SOCs.
SingTel group enterprise chief executive Bill Chang said $50 million was invested over five years and said local enterprises, banks, and government agencies have shown interest.
"They have not been signed up but have demonstrated keen interest - these are enterprises and multinational corporates in Australia and Singapore," Chang said.
He said the task of recruiting security talent would be a challenge due to a skills shortage.
The execs cited statistics from a recent FireEye report which found 97 percent of surveyed organisations had been compromised from attacks ranging from sophisticated hacks to anyone-can-play distributed denial of service.
FireEye was currently watching a whopping 60 million command and control servers across 204 countries. ®
Darren Pauli travelled to Washington DC as a guest of FireEye.