This article is more than 1 year old
Nvidia's screaming new Maxwell GPUs bring 4K gaming to notebooks
What ... you mean your notebook doesn't have a 4K screen?
Nvidia took wraps off the latest in its line of dedicated notebook GPUs on Tuesday, ones it says can deliver near-desktop performance in a portable form factor.
Like some of the earlier GeForce 800M series, the new GeForce GTX 970M and GeForce GTX 980M cards are based on Nvidia's Maxwell architecture. But while Maxwell was reserved for the lower end of the 800M series, Nvidia says the 900M series chips can beat all comers, offering fully 80 per cent of the performance of the equivalent desktop GPUs.
"It's an astonishing achievement when you compare the thermal and power differences in a desktop tower and a notebook chassis," the company trumpeted in a blog post.
The top-end GeForce GTX 980M, in particular, is certainly a beast. It packs a whopping 1,280 Maxwell CUDA cores into one chip, clocked at a boostable 1038MHz. Couple that with a 256-bit GDDR5 memory interface running at 2500MHz and you're talking about serious pixel pushing.
The GeForce GTX 970M isn't quite as formidable, with 1,280 CUDA cores clocked at 924MHz, also boostable. The memory interface isn't as wide, either, at 192 bits, but it can still move 120GB per second, compared to the GTX 980M's 160GB per second.
Whichever one you choose, Nvidia says these new cards deliver double the performance of the first generation of notebook GPUs based on its earlier Kepler architecture.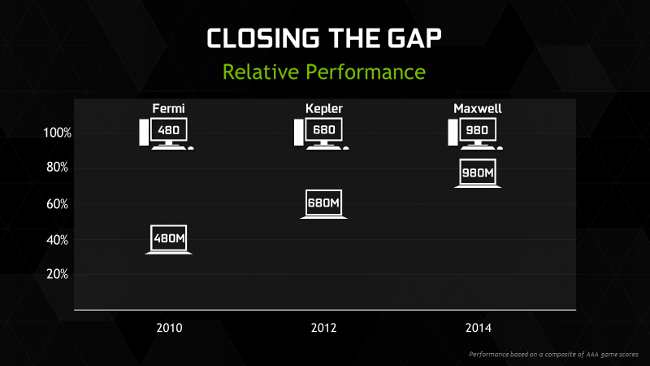 Nvidia says its latest mobile GPUs deliver almost the same performance as their desktop cousins
"Video card killer" games like Battlefield 4 and Metro: Last Light can run on the new cards on ultra settings at resolutions of 2,500-by-1,400 and higher, the company claims, and less graphics intensive games can render at 4K resolutions or higher.
But hang on, you say, aren't these notebook GPUs? Laptops don't come with 4K screens – not yet, anyway. And that's true enough, but Nvidia's Dynamic Super Resolution (DSR) tech allows the cards to render frames at high resolutions and then scale them back down to the actual resolution of your screen, which the company says delivers a higher-quality image than you'd get if it just rendered to native resolution.
The GTX 970M and GTX 980M also benefit from the various features of Nvidia's desktop Maxwell cards, including multi-frame anti-aliasing and voxel-based global illumination (VXGI) – the latter tech having recently been used to "prove" the Apollo lunar landing wasn't faked.
Nvidia says its OEM partners – including Asus, Gigabyte, and MSI, among others – have already cooked up over a dozen systems using the new cards, and while actual shipping dates will vary, more are on the way. ®