An EMC-HP Borg cube will totally ANNIHILATE its storage worlds
Why overlapping kit from a merger equals a disaster in waiting
Comment Suppose EMC and HP merged: the result would be an outrageous nightmare of overlapping storage products. Managers would run screaming into the darkness, and bean counters would spend millions converging products. It's a no-go area, really.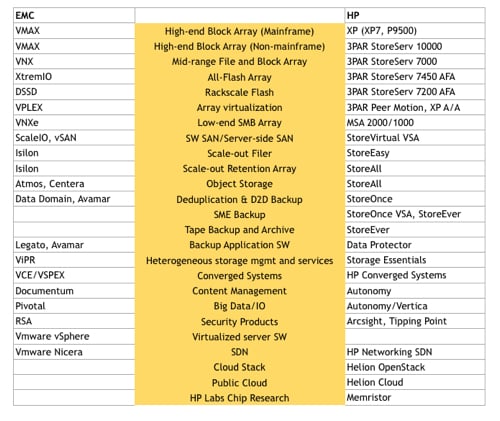 A quick and dirty look at HP and EMC storage products
Companies merge to make a stronger entity, not to screw up good product lines with a competing morass of misaligned offerings. Were EMC and HP to merge or one to take over the other, the result for storage would be a disaster.
Let's quickly list the two companies' main products; this is not meant to be exhaustive, by the way, but it's certainly good enough to indicate the horrendous outcome of any attempt to blend it all together.
Forget turtles, it's overlap all the way down. Let's roundup what competes with what:
VMAX high-end block array competes with HP's XP7, OEM'd from Hitachi
VNX mid-range file and blocker matches 3PAR, HP's StoreServ, and legacy EVA
XtremIO all-flash array matches 3PAR 7450 but with different architecture and design point
Isilon scale-out filer matches the StoreEver offering
Atmos (and Centera) matches HP's StoreAll which is nowhere in objectsville
ViPR is lacking any software equivalent in HPM
VPLEX ditto
Data Domain and Avamar match HP's StoreOnce and simply blows it out of the water in market success terms
VCE/VSPEX brings in a Cisco partnership, Cisco being HP's main networking competition – nuff said
Documentum has a slight overlap with Autonomy
ScaleIO's server-side SAN matches HP's StoreVirtual
Here's some areas where they don't overlap much, if at all:
EMC has VMware, the jewel in the crown of server virtualization
VCE – EMC's converged system partnership with Cisco and VMware
DSSD rack-scale flash array technology has no obvious HP equivalent
EMC has its Data Protection Suite which we think HP could use
EMC thinks tape sucks while HP is in the LTO consortium for tape archive and residual backup. HP has LTO libraries, and has DATA tape for SME backup
EMC has no public cloud offering while HP has Helion
EMC has no chip-level research while HP has Memristor
EMC has RSA which HP could use
EMC's Pivotal is a full-stack offering against which HP only has some component competition
Basically, HP could use VMware but EMC wants tape like it wants a hole in the head. The storage kingpin could use Autonomy and could definitely use HP servers and networking, probably at the expense of killing off the Cisco relationship.
But, from EMC's view, HP storage is a wash; it would have to junk the lot, apart from odd technology bits, as converging things like VNX and 3PAR would be a total and utter clusterfuck. There would be nuclear warfare at the product exec level.
If that wasn't enough, making sense of Centera, Atmos, ViPR and StoreAll object storage would need a genius. Like, really, just junk the HP products; it's the simplest and kindest thing to do as they would instantly become the walking dead in EMC execs' eyes.
From HP's point of view, some of EMC's storage may seem technically backward but, oh boy, just remember how EMC's sales reps and channel can sell (and the marketing's not bad either).
If HP and EMC joined there would be a massive and enduring cultural clash at the executive level that would make Symantec's purchase of Veritas a love-in instead of the now permanently present break-up option it constitutes. There would be an irreconcilable and long-lasting contest between HP and EMC bosses for control of the merged company and its destiny.
With this in mind, anyone who still thinks merging EMC and HP storage as if one plus one would equal three or five, or whatever, needs help. Serious help. It's fantasy that would result in blood on the storage streets. Don't even go there. ®