This article is more than 1 year old
UPGRADE your CHILDREN with KANO: All you need in one box
Open up, write game, play game. Simples!
Make it as "simple and fun as Lego"; that was the request of the six-year-old who inspired the Kano project – a computer and coding kit for all ages which has now gone on sale for £99.99. It follows a highly successful Kickstarter campaign that began back in November 2013 and closed with over $1.5m in its coffers, including a handout from Apple co-founder Steve Wozniak.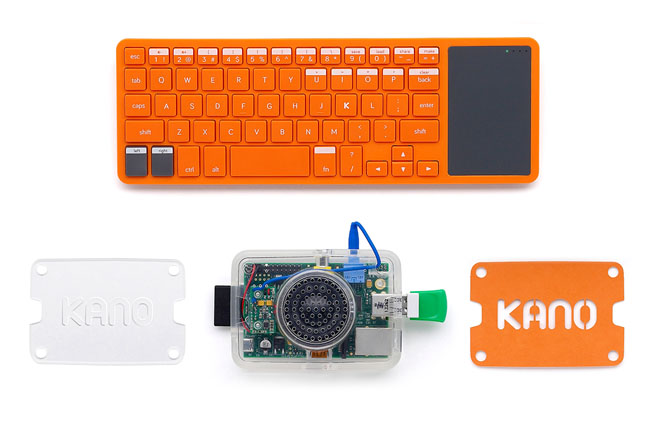 What next? The smartphone construction kit?
Kano sees the Raspberry Pi Model B take care of the computing hardware side of the kit which also features a bright orange Kano Bluetooth and RF wireless keyboard with a multi-touch trackpad. The layout is also suitable for gaming; a surefire way to keep the kids playing with the set-up. There's a DIY speaker too, a custom case plus various card mods, stencils and stickers, all fun computer building stuff to appeal to the wee ones.
Alas, no monitor is supplied but you do get an HDMI cable and mini USB cable together with a Wi-Fi dongle and a multi-region smart power plug.
That's the toys taken care of, what about the software?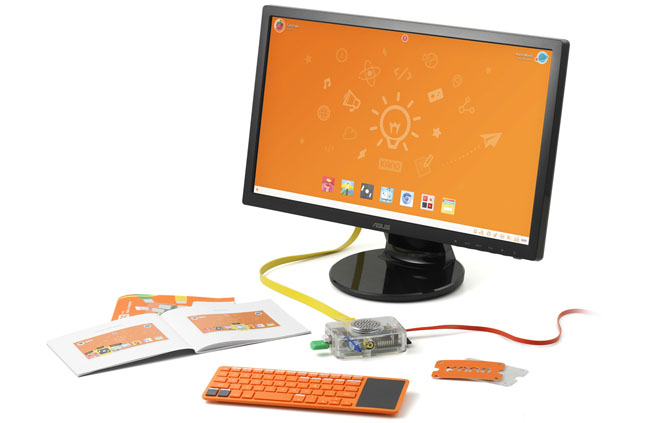 Monitor not included, but you do get all the cables
Kano OS, based on Debian Linux, is supplied on an 8GB SD card with the coding-for-kids aspect relying on Kano Blocks, a visual programming language that can output to JavaScript, Python and more. The youngsters can experiment on games such as Pong and Minecraft and can have a stab at synth music composition and video streaming, too.
Naturally there's some instruction along the way, with Kano Books providing plenty of illustrations to take the pain out of reading a dreary manual. Instead it offers an engaging and intuitive approach to the various out-of-the-box projects.
Official Kano promotional video titled "How to make a computer in 107 seconds"
The site says "ships free to most countries" but evidently those of us in Blighty are not in that orb, as you'll need to find another £4.99 on top of the kit price of £99.99. Still, if it means our computing future won't be blighted by BASH bugs and other nasties, it's a small price to pay. More from Kano here. ®