This article is more than 1 year old
Vulture takes BlackBerry's Passport through customs
Anything to declare?
Review Absent for almost a year, BlackBerry has returned to the fray with the striking Passport, an updated OS and Blend – a secure desktop companion for the phone.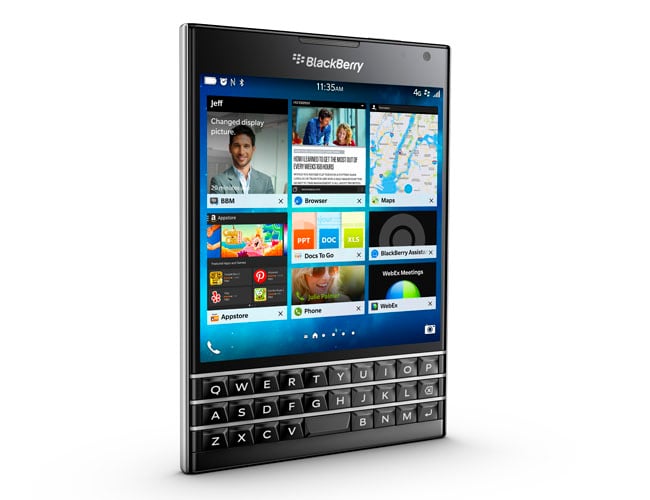 Daring to be different: BlackBerry's Passport
There are two distinguishing features in this device: first, its display is square and very wide. Secondly, it has a capacitive physical keyboard. The questions are: is the square form factor more than a novelty? Does the new keyboard really improve the typing experience? Is a wide heavy device comfortable in practice, and if not, is it worth it? Or will it be remembered as piss-take fodder?
When I first glimpsed a photo of the BlackBerry Passport, I assumed it was a mock-up from a deranged BlackBerry fanboi (the web is full of such wacky Photoshop renders). BlackBerry had purportedly revisited the iconic keyboard that gave its devices (and eventually the company) its name. But this image had to be a fake: why only three rows with 31 keys? The Bold had four rows of 35 keys, plus the four making up the "toolbelt".
Word quickly got out that it was no mock-up – but even more unusual is it being the first QWERTY device with a hybrid capacitive touch/physical design, allowing multitouch gestures across those physical keys. And it is this feature, rather than its striking shape, which is the most interesting thing about the Passport.
The idea is that your hands don't leave the physical keyboard when editing or manipulating text, and they shouldn't stray far from that keyboard when performing common tasks. So you can swipe to scroll and edit: swipe left to delete a word, double-tap the keyboard area to bring up a "edit bubble", and then swipe the QWERTY to move it around. You should also be able to swipe through long emails or web pages without your finger leaving the keyboard.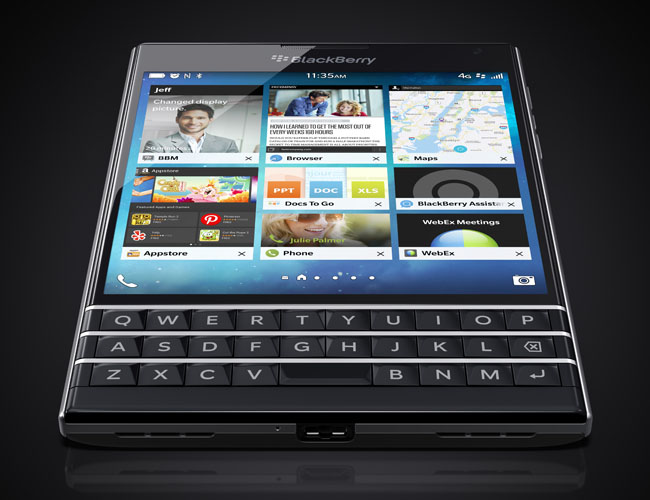 Three rows and just 31 keys – so where's Shift and Fn?
A QWERTY keyboard isn't going to increase raw character input – today's glass keyboards squirt the letters into the device faster than almost anyone can type on physical keys. But those aren't always accurate, and the typo tree still needs to be fixed; the idea is that you gain on accuracy and post-entry processing what you lose on raw QWERTY speed.
But do you? We'll see. First we need to talk about the width.
In my initial hands-on, I described the Passport as "weirdly larger and smaller than you think". With a 4.5-inch diagonal display, it's shorter than today's Android flagships, such as the Motorola X (2014) (5.54 inches/140.8mm tall), the Galaxy S5 (5.59 inches/142mm tall) and the Sony Xperia Z3 (5.75 inches/146mm tall). This is a shorty, at 5.04 inches – or to put it another way, it measures up at 128mm x 90mm x 9mm.
However, the BlackBerry Passport is almost 2cm or 25 per cent wider, and it's also heavier than these flagships, at 196g. Still these comparisons don't tell the full story, because the Passport is distributing its mass over an outstretched hand. In one-handed use, that hand is trying not to drop it on the floor, so it feels far heavier than the raw numbers suggest.
A clenched hand conducts the weight down through the wrist far more comfortably than an open hand which is struggling to grip and balance a heavy, wide and flat object. So while a phablet (take the 306g Galaxy Tab 3) is half as heavy again, nobody tries to balance and use one like a phone – they're invariably gripping it like an iPad with one hand holding and the other swiping.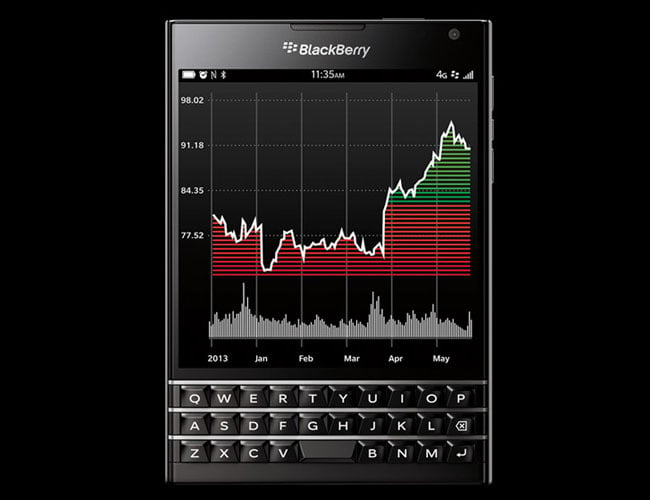 Short and light but a bit of a wide boy
There's no getting away from it – even though the Passport is 33 per cent lighter and two inches shorter than a typical 7-inch phablet – this new BlackBerry is a really cumbersome beast. In the hand, it's far more assertive than those numbers suggest. Although you can wrap your fingers round it and reach the power key and volume keys, you can't do much more than scroll one-handed, as a thumb barely reaches halfway across the screen.