This article is more than 1 year old
Lenovo Yoga 3 Pro Ultrabook flexes new 'Watchband' BENDO hinges
The world's 'thinnest convertible laptop'
Pics Lenovo unveiled the latest additions to its Yoga range in London yesterday, including new tablets ( ascovered earlier by El Reg, plus one with a built-in projector) – and a revamped Ultrabook, the Yoga 3 Pro.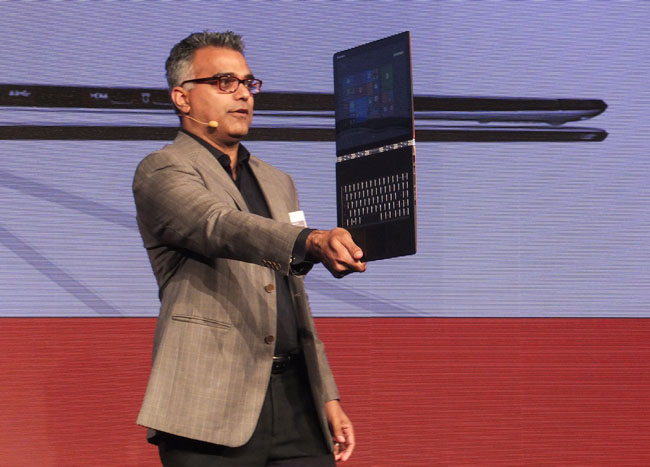 Dilip Bhatia VP, Marketing & Design, PC Group shows off the Lenovo Yoga 3 Pro
The Pro side of things flags up that this isn't the family-friendly Yoga 11-inch laptop with its keen price and low spec, but the ThinkPad version with a very different spec indeed.
The Yoga Pro 3 is more than just a refresh from its highly regarded predecessor as the hinge design has been rethought. Described as a "watchband" assembly, this attractive and intricate six hinge design enables the Yoga 3 Pro to become even thinner than previous models, at just 12.8mm. The world's thinnest convertible laptop? Lenovo seems to think so.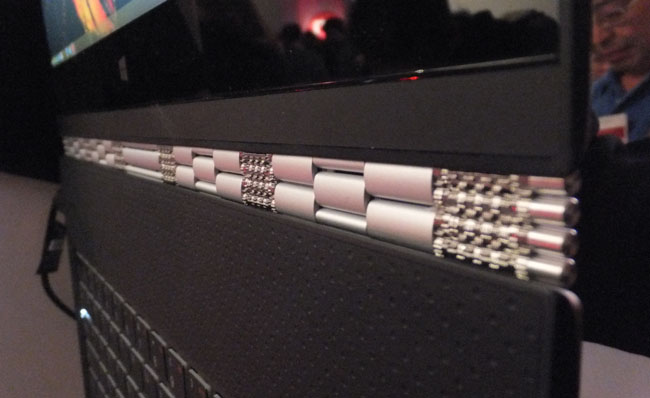 The "watchstrap" hinge is made up of 800 individual pieces
The Pro 3 does all the usual Yoga tricks: the screen can fold back on itself slightly for presentation or tent modes, or all the way back for tablet mode. Lie it flat (corpse mode?) and the engineering of the hinge means it barely shows itself in profile. There are no odd bulges here.
OK, so Lenovo is stuck on the Yoga idea of versatile operation and people seem to like it, but the Yoga 3 Pro is more than a pretty design revamp. Inside is the latest Intel Broadwell Core M-5Y70 processor. It's a dual-core 1.1GHz chip with integrated Intel HD Graphics 5300. Although Intel supports up to 16GB of RAM with the Core M-5Y70, Lenovo is only offering this model with a maximum of 8GB.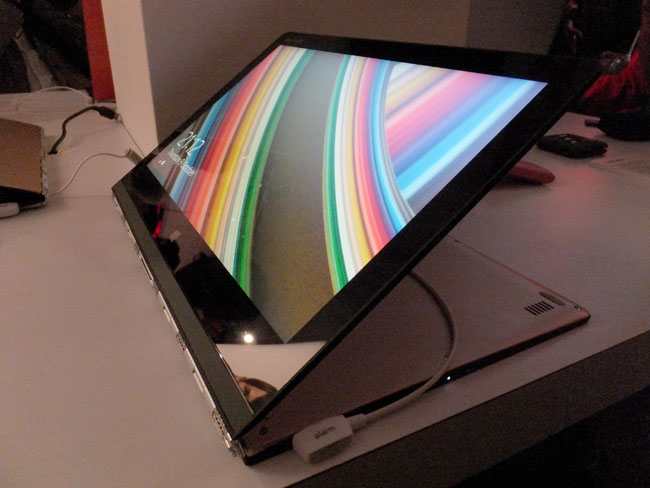 Presentation mode
Still, this combination – with an SSD up to 512GB – is certainly zippy and has enough GPU power to run the 13.3in 3200 x 1800-pixel (QHD+) touchscreen. This is sharp, bright, vivid and responsive. Broadwell's efficiencies also come into play to deliver claims of a 9-hour battery life.
Equipped with two USB 3.0 ports, a USB 2.0 DC-in port, card reader, micro HDMI and a mic/headphone combo jack socket, the Yoga Pro 3 also boasts JBL stereo speakers. It was too noisy at the event to discover if they had any remarkable merits, but usually, the thinner the device, the weedier the sound, no matter what audio signal processing you care to throw at it.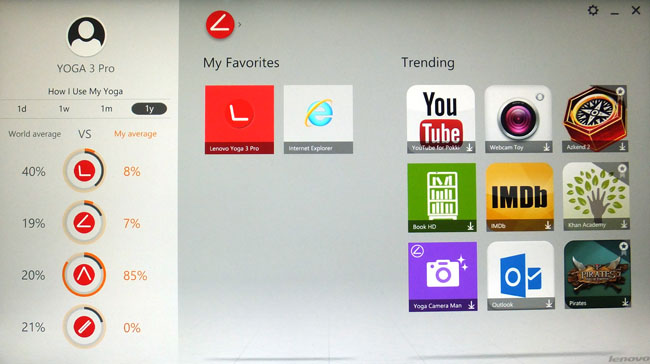 Lenovo Harmony tracks how you like to bend and what you like to run
Depending on the orientation, such as laptop or presentation mode, the stereo audio placement flips around to suit. Interestingly, with Lenovo's Harmony application, your positioning of the Yoga is racked up in a statistics bar that's also shared with all and sundry, showing usage per day, week, month and year. In Harmony you can also view the most popular global orientations. Oo er, missus.
There's more to Harmony than this, though, as it keeps track of your most commonly used apps and adds shortcuts to them in its Favourites section. "What's trending" recommendations also appear, as your activities are, in effect, being tracked by Harmony and anonymously aggregated with those of other users and sent back to you.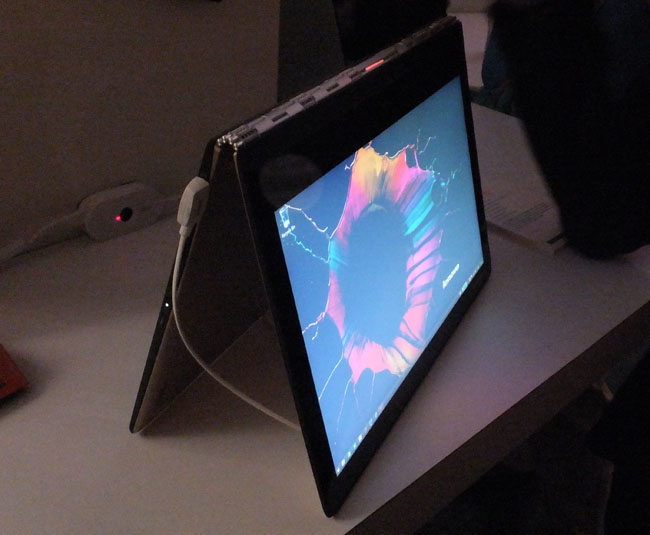 Tent mode... or to real yoga enthusiasts, downward dog
On the stand, one of the personnel involved with Harmony admitted that it was always on when it came to tracking and the only way to stop this was to uninstall it. He did suggest there may be changes to this in future, so users can decide if they want their usage habits to be tracked. This would be welcome because what Harmony also offers is an alternative to the Windows 8 tiled interface.
Desktop as well as tile apps can appear in the Favourites section, which is a tidy way of bringing regularly-used programs together.
Harmony is a curious app to inflict on the ThinkPad crowd, but rather more useful is that the Yoga Pro 3 supports 802.11ac Wi-Fi, Bluetooth 4.01 and weighs in at 1.19kg – which, by comparison, makes the 1.35kg 13in Apple MacBook Air seem rather lardy.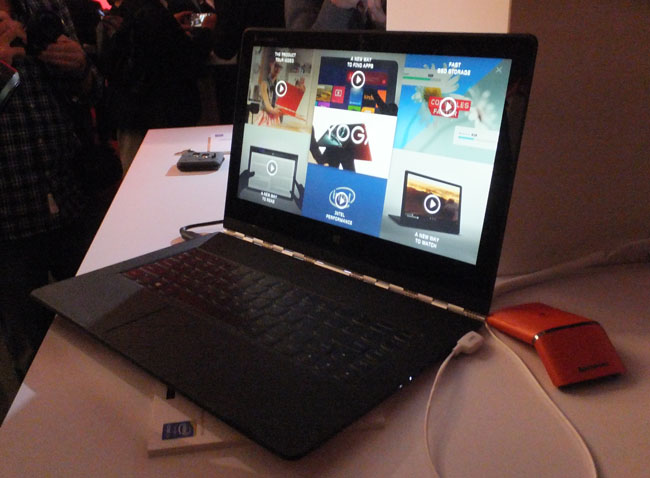 Or you can just use it like a laptop
The Lenovo Yoga 3 Pro is available in Clementine Orange, Platinum Silver and Champagne Gold. Prices start at £1299 and it goes on sale at the end of October 2014. ®