BEND IT like YOGA: Newest Lenovo gadgets have built in PROJECTORS
Flip it, bend it, UHD display – what's not to like?
---
Lenovo hangouts?
New to all the Yoga tablets is a simple modification to the stand plate that allows you to hook it up. Hang mode, joins Stand, Tilt and Hold seen in the previous generation. Not everyone was convinced by the original Yoga tablet design – the barrel bulk being seen as a departure too far from the wafer thin form factor of rival tablets – but Lenovo is sticking with it. Perhaps with the addition of the very appealing Hang feature the convenience of this integrated stand will win over the doubters.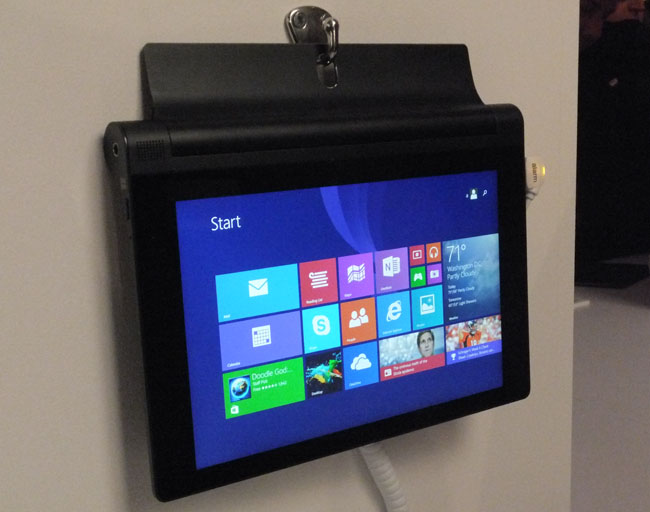 Hang with the 8-inch Windows Yoga Tablet 2
If you like this design idea but fancy something smaller, then you'll be spoilt for choice as the Lenovo Yoga Tablet 2 comes in 8 and 10-inch form factors for both Android and Windows, each having the the same Intel Z3745 Atom processor and memory spec as the Tablet 2 Pro. That said, the Android version gets half the storage at 16GB, but there's still the expansion option.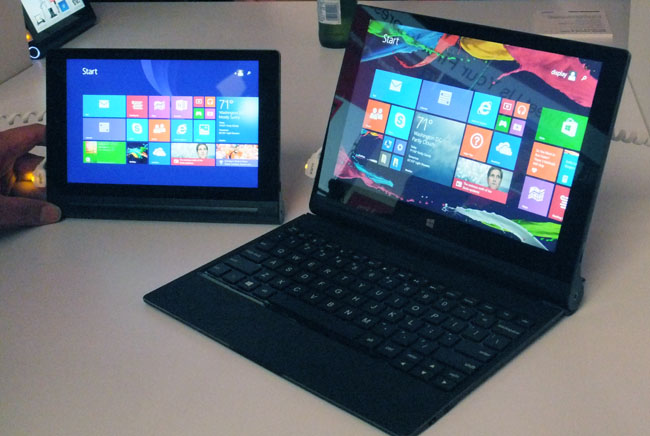 Full HD screens on both 8-inch and 10-inch tablets
Although the camera specs are the same, there's no projector and the screen resolution is set to 1920 x 1200 for all variants. There's no sub-woofer either, but the 10-inch Windows model comes with a Bluetooth keyboard that also functions as a cover. Typing on it wasn't bad at all actually. The keys are small but that does allow for more spacing between them and fewer typos. The slightly off-centred trackpad seemed unnecessary on a device of this size, as I found myself frequently making accidental right clicks.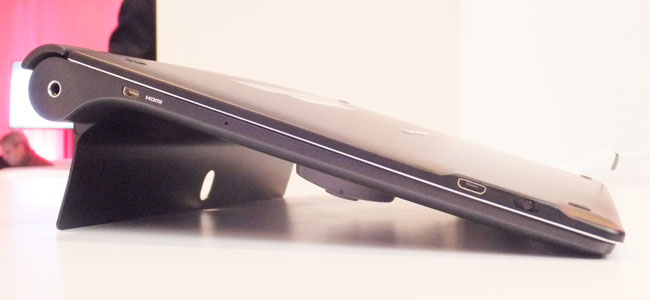 Closed up: the keyboard cover goes over the top of the 10-inch Windows model
The Windows models are rated as having a 15-hour battery life with the Android versions clocking up 18 hours. All models come with micro USB (OTG) and micro HDMI ports, mic/headphone combo jack and a 4G option is available too. The Yoga Tablet 2 UK prices have yet to be confirmed (Android 8-inch €229 and 10-inch €299, Windows 8-inch €249 and 10-inch €399), but the 13-inch Yoga Tablet 2 Pro will cost £449 (32GB Wi-Fi). All models come on stream this month – apart from the 8-inch Windows Yoga Tablet 2, which will be available in November.
As for the Yoga 3 Pro Ultrabook, you'll see more on this in a separate article. ®