This article is more than 1 year old
Get NAS-ty: Reg puts claws to eight four-bay data dumpsters
Storage you can see, clouds you create
Product round-up With the world and his dog increasingly looking to the cloud for storage needs, many are finding that maintaining stacks of spinning disks at home is no longer necessary. But those of us who sleep better in the presence of magnetic fields and wish to keep our bits (and bytes) closer to hand may still prefer to manage our own miniature data centres – be it at home or in the office.
Network Attached Storage has come a long way from where it was just five years ago in terms of features, ease of use and cost. While a few years ago you would have to turn to one of the well-established players such as Synology or QNAP to get all the bells and whistles, the playing field has levelled somewhat.
Indeed, while features such as RAID 1-10, HTTP/FTP/Email servers, various P2P clients and at least one gigabit Ethernet port are now standard, the battle is now very much focusing on support for third party apps to bring new features.
For a quick and dirty performance test, they've all been benchmarked using just two 2TB WD Red NASware 2.0 drives (WD20EFRX, from 2012) in RAID 1 to get an idea of their throughput speeds. In the interests of future proofing, each was also fitted with a 6TB NASware 3.0 disk (WD60EFRX) to assess compatibility, but not speed.
In order to spare you the agonising suspense, every single device correctly recognised the 6TB disk. Incidentally, we had intended to include the new Thecus NS4310 but the company held off sending us one as it was still finalising firmware tweaks on this new model.
Asustor AS304T

An Asus offshoot formed in 2011, Asustor is a relative newcomer in comparison to the long-established brands on this list. Now appearing on more NAS devices these days is a direct HDMI output to your telly. That's right, no bothersome intermediary streaming box needed to get your media onto the big screen with this one.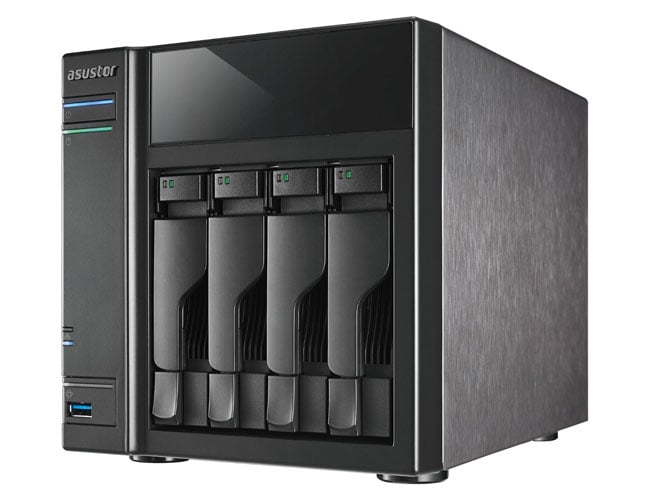 Before you put the popcorn on, there are a few things that have to be done first, specifically: register an Asustor ID so that you can actually download anything from "App Central", enable "Media Mode" which dedicates a chunk out of that 1GB RAM to ensuring smooth playback and finally, download XBMC or another media player.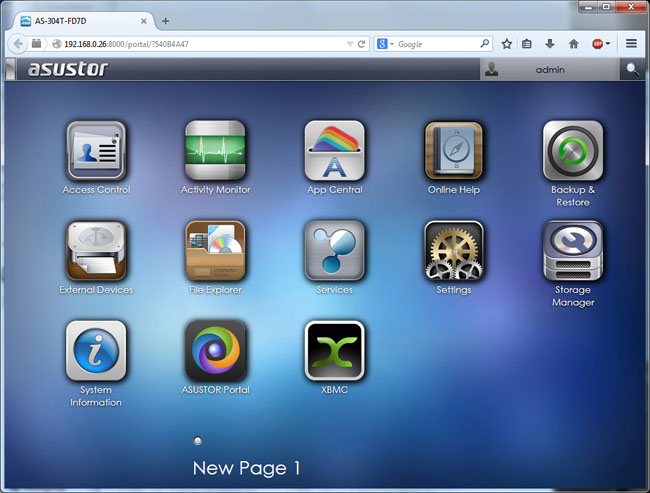 Home screen
Combined with the Asustor Remote, XBMC makes the AS304T a potently spec'd HTPC on paper, but unfortunately I found it to be rather clunky to use. Speaking as an engineer, it seems clear to me that the remote is designed to work with a variety of software and consequently doesn't particularly excel at controlling any.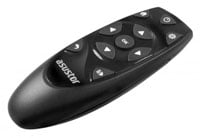 It feels like there aren't enough buttons to map to the necessary controls and those that are there, aren't labelled well. It's an excellent premise, but still needs some refinements.
While the AS304T is indeed compatible with the 6TB WD HDDs, it gave me no end of trouble attempting to perform initial setup with the 2TB WD Red kit. Eventually the solution was found by using an old 1TB Hitachi unit which sailed through first time.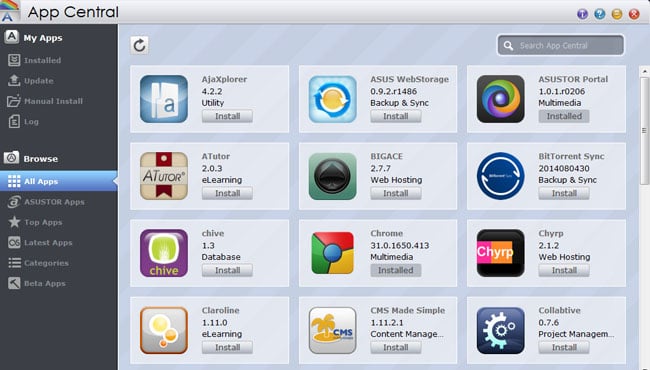 App selection
Once up and running, it had no problem with the WD drives, but benchmarking them in the AS304T with CrystalDiskMark turned out to be a disappointing result. While the 63MB/s sequential and random writes put it squarely in the middle ground, read speed was pretty dismal in the 20-30MB/s range. Still, Asustor is on the right track for an excellent NAS-come-HTPC, but it's not quite there yet. For the unpopulated price of £375, I was really hoping for more.
Price £375 (unpopulated)
More info Asustor