Tesla Motors has revealed twin-engined, 691 HP, all-wheel-drive beast versions of its model S electric car.
The new Model S 85D and 60D were launched at an evening event in Los Angeles on Thursday by CEO Elon Musk, who explained that the rumoured "D" stands for "dual" as the cars has two electric motors: one at the front and another at the rear.
Musk told the event that the car's software "dynamically shifts power from front to rear at millisecond level." This arrangement, he said, is better than conventional all-wheel-drive systems because it directs power to where it is needed, when it is needed, leaving the Model D "inherently able to do better road holding than cars with a single engine."
"Acceleration is a bit faster", he added, with zero to sixty miles an hour achievable in 3.2 seconds. The car's top speed is also higher. Musk also said the car can operate in three modes: "normal, sport and insane". The latter attempts to emulate the McLaren F1 sports car.
Musk asserted that despite the extra weight the second engine adds to the car, it is more efficient.
"Two drive units where we can shift the power and constantly be at the optimal efficiency for each motor means we can overcome the extra mass," he said. "Everything improves about the car with dual motors. It is like having your own personal roller coaster you can use at any time."
The D comes in two models, with either a 60 kWh or 85 kWh battery.
The new model is also a personal concierge of sorts, as Musk also revealed a new Autopilot autonomous driving system he said will allow Tesla owners to exit their cars and watch the vehicle park itself in their garage. If owners link their calendars to their cars, it will exit the garage as drivers leave their homes, switch on air conditioning and preferred music then await the driver's arrival. This will only happen on private roads: there'll be no KITT-style summoning of your car over long distances.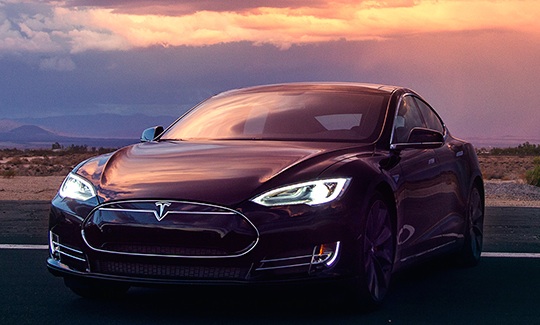 The Tesla Model D
At least for now: Musk said autopilot is "pushing the limits of what is allowed by regulations" and is "capable of being autonomous but it is not at the level where you could fall asleep and arrive safely at your destination."
The company says "driverless cars ... are still years away from becoming a reality." Tesla's says "Our system is called Autopilot because it's similar to systems that pilots use to increase comfort and safety when conditions are clear."
For now, Tesla is working to use the forward radar, front-facing camera, 12 long range ultrasonic sensors and "high precision, digitally controlled electric assist braking system" to work on a range of "active safety features, using digital control of motors, brakes, and steering to avoid collisions from the front, sides, or from leaving the road."
Tesla says the D can be ordered now, with deliveries of the 85D to start in December for North American customers. The 60D will ship from February. Deliveries to Europe and Asia "will follow in the months afterwards." ®