This article is more than 1 year old
Here's your chance to buy an ancient, working APPLE ONE
Warning: Likely to cost a lot even for a Mac
Woz it the gambling habit that crippled your finances? Or Woz it the fact you spent hundreds of thousands of quid on an ancient Apple computer that can't even send a tweet?
If it Woz the latter, at least you'll be able to tell your wife, accountant or mummy that you've snapped up a bit of history at the same time as ridding yourself of a ginormous sum of cash.
Anyone interested in blowing their fortune should prepare to head down to Bonhams on October 22, where one of the Woz-designed and Steve Jobs-marketed Apple 1 computers is being sold. Just 200 of these Apples were ever made - back in 1976 in Jobs' garage - so you are getting a true bit of tech history.
The machine is expected to net between $300,000 and $500,000, depending on how wealthy and overexcited the audience is.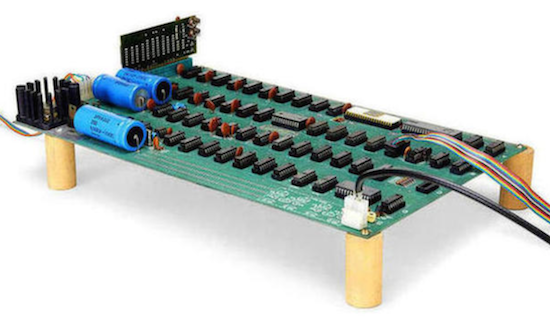 Christina Geiger, director of the fine books and manuscripts department at Bonhams in New York, said: "It is a great privilege to be selling this Apple-1 at auction. It has exceptional provenance and condition."
"Moreover, it will be the first Apple-1 to be publicly exhibited for auction in the Bay Area. It is very gratifying to think of this computer returning to within 40 miles of its birthplace."
The Apple 1 used to belong to John Anderson, founder of the Cincinnati AppleSiders. He bought it in 1980 and has kept it under glass since 1989.
There are only about 15 units of the Apple 1 which have been successfully operated since 2000. This particular computer was booted up in August by Apple expert Corey Cohen.
He said: "This is one of the best examples of a working early Apple 1 board that I have seen. The condition is unlike the other Apple 1 computers that have come up for sale before. This one has had no modifications ever performed or removed; even the screws on the power regulators aren't heat cycled."
At the current price of $1,299.00, you could buy about 300,000 units of the basic MacBook Retina model for the same price.
So what can an original Mac do that the new ones can't?
Erm, not a lot.
So why would you buy it?
Well, say you wanted to clone Steve Jobs from a piece of his DNA. You might find a piece of that on here somewhere if you look hard enough.
Yes? Well then. Get your chequebooks out. And remember which journalists to invite to the opening. ®