Flash array firm Nimbus Data is suing a customer, insurance telemetry firm Modus LLC, because it did not complete payments for an E-Class array flash array it ordered from Nimbus.
The case is being dealt with in Northern California, with Nimbus suing for a breach of contract and recovery of debt.
According to documents filed with the court, the Nimbus products, detailed on a purchase order dated 24 February 2012, were:
E-Class E6400M Controller
E-Class E1000X expansion: 10 TB ( 24 x 400 GB Flash)
HALO 2011 Storage Operating System
Dual-port 10GbE Twin-ax IO Module
3 year Basic Contract: 9-5 Support
The invoice total was $129,570.00, which was discounted to $60,285.00. Nimbus's complaint says that this discount no longer applies and it now wants $94,375 plus its lawyer's fees.
The equipment was delivered to a Modus site in Reston, VA.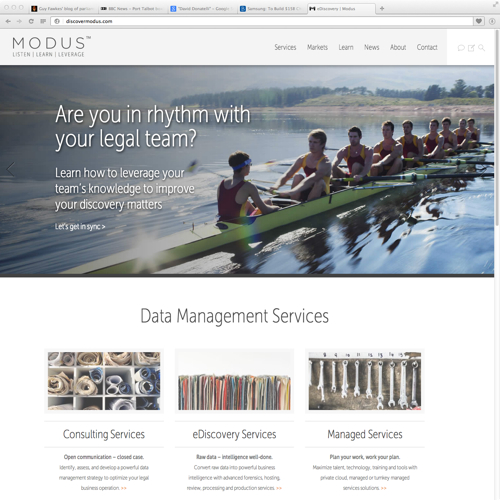 Modus home page
Modus, in a filed motion to dismiss Nimbus' suit, claimed:
The agreement at issue was formed between Nimbus and Modus for the sale of certain computer equipment. ... The computer equipment featured two controllers, which Nimbus assured Modus could be used in a redundant "fail-over" configuration. ... Modus quickly discovered, however, that one of the two controllers did not work and thus could not be used in a fail-over configuration – a redundancy requirement of many of Modus' clients and service level agreements.

Throughout 2012 and into 2013, Modus attempted to work with Nimbus to resolve the problems with the second controller, but neither Modus nor Nimbus was able to repair the second controller. On or about September 2013, Nimbus refused to continue attempts to repair the defective controller until Modus paid the remaining balance for the computer equipment and Modus refused to pay the remaining balance until the computer equipment was fully functional.
Modus's lawyers told us that this is the firm's position and it has not changed.
We contacted Nimbus Data on Monday 6 October and also left voicemail messages with the firm and its lawyer. We will update this article if and when we hear more.
Nimbus faced a motion to dismiss the lawsuit by Modus on jurisdictional and improper venue grounds. It has resisted this motion thus far, saying Modus contacted Nimbus initially and in San Francisco, therefore any contract dispute between them comes under the California courts' jurisdiction.
The most recent filing in the case, submitted by Nimbus on 8 October, makes reference to the fact that the software licence agreement states: "This Agreement is governed by the law of the State of California, without regard to the conflict of laws provisions thereof."
Nimbus adds in its 8 October filing: "Modus repeatedly contacted Nimbus in California to demand support for the products it had ordered, despite the fact that it had (and has) never paid the balance due on the products. ... After trying unsuccessfully for nearly two years to obtain payment from Modus, Nimbus filed suit in California Superior Court." ®
* The case is Nimbus Data Systems, Inc v. Modus LLC and Does 1-10 (defendants) – 3:14-cv-04192-NC (Northern district of California)