This article is more than 1 year old
Son of Hudl: Tesco flogs new Atom-powered 8.3-inch Android tablet
Bargain gadget of the year?
Card trick
The cameras were a weak spot of the first Hudl, so it's good to find that they have been given a shot in the arm. The main snapper now boasts a 5MP rather than 3MP resolution sensor and while the webcam now has a lower resolution (1.2MP vs 2MP) it too is a far superior component. Skype and Hangout video calls are now brighter and more colourful, while the drop in sensor resolution goes unnoticed.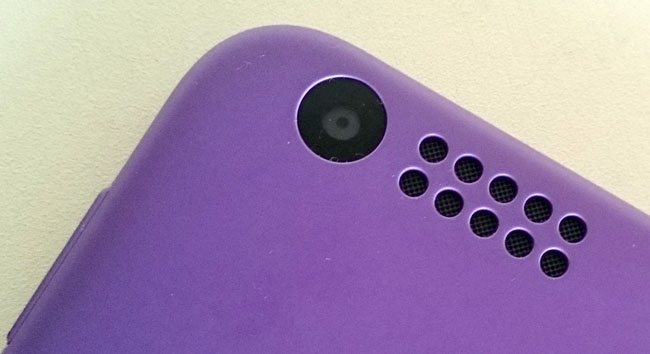 Main camera now 5Mp and much improved over Hudl 1 camera
The main autofocus camera still won't win any awards – it's doubtful any tablet camera ever will – but it takes a crisp and colourful picture, adequate for social network use. The camera's user interface is very close to Nexus stock, right down to the Photosphere function. A final hardware upgrade worth mentioning is the use of a dual-band Wi-Fi radio, so you can now hook up the network at 5GHz as well as 2.4GHz.
Tesco deserves a pat on the head for again sticking with Android au naturel, in this case KitKat 4.4.2. The only change from the stock UI is the My Tesco launcher's T icon that appears in the top left of the screen. Touch it and My Tesco information cards fly in from left screen much like Google Now cards do if you are using the Google Now launcher.
If you don't want the My Tesco cards, just use another launcher, it's not as if there aren't any good free ones in the Google Play Store.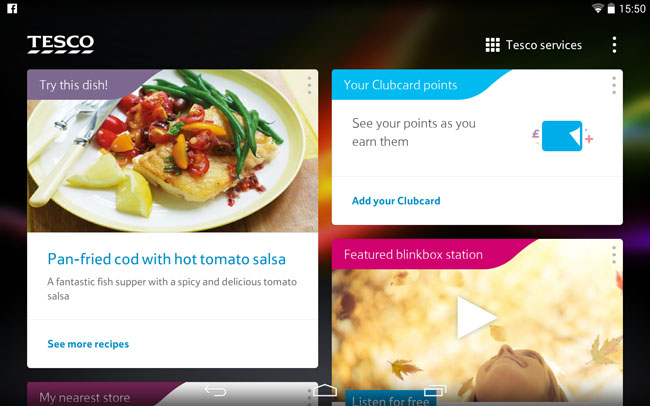 Tesco launcher cards are a gateway to its various services
Of course, if you are invested in any of Tesco's various bricks and mortar or online services (Tesco Bank, DotCom home delivery, Clubcard, Blinkbox movies, music and books etc), then the My Tesco launcher may well be more of a help than a hindrance. Let's face it, a large number of Hudl buyers will be dyed-in-the-wool Tesco punters. All the Tesco apps are baked in, so while you can ignore them, you can't uninstall them. But with 16GB of storage and a microSD slot good for cards up to 32GB, space really is not an issue.
Failings? The microSD slot at the bottom is open to the elements. That is something I never like to see but it's hardly an uncommon failing. And the ports and controls are scattered a little haphazardly. Power and volume on the top, microUSB on the right, micro HDMI on the bottom (but at least it has an HDMI port) and 3.5mm audio on the left. To be fair though, none of those things strike me as being in the wrong place per se. Oddly, for the first 36 hours of ownership BBC's iPlayer app refused to work. The suddenly it did. Go figure.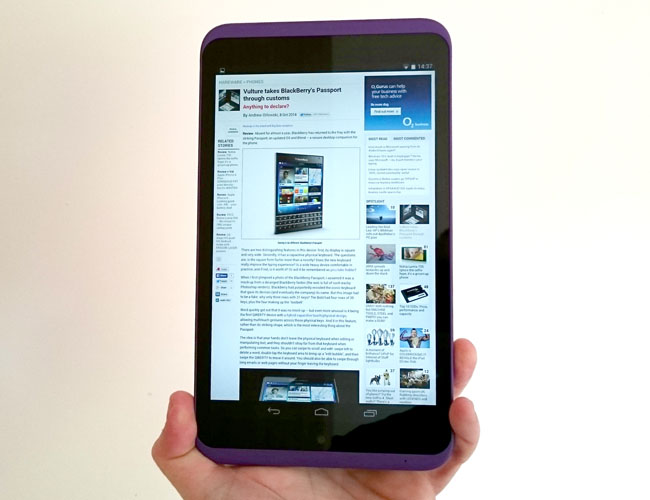 Plenty to see in portrait mode
There's also no 4G version which is perhaps a little strange since Tesco runs its own virtual network on O2's infrastructure. Maybe a 4G Hudl 2 will hove into view along with the oft rumoured (but possibly cancelled) Hudl Phone in the New Year. But that's pure speculation on my part.
Finally a word about updates. Since the Mk.I Hudl never got an update from Jelly Bean to KitKat, I wouldn't put money on the Hudl 2 getting a bump from KitKat to Android L. If it does, consider that a boon, just don't buy a Hudl expecting it.
Will the Hudl 2 take over from mints and chewing gum as the impulse buy at the checkout?
The Reg Verdict
For the asking price, you'd be hard pressed to complain, given what the Hudl 2 offers. It packs a large, bright and colourful high-def screen, a powerful CPU with RAM to spare together with punchy, well-positioned speakers and all wrapped up in a solid, easy-to-hold body with a near enough vanilla install of Android.
Yes, you have to live with the Tesco apps, but even if you don't use them, they make for less bloat than you'll find on most non-Nexus devices and certainly less than Samsung foists on its users. While the battery life is more adequate than exceptional, on balance, I reckon the Hudl 2 tablet is so far the gadget bargain of 2014. ®

Son of Hudl: Tesco flogs new Atom-powered 8.3-inch Android tablet
Intel Atom powered full HD 8.3in Android tablet for a very reasonable price.