Benioff promises Wave of Lightning to mobilise Salesforce
Drones on for three hours in keynote, peps self up with Coke-from-a-drone
Salesforce CEO Marc Benioff's keynote at the annual Dreamforce conference in San Francisco is usually a theatrical affair, but his company may have outdone itself this time.
The three-hour session featured sets by the ageing Beach Boys, a Hawaiian dance spectacular and blessing ceremony, and a drone delivery by Coca Cola. But Benioff briefly took to the stage himself to show off the firm's new cloud analytics engine, Wave, and an upgrade to Salesforce1 that includes a new app builder dubbed Lightning.
All of this software is going to be built around mobile users, Benioff said, recounting how he runs his company from his smartphone and doesn't bother to take a laptop on business trips any more. All Salesforce's products are going to be built around mobile in the future he promised, as well as for smartwatches.
Wave was the brainchild of Alex Dayon, now head of products at Salesforce and the former CEO of InStranet, which Benioff bought in 2008, who wanted an analytics platform that could be used any anyone.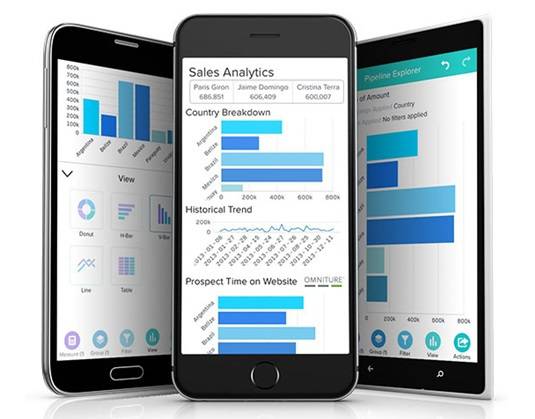 Wave of the future or damp squib?
The new Wave system uses data from Salesforce but also from outside sources like social media. The user interface is built around a gaming engine so that graphics can be altered and animated by the user, and then streamed to the nearest large screen or tablet.
The introduction of Wave will cause some worried eyebrow furrows from those companies that make a living analyzing Salesforce content, but maybe not too many. Compared to some of the analytics engines out there Wave looks somewhat basic and, while it's easier to use than many, we saw little of the depth of data needed by serious software.
Wave will be initially be released next week for iOS, but an Android version will be out shortly, as will builds in languages other than English. Prices range from US$125 per user per month for end users to $250 over the same period for developers.
Also on display during Benioff's keynote was the upgrade to the firm's Salesforce1 customer platform, which now comes with the app-building program Lightning – which was introduced by Salesforce cofounder Parker Harris dressed (inadvisably) as a superhero.
"Here at Salesforce we have some of the best developers in the world," he said. "But you don't have those developers, so Lightning makes their skills available to you."
In essence, Lightning takes the application framework Salesforce's internal developers have been using and prebuilt components from the firm, which Harris promised would be updated regularly. A series of design tools is built in and the applications are run within the Salesforce app on any platform.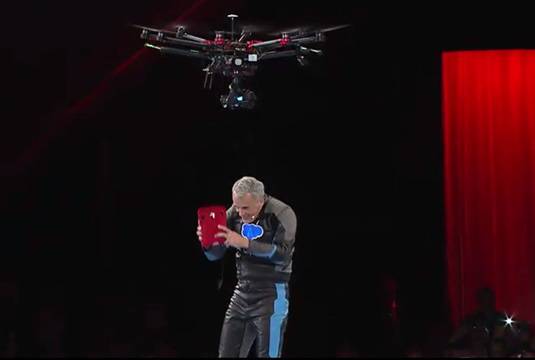 Relief as Harris avoids a haircut
Harris demonstrated a delivery app built using the platform and there was a staged drop-off on stage of a four-pack of Coke by a quadrocopter in the Moscone Center. Harris looked a little uncomfortable under the flying blades but the stunt went off without injury.
In all, this modest amount of news took nearly three hours of customer videos, song-and-dance routines, lengthy expositions about the admittedly impressive charity work Salesforce is doing, and interviews with such tech "visionaries" as Will.i.am – who will announce the formation of his new wearables company at the conference tomorrow. ®