HP hops aboard hyperconverged infrastructure bandwagon
The usual 2U storage and compute rig with zero to VMs running in 15 minutes caper
---
HP has become the latest vendor to hop aboard the hyperconverged infrastructure bandwagon, announcing the attractively-named "ConvergedSystem 200-HC StoreVirtual" appliances as its entry to the field.
The product will look familiar to anyone who's considered offerings from Nutanix, Simplivity, Scale Computing or VMware's EVO offerings, as it's a 2U beast packing storage, compute, hypervisor and control freakery tuned to deliver a mere 15 minutes elapsed time between hitting the ON switch and enjoying all the fun of functioning virtual machines running on four physical servers.
HP's packed its effort full of its own goodies: you'll find OneView InstantOn, OneView for VMware vCenter and the StoreVirtual virtual storage away inside.
The company's selling two models, with the CS 240-HC StoreVirtual System packing four compute nodes, 64 CPU cores at 2.0 GHz, 512 GB RAM, eight 10GbE and the same number of 1GbE ports and 24 1.2TB disks.
The more grown-up CS 242-HC offers 80 cores at 2.8 GHz each, a full terabyte of RAM, the same networking configuration and 16 1.2 TB SAS SFF drives plus eight 400 SSDs.
HP's gone all-in with vSphere , unsurprisingly given the boxen were announced at VMworld Europe.
The boxes scale: it's possible to assemble them into clusters of up to 32 nodes, and when you add new boxen it's said that the management console used for the first one will be able to handle the new additions too.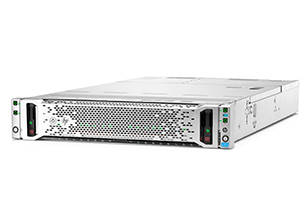 Looks like servers, racks like servers, is actually hyperconverged
In other words, pretty much what the rest of the emerging hypervconverged world is offering. But with ProLiant servers instead of Qaunta and/or white box beasts, and HP's virtual storage and management goodies.
HP's announcement explains that analysts see the hyperconverged market growing like mad, so it's a fine idea and time to get into it.
That's a conclusion it's hard to dispute. That HP is making much of ProLiant's presence in the rigs is, however, a bit noteworthy as it shows an established server vendor trying to demonstrate it adds value to a hyperconverged appliance. That's an interesting little shift.
Finally, The Reg has very good reason to suggest you can assume HP won't be the last tier one server-maker to make such an announcement and won't be alone in talking up the quality of its hardware engineering as a value-add to hyperconverged products. ®