Intel on Wednesday reached a new milestone in its quest to become a player in the mobile phone market, with the launch of the first-ever Atom-powered Android 4.4 smartphone for the US market.
The Asus PadFone X mini will feature not just a dual-core Intel Atom Z2560 processor clocked at 1.6GHz but also an Intel XMM 7160 LTE modem, making it the first truly Chipzilla-powered mobe to hit US shores.
It's also an odd bird among its competitors, being a member of Asus' convertible PadFone family. Slide the handset into a tablet-like docking station that comes equipped with its own LCD screen, and Asus' ZenUI tech turns the 4.5-inch phone into a 7-inch LTE fondleslab.
"People are demanding more from their devices, and the phone's unique smartphone and tablet form factor allows consumers to have more capabilities on one data plan, all at an affordable price," Hermann Eul, VP of Intel's Mobile Communication group, said in a canned statement.
Intel appears to have scored a coup by convincing Asus to build this latest PadFone model using its silicon. Previous entries in the line have all used Qualcomm Snapdragon processors – the previous PadFone X model having used a 2.3GHz quad-core Snapdragon 800.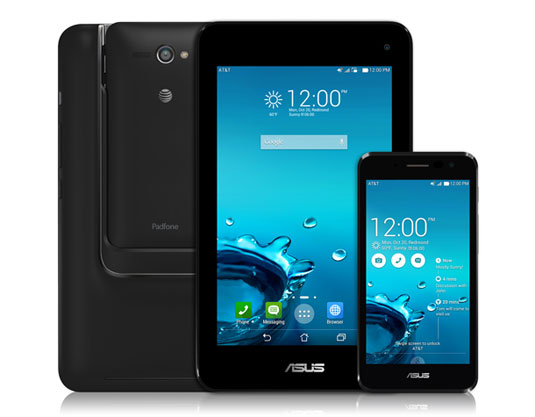 It's a weird one: Slide the Asus PadFone X mini phone into its dock and it becomes a 7-inch Intel-powered tablet
Yet Chipzilla will need many more such deals if it hopes to compete with the likes of Qualcomm in the mobile arena. Not that this is the first Intel-based phone to be released anywhere; Motorola, Xolo, and ZTE have all built Atom-based handsets for non-US markets. But according to its most recent quarterly earnings report, Intel's Mobile and Communications business unit pulled in just $1m in revenues for the three months ending on September 27. Intel may be fishing, but the device makers mostly aren't biting.
Asus and Intel aren't exactly going for a high-profile launch with the PadFone X mini, either. The companies plan to offer it for $199.99 via GoPhone, AT&T's lesser-known prepaid wireless subsidiary, beginning on October 24. GoPhone plans start at $40 per month for 500 minutes of talk time and 500MB of data.
The device will also be available online via AT&T's and Asus' online stores, and it will reach national retailers by November, although no additional carrier partners have been announced. ®