Archaeologists digging in Leicestershire say they have discovered the remains of a prestige-marque chariot dating from the second or third century BC, which had seemingly been torched on purpose by local inhabitants.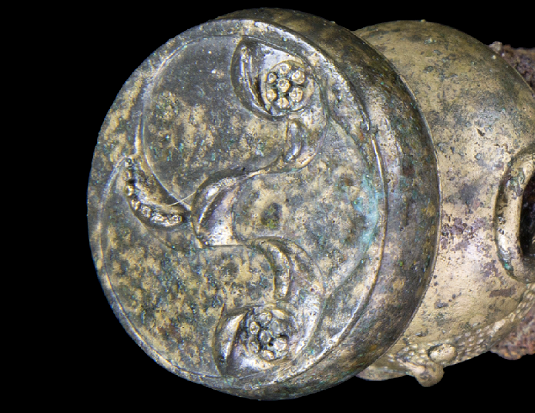 The most prestigious badge in Iron Age British chariots
According to a statement released by Leicester uni:
The archaeologists believe the chariot would have belonged to a high-status individual, such as a "noble" or "warrior" ...
Even in Iron Age Britain it appears that a prestige badge on one's vehicle carried a lot of kudos. The investigating archaeologists say that the swanky nature of the ancient conveyance is indicated by the fact that it carried "rare" bronze fittings bearing a "triskele motif showing three waving lines, similar to the flag of the Isle of Man" - or perhaps somewhat reminiscent of a Mercedes badge. Evidently the the motif was the symbol of a top-drawer chariot marque, in any event - the vehicle was plainly an Iron Age equivalent of today's supercar Lamborghinis, Maseratis and so forth and would have received much coverage on any contemporary equivalent of Top Gear had there been such a thing.
We are further told:
Taken together, the pieces are easily recognisable as a matching set of bronze fittings from a mid to late Iron Age chariot. As a group of two or more base metal prehistoric artefacts this assemblage is covered under the Treasure Act.
The chariot bits were found buried amid a pile of "burnt cinder and slag". The investigating scientists theorise that this was the result of an ancient religious ritual of some type. However it would seem just as possible that local Ancient Britons - possibly rioting after a sporting event or other provocation of some sort - noticed the flash vehicle parked by the kerb and set fire to it out of high spirits and/or class envy, a custom still popular today in some parts of old Blighty.
"It is a once-in-a-career discovery," enthuses Dr Jeremy Taylor, Leicester uni archaeologist.
There's more on the discover from the university here. ®