Is HP riding the EVO: RAILs to oblivion?
Adopts potential StoreVirtual killer, but needs to find it a market postion
---
Comment HP is set to launch a VMware EVO: RAIL hyper-converged appliance that threatens to kill off its StoreVirtual product.
HP's StoreVirtual 200-HC hyper-converged system, combines server, networking, storage, and virtualisation and management software for mid-size businesses, remote offices and branch office locations.
It is designed and sized for server virtualisation and virtual desktop workloads based on VMware. The premise is this: it's easier for customers to have simplified virtual infrastructure management — from ordering and deployment to support of applications and virtual desktops — compared with managing separate servers, hypervisors, networking, and storage.
Startups such as Maxta, Nutanix, Scale Computing, and Simplivity have been developing and shipping hyper-converged systems and attracting significant funding based on early success. HP now has its own offering which can be managed inside an HP environment, and so be easier to adopt for HP customers.
The 200-HC fits alongside HP's existing SW-only StoreVirtual VSA and the StoreVirtual 4000 Storage appliance with StoreVirtual VSA running on a ProLiant server. The company says "all three StoreVirtual-based product families offer 100 per cent shared data services, including replication, federation and transparent site failover".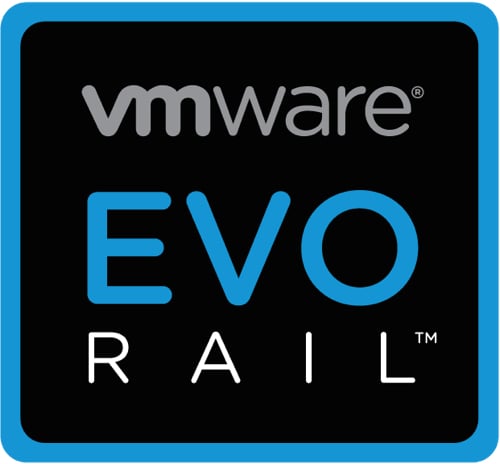 HP is also trying to proliferate StoreVirtual use by giving away a licence free with purchases of new Xeon servers, any Xeon servers
HP is making much of the 200-HC's managerial ease and flexibility, with users able to:
Provision virtual machines directly from VMware vCenter Server
Manage all hyper-converged systems and trad virtual server systems across all sites from a single console using HP OneView for VMware vCenter
Replicate from one hyper-converged system to another, or to a server/VSA combination for flexible disaster recovery
Use optional vRealize Operations (formerly VMware vCenter Operations Manager) for monitoring of health and performance across VMs and critical physical components.
That's all good and more functionality will be added soon. But an EVO:RAIL version is coming, EVO:RAIL being VMware's hyper-converged server SAN system template, which uses VMware's Virtual SAN, and not HP's StoreVirtual VSA.
The hardware can grow from a single appliance with four nodes to four appliances with 16 nodes. HP will develop OneView "to directly manage the EVO: RAIL appliance to help unify the management of the hyper-converged and traditional infrastructure deployments".
So, with pretty equivalent HW, SW, and management is there a market separation between these two products?
The ConvergedSystem 200-HC EVO: RAIL is for mid-market and enterprise customers, organisations larger than the StoreVirtual 200-HC's target with an obvious overlap in the mid-market area.
In the Vulture storage desk's view StoreVirtual competes with VMware's VSAN. There is no way HP is going to walk away from its StoreVirtual product, but nor can it ignore the market colossus that is VMware. It's going to have to ensure Store Virtual's functionality, management and price/performance is significantly superior to VMware's product where they overlap in market positioning terms.
Or, it's going to have to develop a separate market area or niche for StoreVirtual.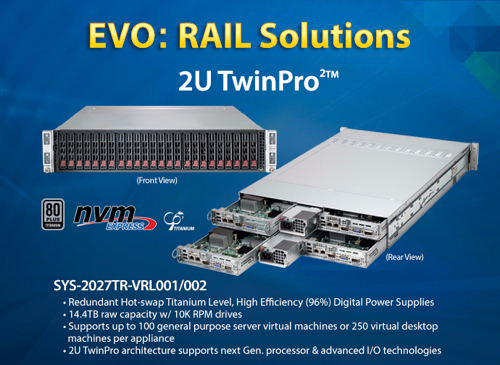 Supermicro EVO: RAIL
Along with EMC we can expect Cisco, Dell, Fujitsu, Lenovo, Supermicro and others to produce EVO: RAIL systems with a race to the bottom in price terms as EVO: RAIL commoditises the hardware.
With VMware providing a complete EVO: RAIL software stack there is little, it appears, that suppliers can do to make their particular EVO: RAIL product stand-out, other than linking it better to their own existing products.
Perhaps StoreVirtual 200-HC is HP's stake in the hyper-converged system world that enables it to escape from the VMware EVO: RAIL HW/SW commoditisation trap.
The 200-HC EVO: RAIL should ship in the first 2015 quarter and be available as a single SKU from HP's channel. ®