Sway: Microsoft's new Office app doesn't have an Undo function
Content aggregation, meet the workplace ... oh
Review Microsoft has released a preview of Sway, which the company says is a "brand new app in the Office portfolio." But what is it? Sway is a "way to express yourself and bring your ideas to life," Microsoft says. This kind of fluff is a poor way to define a product.
Here is another try, from the same announcement:
A "sway" is what we call the canvas you create using Sway, and it's much more than a document in the traditional sense. It's built from the ground up for the web and devices. A Sway adapts to fit the device that it's viewed on, large or small, so your ideas always get the best treatment. A Sway is cloud native: you just drop in your content from your cloud storage, your devices or your social networks.
Better, but it is still not clear what this thing is for. Maybe a hands-on will make it clearer? Microsoft kindly gave me early access to the preview, emphasising that it is not yet a finished product.
I am therefore typing this in Sway. Sway is a web app, and the content in a Sway document is composed of cards. In order to type, you add a text card. Formatting is restricted to plain or bold. Word is safe; this is no kind of competition.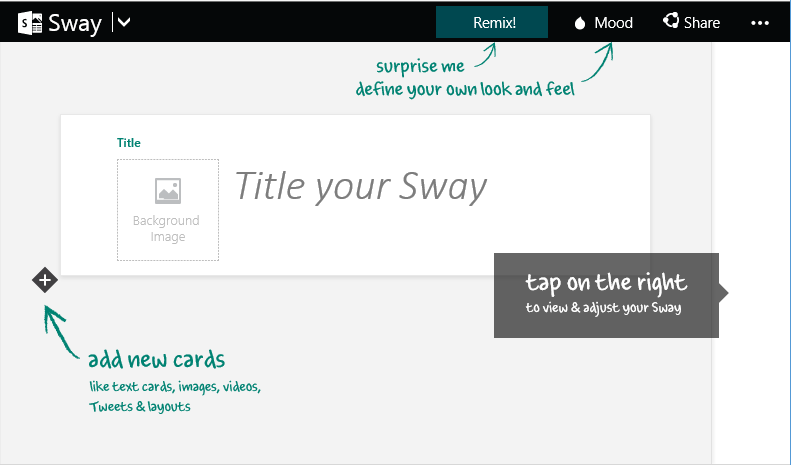 PowerPoint is safe too (and so is SlideShare, a popular cloud equivalent), since although the name of the product suggests some kind of presentation software, it does not do the things you expect presentation graphics to do, like show bullet points, or move from slide to slide in a predictable fashion.
You work on your Sway by adding further cards. At any point you can click a "plus" icon and choose between Header (starts a new card and section), Text (a new text card) or Media (add content such as an image or video from OneDrive, Facebook or YouTube). You can also add Twitter content. You can upload media from your computer, in which case it goes into OneDrive as well as being added to your Sway.
Cards have various layout options, though most are not yet available in the preview. Currently you can have headers and groups, while in preparation are Block Quote, Featured, Background, Grid, Slide Show, and a mysterious option called Hero.