This article is more than 1 year old
iPad AIR 2 and iPad MINI 3, 5K iMac: World feels different today – and it IS
Bust that piggybank while waiting for OS X 10.10 to install
Pics Confirming what had been widely expected, Apple has unveiled two new iPad models – small and large – and laid out plans for a third. There's also a new shiny 5K iMac.
The big news, though, is that the "soft SIM" war his finally begun.
At a launch event in Cupertino for its pet hacks, Apple said the new iPad Air 2 will be slimmer than its predecessor, feature a TouchID fingerprint reader, has an 8Mp iSight camera that can record 1080p video, and a new ARM-compatible Apple 8X system-on-chip processor that's apparently faster than the iPad Air's A7. It keeps the usual 9.7-inch touchscreen.
This slimmer iPad Air 2 is 6.1mm thick, 18 per cent thinner than the first-generation iPad Air and roughly half as thick as the original iPad. Meanwhile, a new iPad Mini 3 will also sport a TouchID sensor, but is otherwise the same as its 7.9-inch predecessor.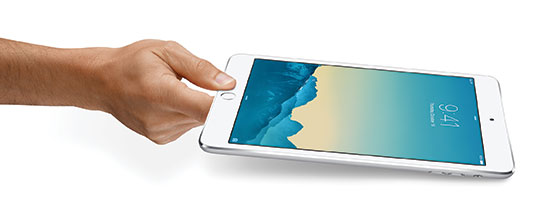 iPad mini 3
Both tablets will maintain their price structure: the iPad Mini 3 ranging from $399 on the 16GB Wi-Fi model to a $729 LTE-enabled 128GB tablet. The iPad Air 2 will start at $499 for the Wi-Fi-only 16GB model, and range as high as $829 to outfit the $699 128GB model with a $130 LTE option.
UK customers will see prices range from £399 for a 16GB Wi-Fi-only Air 2 to £659 for a 128GB cellular-enabled Air 2. A 16GB Wi-Fi-only Mini 3 will set Brits back £319, all the way up to £579 for a 128GB cellular-only slab.
The reports confirm many of the details leaked yesterday when Apple inadvertently published information on the two new iPads in an iOS 8.1 user manual. The page noted a number of features including the names and some of the hardware features.
Cook (AKA Chairman Honeycrisp according to a cameo from Stephen Colbert during today's unveiling in California) also mentioned some of the stuff his company showcased last month. Apple Pay is set to launch on Monday, while Cook said that Apple will feed developers an SDK for the Apple Watch in November. No date, however, was given for the actual release of the wrist-slab.
Absent from the rollout was the rumored 12in iPad model. The larger tablet is reportedly in the works at Apple HQ with designs on a rollout early next year, though it seems all information on the tablet will remain speculative for the time being.
Interestingly, the iPad Air 2 and the Mini 3 have a nanoSIM slot, as you'd expect, but also an internal "software SIM" that can be switched between supported carriers in the US and UK. This allows people to, say, travel from Blighty to the States and select AT&T, Sprint or T-Mobile US for a short-term data plan, and then switch back to the UK SIM when back home. We'll have more on this later.
Mac users, meanwhile, will now be able to get their hands on a new high-end iMac armed with what the company describes as a 5K Retina display: 5120 by 2880 pixels, or 14.7 million pixels.
Mac with Retina 5K display. "14.7 smeg, meg, million pixels" it's ok to stumble over words, Phil. We're STUNNED too pic.twitter.com/p7UZNiKPR6

— The Register (@TheRegister) October 16, 2014