This article is more than 1 year old
Watersports-friendly e-reader: Kobo's Aura H2O is literary when wet
The world's first waterproof e-reader
Review Now that even the cheapest tablets are notching up increased battery life these days, it seems that the ever-ready e-reader could run the risk of becoming extinct.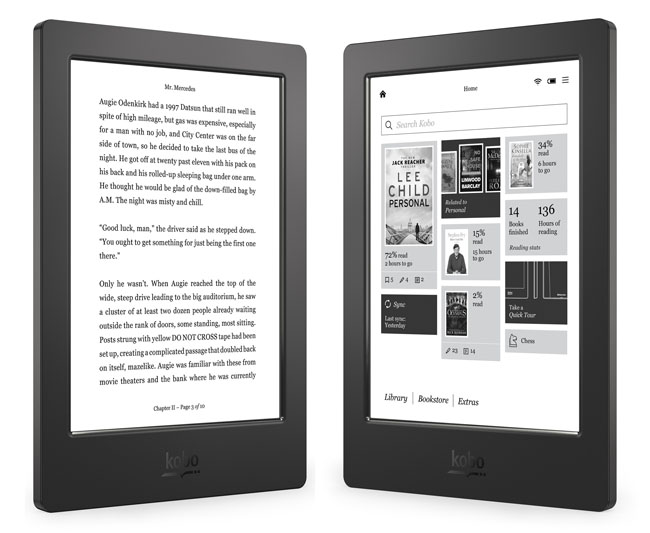 Kobo's Aura H2O hi-res waterproof e-reader
In recent months Barnes and Noble has announced a partnership with Samsung to make Nook tablets. Meanwhile Sony has announced no new e-reader products in the last year and has closed down its content market altogether, redirecting users to the Kobo shop.
Still, Bookeen continues to do business in French-speaking areas and, despite stoking up its Fire range of Android based tablets, Amazon has the Kindle Voyager e-reader waiting in the wings.
Putting up a serious fight with some keenly priced tablets and e-readers is Kobo. Based in Canada, the company has continued to upgrade its E Ink models and its premium Aura range has now been expanded to include the H2O – the world's first e-reader which can be totally immersed in water and live to tell the tale.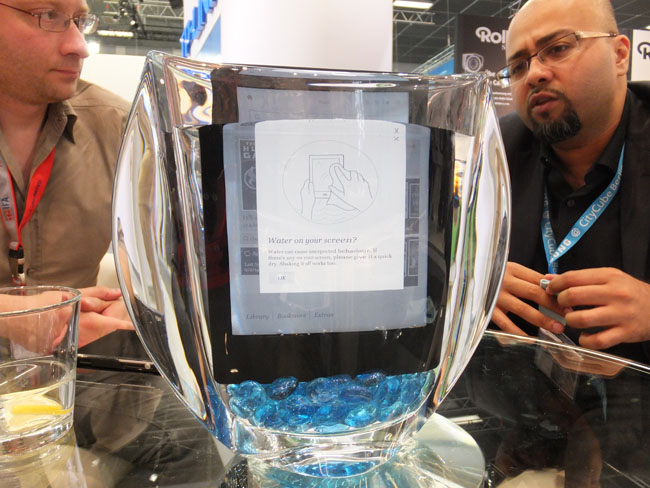 Water on your screen?
For regular e-reading duties, I've been using a Bookeen Cybook Odyssey from 2012 – it just keeps on going, so why not? Yet, on receiving the H2O the difference was immediately noticeable, akin to an East German Trabant driver skipping over the Berlin Wall in 1989 and climbing into a Mercedes.
The Odyssey's touchscreen and processor was of its time, namely fairly unresponsive – an experience not exactly unique to Bookeen. A certain amount of sluggishness is acceptable in e-readers, given that the battery life can be measured in weeks. Yet by comparison, the H2O was lightning fast and fully functional.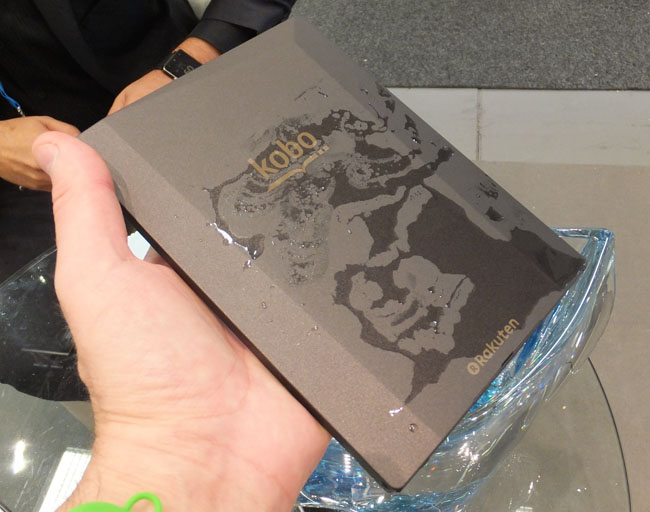 Water off a Kobo's back
Unsurprisingly, the screens were worlds apart too. I found the unlit Odyssey unusable in an overcast northern town most of last winter, whereas turning on the H2O's frontlit display enables reading in any low light scenario.
It's very easy on the eyes too. The Carta E Ink technology 6.8-inch touchscreen first seen on the Kobo Aura HD notches up a 1430 x 1080-pixel resolution and a pixel density of 265 ppi. The display is somewhat wider than most e-readers, which is handy if you like large type or just more text, as you can fit more on the page, requiring fewer page turns.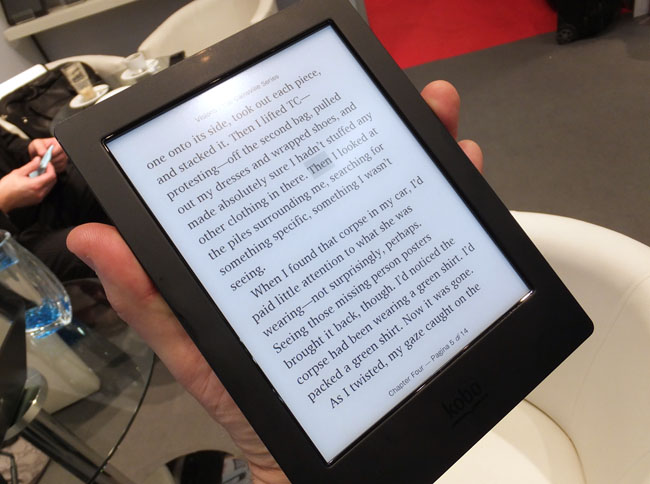 The screen size is bigger than most e-readers, enabling a decent amount of text to be shown with larger fonts
As there's no on-board media player, all you get is a single power button to the top right. In the base is the sealed cover for the microUSB port and MicroSD card slots. It can take cards of up to 32GB, bolstering the 4GB of internal storage.
Running the show is a Freescale 1GHz i.MX507 ARM Cortex-A8 processor and 512MB of LP-DDR2 RAM. All in all it measures up at 179 x 129 x 9.7mm and weighs 233g. Incidentally, you don't get a power supply, just a USB lead.