Dripping with features?
The Aura H2O has support for 10 different fonts in 24 different sizes, including one which is designed to make reading easier for dyslexics. The Kobo modus operandi is fairly clear and straightforward – a tap on the centre of the screen reveals text settings at the bottom of the screen and device settings at the top.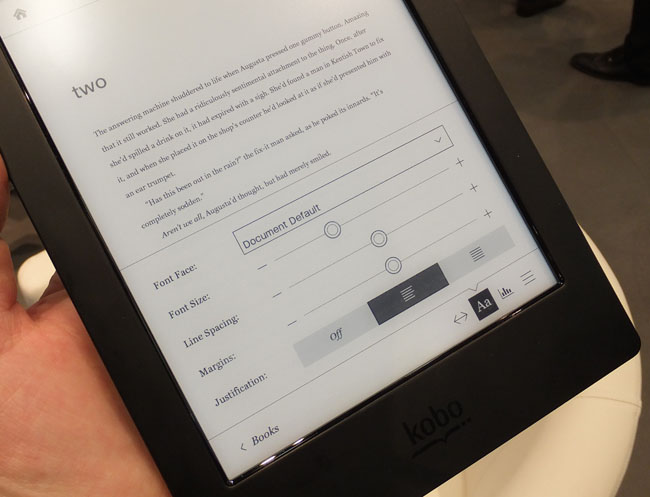 Minimise page turns with smaller text or customise it to suit your eyesight and
You'll find easy access options on the top screen such as home, brightness, battery indicator and a settings menu. Through the menu you can drill down for a fuller range of functions such as user account options, Wi-Fi access and a few interesting beta features.
Here, besides some games – chess, sudoku and a few other vintage classics – there's a very basic sketchpad and a web browser.
Albeit a beta, the Kobo web browser is standard e-reader fare, in that I wouldn't use it much past the Kobo site, although anywhere with minimal graphics – your local library and the Gutenberg project, for instance – can be navigated reasonably well. The H2O is Adobe Editions 4.0 compatible, so you can download and read DRM content from your local library or subscribe to other online e-reading services.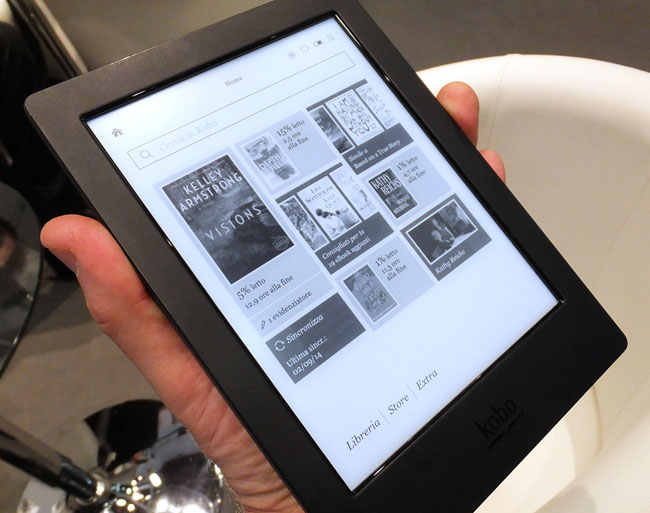 Kobo stores accommodate a range of nationalities
Setting up a Kobo account and downloading content could not be simpler. You can also instal a separate app on mobile devices (iOS, Android, Windows, Blackberry) as well on OS X and Windows, so you can access and sync your content across a multitude of devices. The default page of the Kobo shop does resemble the bestsellers shelf at W.H.Smiths, but dig deeper and there is a massive amount of content available.
The H2O supports epub, epub3, mobi, txt, rtf, html, xhtml, cbz, cbr and most image formats. However I would only recommend using the ebook, html and text formats for long works as they are the only formats which can use all the font size, line break and margin editing functions.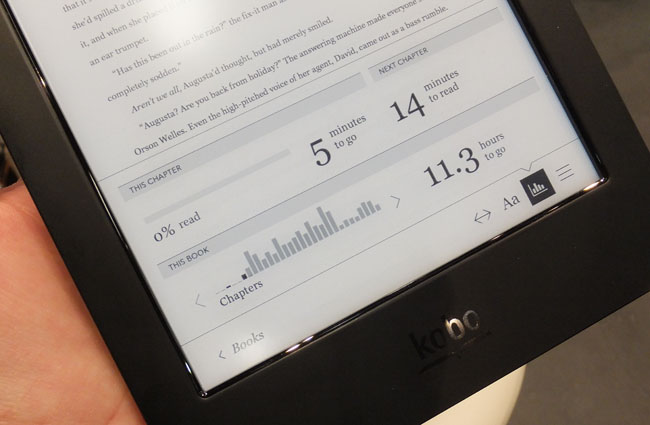 It can monitor reading patterns like a fitness app
I found the zoom function too clumsy to use on large pdfs and comic formats, a common flaw with e-readers. This, together with the screen size limitations, soon had me rushing back to my computer to view any of my Judge Dredd comics and pdf tomes.
For the ebook, text and html formats, however, the H2O is an excellent reader experience. Although some will be disappointed by the lack of support for the newspapers and magazines, which, despite appearing on the Kobo store for tablets, mobiles and computers, are not supported on its E Ink models. This is where the likes Amazon's Paperwhite scores a direct hit.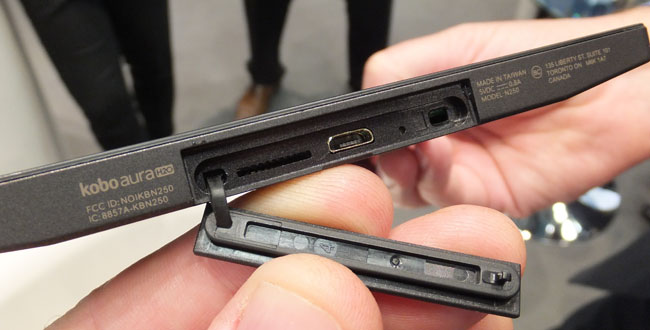 Sealed cover for the micro SD slot and micro USB port
The battery life is quoted as being 30 hours reading and 60 days standby, which is pretty much par for the course in e-readerland these days. I have no reason to doubt these figures; two long novels and much random investigation didn't use up half of the Kobo's charge.
Fun with watersports
So how does the H2O cope with some watersports? Well, before you start, the USB port and MicroSD slot must be sealed with the rubber cover. Rated as IP67, this is a waterproof e-reader, not an underwater reader; it will only withstand a metre of water for up to 30 minutes, so high board divers and marine biologists will have to look elsewhere... and kids, don't take it down the deep end.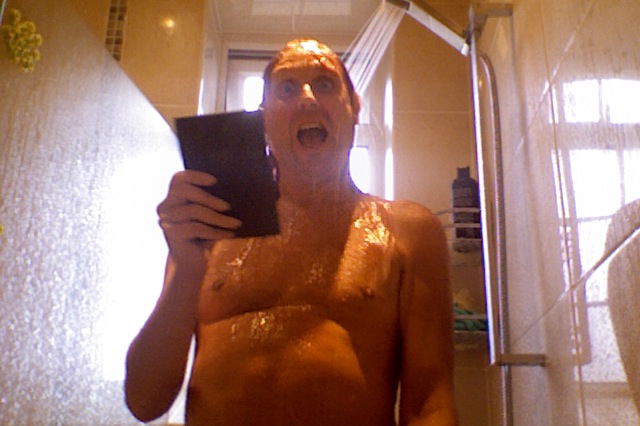 Literary when wet: Kobo's Aura H2O is definitely a "take anywhere" e-reader, but it is pricey
In tests I found that as soon as you get more than a light drizzle on your screen the touch functions cease to work and a dialogue springs up telling you to wipe your screen. I took it in the shower with no problems and it survived being dumped in a bowl of warm water, too. Yes, dear readers, it does what it says on the tin, making it ideal for the beach and bathtime browsing.
The Reg Verdict
The Kobo Aura H2O is simply the best e-reader I have ever used with a sharp, clear screen and a build quality to match. No cheap tablet is going to be such a pleasure to read as this, and consequently, it all comes at a rather premium price, and the Kobo store isn't the cheapest either.
It is hard to know what kind of punter is going to opt for a top of the range waterproof e-reader over a tablet. A round-the-world yachtsperson with a serious literary habit, perhaps? Maybe it will be a hit with Hollywood scriptwriters, hacks and actors around the pools of California, but I can't escape the nagging feeling that I'm holding what may soon become an endangered species. ®

Watersports-friendly e-reader: Kobo's Aura H2O is literary when wet
IP67 rated waterproof e-reader with a 6.8-inch, 1420 x 1080 E Ink display, 4GB storage with micro SD expansion.