SanDisk's third 2013 quarter showed a healthy annual and quarterly increase but subdued profits, while Fusion-io integration costs and mis-met Wall Street expectations sent the shares down a tad.
Revenues were $1.75bn – a record. They were $1.63bn a year ago, meaning a seven per cent increase, and the same in the second 2014 quarter. But profits a year ago were $277m - while this time around the block they shrank a bit to $263m. They also represented the lowest percentage if revenues, at 15 per cent, since the first 2013 quarter's 12.4 per cent. Something went awry.
The retail business slowed, with CFO Judy Bruner saying: "On a year over year basis, our commercial channel revenue grew 13 per cent while retail revenue was down 2 per cent."
SSD business grew: "Our SSD revenue grew 48 per cent year over year, with the strongest growth coming from enterprise SSDs. Sequentially, our SSD revenue grew 1 per cent with growth in enterprise SSD revenue offset by a decline from client SSD." Ah, a growth slowdown here. Why?
She explained it this way: "The sequential decline in client SSD revenue reflected demand timing from certain customers as well as our own supply allocation decisions."
Also expenses relating to the Fusion-io acquisition and restructuring grew and that took money away from profits. So to did an expected fall in Fusion-io revenue due to "the integration of the business and the sales force. They had a fairly large sales force, and we needed to integrate that into SanDisk, determine account ownership, territory leadership, commission plans, etc."
This, together with Wall Street analysts expecting higher revenues, sent the shares down, even though the profit exceeded their expectations. Shares get valued according to future prospects and not past or present performance.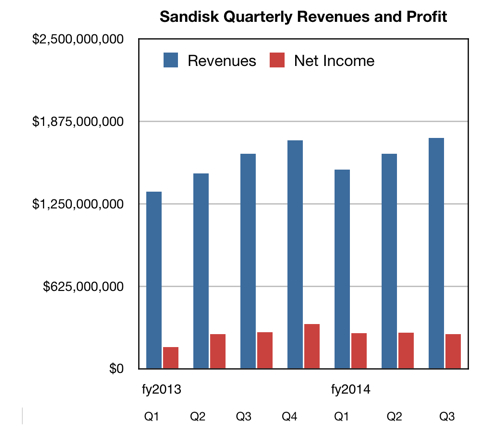 SanDisk's recent quarterly revenue and profits numbers
The overall prospects look good. Mehrotra expects "our enterprise SSD revenue to surpass $1bn in 2015, a year ahead of our previously stated timeline ... We see strong demand in all product categories for our business in [the] 2015 timeframe."
Bruner said: "We believe that the Fusion-io revenue will grow from this point forward."
He confirmed that "Our 3D NAND technology development continues to make good progress and we expect to be in pilot production in the second half of 2015, with target volume production in 2016."
Such technology could double or triple chip capacity, or even more, providing a huge jump in density at relatively small cost.
It's also a way of getting larger capacity increases at less cost than shrinking NAND cell size. That becomes more expensive with each step down and each downward step generates less gain and takes longer to accomplish.
The outlook is pretty good, with Bruner saying: "Our fourth quarter revenue forecast is $1.8bn to $1.85bn".
At the mid-point of $1.825bn, it implies a full 2014 year number of $6.72bn, nicely up from last year's $6.2bn. However the dratted Wall Streeters were expecting a $1.875bn fourth quarter and that helped send the shares down a trivial 1.34 per cent to $83.93. Shareholder value is a short-term tyrant with the attention span of a gnat, and always wants more.
But we know that SanDisk is set to become a business flash giant because it has the hottest lowest-latency server flash in the industry with its ULLtraDIMMs, it's going into PC-replacement TLC flash SSDs, it has 3D flash coming, and it is a vertically interated flash products supplier, from flash foundries to end-user and OEM products. The storage vulture thinks it's one to watch. ®