This article is more than 1 year old
Weekend reads: Neil Young and Brian Cox ponder cars and universe (in that order)
We also have stroppy teens saving the world
Page File Phil Strongman joins El Reg bookworm Mark Diston to review the pick of publishing this week. Neil Young's second autobiography is more, much more than cars and girls, while the nation's omnipresent telly scientist Brian Cox offers insights to our origins. Also, James Frey and Nils Johnson-Shelton team up for the first time for a teen adventure fantasy that's already been snapped up by Hollywood.
Special Deluxe
As someone who spent a great deal of his youth clambering in and out of classic American cars, I have to admit the premise of this book did intrigue me. A life in rock'n'roll – with side dishes of film and family – as told through the cars that were driven, and usually owned by, one Neil Young.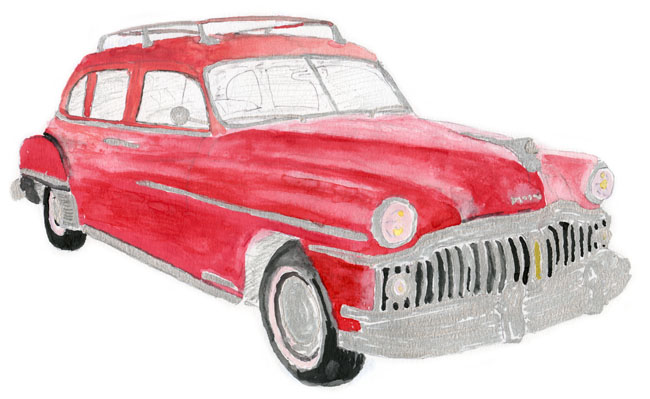 1950 DeSoto Suburban 'Hernando'. Illustration by Neil Young
For those too young – or too indifferent – to know, Neil Young is a Canadian-born singer-songwriter of some quality, who first made a mark with the LA-based Buffalo Springfield group way back in 1966.
Their song For What It's Worth hypnotically captured the spirit of the teenage riots on Sunset Strip that year and remains their biggest hit.
Young then struck out on his own, acquiring million-sellers with haunting songs such as After The Gold Rush, Heart of Gold and Rockin' In The Free World. He also kept busy recording and touring with his own band, Crazy Horse, and with the more famous super-group Crosby, Stills, Nash and Young – an interesting hybrid of the Byrds and the Springfields that eventually drowned in a sea of non-prescription drugs.
At the end of the 1970s, Young created a minor controversy with his Hey Hey My My song, which indirectly compared the notorious Johnny "Rotten" Lydon of the Sex Pistols with the recently-deceased 'king of rock'n'roll' Elvis Presley.
This move, and Young's own quirky integrity, later led to him being labelled "the Godfather of Grunge".
As the 20th Century became the 21st Neil Young became obsessed with three things; making electric cars "sexy", promoting his PureTone aka Pono concept – a downloadable audio format 20 times bigger and, supposedly, that much better than MP3 – and simultaneously writing his own memoirs.
In his first acclaimed volume of reminiscences Waging Heavy Peace, the trials and tribulations of his various cars were a fairly prominent feature, especially his 'electric' 1959 Lincoln.
Still, plenty of other subjects were woven into a circular yet readable narrative full of dour gems and bittersweet phrases, such as his producer David Briggs' favourite saying, "Life's a shit sandwich, eat it or starve".
With the latest volume, Special Deluxe, we have the additional subtitle A Memoir of Life and Cars. A four-wheel focus that would seemingly appeal to petrol-heads above all others.
Yet despite starting every chapter with a colour watercolour of his car of that moment – and there were dozens of these – plus a good few road-related stories, there is still plenty for musical pedestrians to enjoy.
The sheer easy-going lifestyle of a rising musician in pre-1980s LA is intriguing in itself, especially when compared with today's world of chaperoned interviews, massed bodyguards and controlled press releases – and Young's straightforward style suits this trip back to another world perfectly.
Of course, virtually all rock stars suffer from a state of arrested development – even the nicest have a certain arrogance that almost certainly stems from the fact they've never really had to grow up. Behaviour that would lead to most people being sectioned, or possibly jailed, is still tolerated in the wealthiest music biz circles. All of which leads to a certain detachment from real life – and from real adults – and from the logic the latter employ.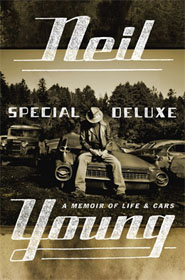 In Young's case, this creates a situation wherein he laments the students shot at the Kent State massacre of 1970 – subject of the his contemporary song Ohio – but then wonders why many of his fans were angered by his praise for President Reagan some years later; Reagan being the man who, as Governor of California, had originally called for "radicals" to be driven out of student campuses.
And throughout most of Waging Heavy Peace and even some of Special Deluxe Young also extravagantly praises Pegi, his wife of 36 years ... although as of August 2014, he's divorcing her.
Yet for all those inconsistencies, I found Special Deluxe to be an engaging work as well as one that can, and does, stand alone as a book. For Young does have candour on his side – he is far too honest to calculate what will read well in terms of personal image, in that he doesn't try and put himself in the best possible light.
And so revelations about girlfriends hiding drugs in his kid's nappies nestle alongside stories of hand-me-down Christmas lights, lovable old ranch hands, cherished toy trains ... and cars of course.
And there's a kind of twisted logic in there too, as cars have often been connected with music, from the back-seat romances of the Flappers and the Beats to songs such as Eddie Cochran's Somethin' Else, Vince Taylor's Brand New Cadillac, the Beatles' Baby You Can Drive My Car and Gary Numan's Cars. The crazy iron horse has often been an object of desire for millions of young people, for many, the ultimate (material) symbol of freedom during the last 70 years.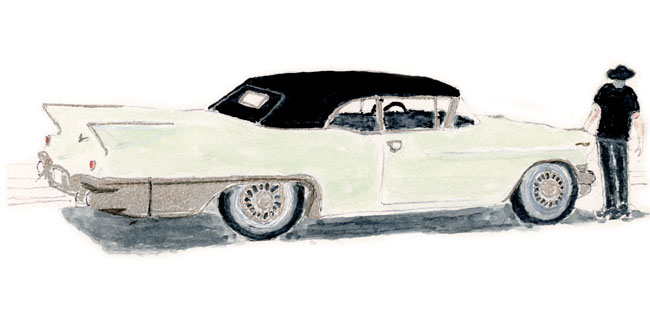 1957 Eldorado Biarritz Convertible 'Aunt Bee' illustration by Neil Young
Of course, too much petrol-driven freedom can be a very bad thing and Young, to his credit, has tried to address this with both his electric Lincvolt concept car and a narrative habit of casually reminding us of how much CO2 was dumped into the atmosphere during most of his epic drives. Which might sound like he's being preachy, but Young's far too spiritually confused to preach and, though his non-linear writing style can often cause a double-take – is he writing about 1969, '79 or '89? – you do eventually get to the place where (nearly) all is revealed.
Neil Young fans will definitely not be disappointed with Special Deluxe and quite a few other fans of pre-internet music might also find it a journey worth taking. Or, as he's never quite said himself, keep on (electric) drivin' in the free world PS

Author
Neil Young
Title
Special Deluxe
Publisher
Viking Adult
Price
£14.99 (Hardback)
More info
Publication website