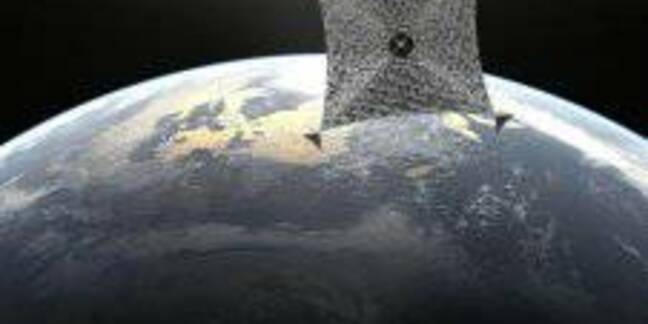 Reports are emerging that NASA has decided not to go ahead with next year's Sunjammer mission, which was to demonstrate the use of "solar sail" propulsion.
The project has attracted US$21 million of NASA cash under a contract awarded in 2011 to Californian company L'Garde. The agency's interest had been piqued by vacuum chamber demonstrations in 2005 and 2006, as NASA's Sunjammer page explains.
The plan was to develop a spacecraft with a 1,200 square metre solar sail, to test deployment techniques for the technology. The demonstrator was to carry a British instrument to detect coronal mass ejections as an "early warning" system for potential disruptions to satellite and other communications.
According to Spacenews, the contract is up for renewal in December, but NASA has decided to discontinue the project.
The report cites an internal memo in which NASA says it's working with L'Garde to "de-scope" the project, with completed work to be handed over to the agency. Spokesperson David Steitz told the outlet NASA had "identified key integration issues that increased the schedule risk".
According to Spacenews, L'Garde was confident it could build the solar sail, but hadn't been able to find a partner to build the spacecraft to carry it. That left the company a too-steep learning curve.
The plan was to create a sail that would weigh just 110 pounds (around 50 kg) and furl to "the size of a dishwasher". When deployed, the 0.005 mm thick sail would have developed just 0.01 newtons of thrust, but since it operates without propellant, it could operate practically forever. ®
Sponsored: Webcast: Ransomware has gone nuclear