This article is more than 1 year old
IBM storage revenues sink: 'We are disappointed,' says CEO
Time to put the storage biz up for sale?
IBM's storage revenues are continuing to slump, with the latest overall IBM results causing the abandonment of a long-term earnings/share goal.
IBM's overall revenues for its third 2014 quarter were $22.4bn, down six per cent year-on-year and down 8.2 per cent sequentially.
Net income was $3.5bn; it was $4.1bn in the previous quarter and the same a year ago, meaning a 14.6 per cent decline on both compares.
These numbers are bad, with IBM CEO Ginny Rometty saying: "We are disappointed in our performance. We saw a marked slowdown in September in client buying behavior, and our results also point to the unprecedented pace of change in our industry... we again performed well in our strategic growth areas – cloud, data and analytics, security, social and mobile - where we continue to shift our business. We will accelerate this transformation."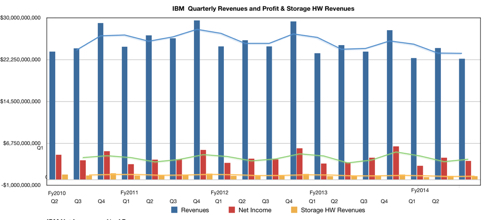 IBM Quarterly results, net income and storage revenues to Q3 2014, showing four years of going nowhere. Moving average trend lines are declining or flat.
All geographies were down. All IBM's business units were down with software revenues below expectations and insufficient productivity in services. The System and Technologies Group showed a 15 per cent revenue decline.
Within that, storage revenues were down six per cent year-on-year.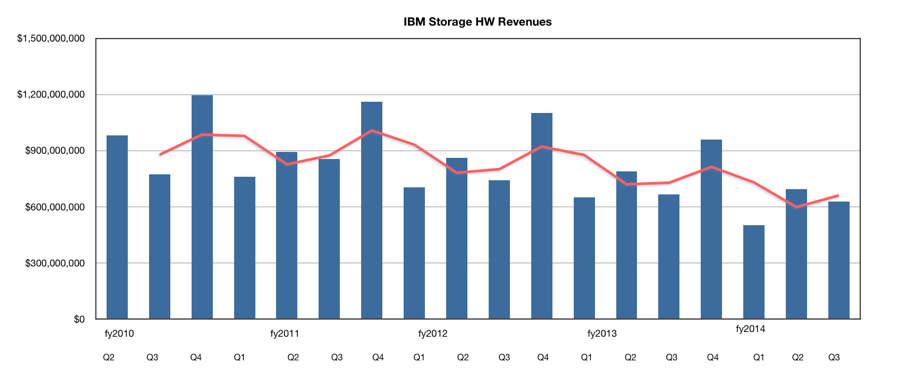 IBM's quarterly storage hardware results to Q3 fy2014. The moving average trend is downwards.
There was no visibility into individual storage product sales, with no particular products singled out as performing either better or worse than the average.
Is the storage business unit secretly up for sale, following in the footsteps of the the PC, server and microelectronics businesses? IBM is selling off significantly under-performing businesses it can't turn around into growth operations, and storage may now be in that category.
IT paid Global Foundries $1.5bn to take the Microelectronics business. Could storage be disposed of in a similar way, with a cash sweetener?
Analysts on IBM's earnings call asked if these results represented a crisis at IBM. That point wasn't answered directly, but the implication was that it was not. Rometty, who was on the call after not being present on previous ones, said IBM was already investing in higher-growth areas, such as the cloud and software-defined systems, and growth in these areas was good.
Rometty said she'd decided to join the call because IBM was abandoning its long-held 2015 EPS goal of $20/share and, secondly, because of the Global Foundries deal.
Another analyst asked if IBM should split up. No need, was the reply, as IBM itself is divesting under-performing businesses like the microelectronics unit, which is being passed over to Global Foundries.
IBM says it is still acquisitive and is not being managed for decline. Rometty said her message to investors is that "we are re-inventing the business and managing the company for the long term ... Our company is fundamentally better positioned than it was a few years ago."
That's all very well, but we are certain activist investors now running their bean-counting analytics software over IBM and looking to see if there is hidden or depressed value they could unlock though getting involved with Big Blue and shaking it up. Could Big Blue be bigger overall if was split up into smaller Little Blues or more assets sold off? ®