She's a huge advocate of drones — quite a surprising position to take for a first class fighter pilot.
Mary "Missy" Cummings was one of the US Navy's first female fighter pilots, taking to the air after the service lifted its ban on women in combat, and flying from 1988 to 1999. She piloted F18 Hornets and became one of the Navy's top pilots.
She left the service for academia in 1999 and is currently visiting professor at MIT's human and automation lab, while she also builds interfaces for unmanned aerial vehicles at Duke University's Humans and Autonomy Laboratory.
Some might find it surprising for this pioneering and skilled former fighter pilot to have become a frank advocate on the subject of how UAVs are better and safer flying machines than humans.
"About a year-and-a-half ago, it became safer for the military to send a drone on fighter bomber missions than manned aircraft," Cummings told The Reg during a quick chat about her work.
Safety and security aren't the first things that come to mind when most people think of UAVs. Drones as a class of technology sprung to prominence as dealers of death by delivering missiles on US engagements in Afghanistan and Iraq.
It's only since then we've begun hearing more about use of UAVs in a range of civilian applications.
Cummings herself has been an eyewitness to bomb drops, both from the cockpit and from the controls of a drone, and she said the latter is always a safer option when life and death are at stake.
"I have actually having seen my compatriots accidentally bomb and kill friendly forces; humans in the cockpit are under so much stress and susceptible to human frailty," she said.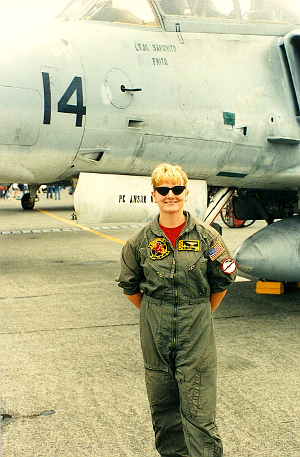 Cummings — pioneering pilot in a time before aerial
vehicles went unmanned
On the other hand, "drones allow operators to be much more calm, cool and collected", Cummings said. "They allow people to have a discussion about whether a target is the right target or not. There is no question in my mind that drone warfare is much better and safer, and results in less collateral damage than putting a human at the tip of a spear.
"The reason is that drones don't get tired, [and are not prone to] fatigue or emotional distress. They don't have drinking problems. And with automation, drones themselves do a much better job of keeping the plane at altitude and staying on course."
Drones might soon do more than replace fighter pilots on a mission — they could put ground-based delivery men and women out of a job, too.
Amazon's Jeff Bezos took the opportunity during the busy Christmas shopping season last year to unveil plans for a drone-based delivery system of unmanned octocopters that can deliver packages to addresses 10 miles or less away from an Amazon distribution centre. The result? This year could be the year UAVs go mainstream thanks to the resulting coverage.
Indeed, part of Cummings' current work is focused on trying to give the commercial sector a boost by devising UAVs that are best suited for the type of use envisioned by Amazon and other companies, she told us.
"We are also working on developing conceptual designs for a low altitude, high density air traffic control system for commercial use of drones," Cummings said. "Such a system is critical to achieve the vision of delivery by drone."
Open-source UAVs
Drones are not error-free – far from it – and there have been crashes down to bugs in their onboard software. The Linux Foundation last week announced that it would be doing its bit to iron out the, er, bugs and make the UAV market a reality with the Dronecode Project.
The idea of Dronecode is for a common, Linux-based software platform that serves as a stable basis for others. It should mean that UAV firms don't need to constantly re-build the core infrastructure at great cost and expense. The idea is that common open-source bugs can be quickly spotted and ironed out.
The potential demand is there. Amazon aside, EasyJet earlier this year unveiled its work with Bristol Robotics Laboratory at Bristol University to develop autonomous aircraft that can position themselves around other aircraft in order to be service them or locate problems that need attention.
Similar topics