ISPs handbagged: BLOCK knock-off sites, rules beak
Historic trademark victory, but sunset clause applies to future blocks
---
The UK's biggest ISPs must block websites that flog knock-off goods, after a successful High Court case brought by luxury goods firm Richemonte, the first time trademark pirates have been blocked in the EU.
Richemonte, Swiss-based holding company for brands including Cartier (watches), Alfred Dunhill, and Montblanc wanted six websites blocked under section 97A of the 1988 Copyright Designs and Patent Act — the section used to block access to foreign websites that offer links to and/or torrent files of copyrighted music and films – such as The Pirate Bay.
The sites include Cartierlove2u and Montblancpensonline — which from a distance, and to the untrained eye, look like bona fide outlets. Until you check the prices, and spelling.
At issue was whether trademark blocking orders could be brought using the same principles that permitted blocking under 97A, which doesn't actually mention trademarks. The ISPs (Sky, Virgin, BT, EE, TalkTalk) wanted clarification on wording, and a two-day hearing took place last month.
Judge Arnold concluded after some hesitation that the 1994 Trademark Act gave sufficient grounds for trademark owners to pursue an injunction, and would be fair.
Judge Arnold did agree with David Allen Green (aka the blogger "Jack of Kent") for the Open Rights Group that the block should contain information about who asked for the block, and "that affected users should have the right to apply to the Court to discharge or vary the order".
He also agreed the blocks should have a "sunset clause", which he thinks should be two years.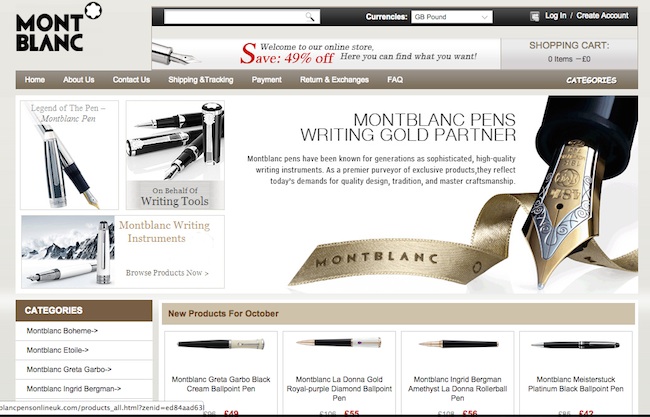 A knock-off Montblanc site
VPN blocking
Arnold had to balance the EU InfoSec Directive, limiting liability for service providers, with the EU E-commerce Directive which protects trade. The latter applied to both sides in this case: giving traders the right to pursue injunctions, and service providers protection against being unfairly harassed out of business by them.
"Where two rights, or sets of rights, are in conflict, then the conflict must be resolved by applying the principle of proportionality to each and striking a balance between them," noted Arnold.
"Each of the techniques described above can readily be circumvented by users who have a little technical knowledge and the desire to do so," Arnold added.
Blocks are ineffective against VPN users. However, there's no burden under Article 3(2) of the Enforcement Directive on rightsholders to establish that they'll reduce overall infringement — merely that they can be effective against a rogue trader. Arnold agreed with ISPs that effectiveness was as an important factor in deciding on proportionality.
And they're cheap — one ISPs put the cost at £3,600 per website per year, while Sky and BT's cost estimates are in the same region. ISPs who blocked sites were briefly attacked (via DDOS or malicious DNS poisoning) but the reprisals weren't repeated. This swung Justice Arnold's thinking. ISPs had argued that Richemonte should use notice-and-takedown, and not pursue web blocking.
"The key question, to my mind, is whether the benefits of website blocking, which accrue to the rightholders, justify the costs, and in particular the implementation costs which are imposed on the ISPs. This question is central to the assessment of proportionality," said Arnold.
The ISPs argued that Richemonte could and should use other countermeasures against rogue websites, such as notice and takedown, going after payment processors, blocking DNS, and de-indexing them from search engines. (Yes, ISPs argued for all these things.) But Arnold noted that these weren't always effective.
For example, the knock-off pen website ukmontblancoutlet.co.uk was suspended as a result of action by PIPCU (Police Intellectual Property Crime Unit), but the very next day the website re-appeared under the name montblancoutletonline.co.uk, he noted. PIPCU could only enforce against UK-registered domains. As for delisting, Arnold observed: "It is not clear at present that any EU court would have power to order de-indexing on the basis of intellectual property infringement."