Dirty and clean
Arnold heard evidence that in the UK, traffic to rogue sites fell after web blocking orders were implemented. Search queries on VPNs and via Tor rose, but the net effect was to increase traffic to legitimate sites, which is what the rightsholders wanted.
For brevity, let's call the sites that have been blocked in the UK "dirty" sites, and everything else a "clean" site. Between January 2013 and February 2014, global traffic excluding the UK to the top 100 "clean" video streaming sites rose 67.6 per cent, and to the "dirty" list by 27.6 per cent. That shows a global increase in demand for video streaming over the internet, with rogue sites benefiting from the increase in demand. In the UK, however, traffic to the clean sites rose 146 per cent and to the dirty sites fell by 71.2 per cent. The effect of blocking was an increase in legal trade.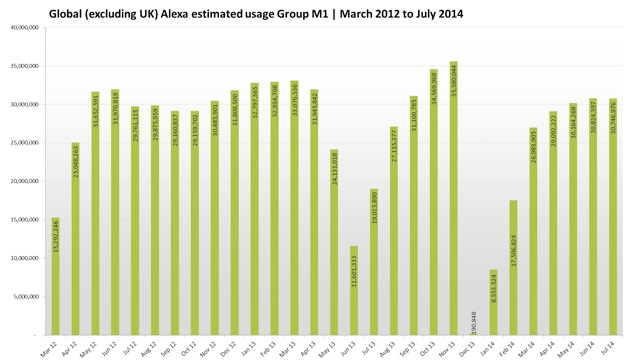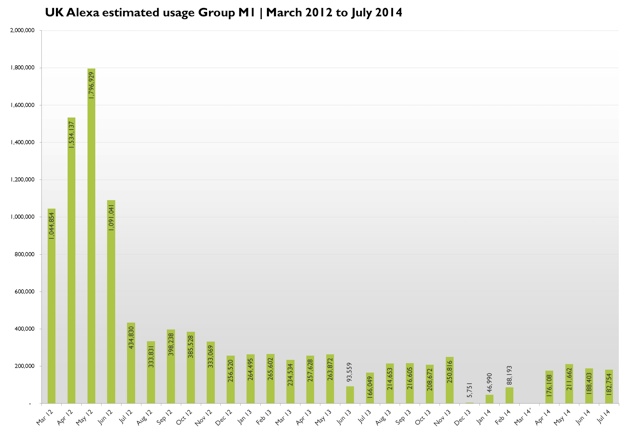 Comparison of traffic to sites blocked by the UK, outside and inside the UK. The dips correspond to The Pirate Bay changing domain.
Ian Brown, for the ISPs, cited a Q&A survey examining the Dutch experience with the Pirate Bay, which was blocked for a few months in 2012. Brown said the survey had not shown a reduction in infringement. Arnold said the study was flawed (no methodology was offered) and self-reporting surveys are notoriously inaccurate. He could have added that the block was much narrower than the UK blocks, so substituting one rogue for another was relatively easy.
He also criticised the evidence of another study of Dutch torrenters which changed its methodology halfway through, and focused for a short period on Dutch language and subtitled Torrenters. The Dutch can speak and understand English pretty well, he noted, and did not prove what Brown wanted, that blocking was ineffective.
This was interesting.
Professor Hargreaves, who led the UK government's "Google Review" into IP, and digital rights activists have frequently criticised rights industries for producing what Hargreaves calls "lobbynomics" - poorly based research to back up their claims. It isn't hard to find an academic to rubbish copyright industry claims of harm. But here, the "evidence-based" part of the case (213-236) was convincingly won by the rights holder.
You can download the verdict here.®
Similar topics