This article is more than 1 year old
Redmond top man Satya Nadella: 'Microsoft LOVES Linux'
Open-source 'love' fairly runneth over at cloud event
"Microsoft loves Linux" is generally not something one expects to hear, but that was one of the messages that Microsoft CEO Satya Nadella delivered at a San Francisco media event touting Redmond's cloud offerings on Monday.
According to Nadella, 20 per cent of Microsoft's Azure cloud is already Linux and the software giant plans to always have first-class support for Linux distributions in its public cloud offerings.
To demonstrate Microsoft's commitment, Nadella announced support for the container-friendly CoreOS distro on Monday, making it the fifth officially supported flavor of Linux on Azure along with CentOS, Oracle Linux, Suse, and Ubuntu.
Asked whether Azure customers can expect to see Red Hat Enterprise Linux running on Microsoft's cloud soon, Nadella said Redmond would very much like to do business with Red Hat but had nothing to announce so far.
Steve Ballmer's successor also pointed out that Microsoft supports a variety of open source software applications on its cloud. In particular, he announced a new partnership with Hadoop vendor Cloudera, and Cloudera chief strategy officer Mike Olson was on hand to explain how Azure customers would be able to deploy the company's Big Data software with just a few clicks.
It was all in keeping with Nadella's message that with Azure, Microsoft intends to deliver a cloud offering that spans deployment models ranging from public infrastructure to hybrid clouds and SaaS.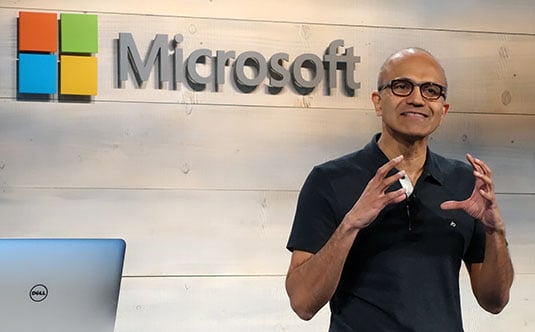 Microsoft hates Linux? Au contraire, said CEO Satya Nadella in San Francisco
"The Microsoft cloud is the most complete cloud offering that empowers every business across every industry in every geography," Nadella said.
None of Microsoft's competitors were specifically mentioned at Monday's event, but the big take-away was that customers should think of Azure not as a hosted Windows service, but as a complete cloud offering to compete with the likes of Amazon and Google.
The turnaround is complete #mscloud #MicrosoftLovedLinux pic.twitter.com/747g2TExS4

— James Niccolai (@jniccolai) October 20, 2014
Scott Guthrie, Redmond's executive VP of cloud, also announced a few service upgrades. First, Microsoft's new "G" family of virtual machines offers customers up to 32 Intel CPU cores, 450GB of RAM, and up to 6.5TB of storage – larger than what's currently available on Amazon's cloud.
In addition, Guthrie unveiled a new Premium Storage service on Azure, where each virtual machine has access to up to 32TB of storage with a read latency of less than 1ms.
Microsoft had hybrid cloud news, too. The software giant announced a new effort called the Cloud Platform Service, which bundles the same technologies Redmond uses to power Azure with hardware provided by Dell for deployment in customers' own data centers.
The new offering – essentially Azure in a box – will be available next month, Guthrie said, but pricing was not discussed.
Nadella said 80 per cent of the Fortune 500 companies are now using Microsoft's cloud, and that 40 per cent of Redmond's cloud revenue comes from startups and ISVs.
"We have a revenue run rate of $4.4bn and we are very, very happy with the progress we're making," he said. ®