Hi-Res Audio hookup
The Xperia Z3 can shoot video at 2160p @ 30f/s and 1080p@ 60f/s, but you'll soon be hankering after a microSD expansion card if you have a hi-res video habit, as its 16GB internal storage will soon be eaten up.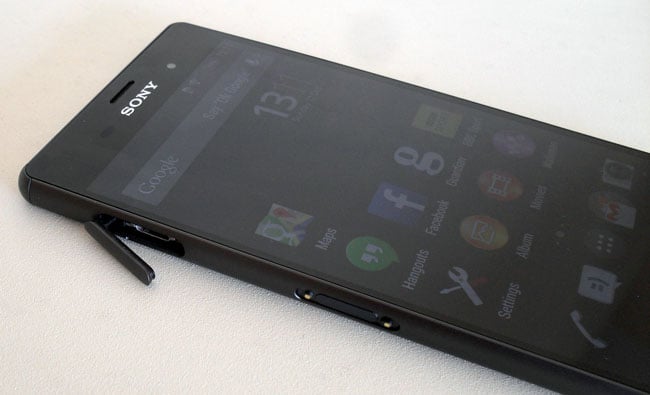 Ports have waterproof covers – note the 2.2Mp webcam
The camera app now shows an increase in sensitivity to 12,800 ISO, so you can shoot pics in the dark, though only in HDR mode or Superior Auto as Sony calls it, which is restricted to 8.3Mp. Low light images are still not class leading but they are now at least class average. More importantly, all pictures look more natural and less processed than those taken by the Z3's predecessors. So, finally a flagship Xperia with a camera every bit as good as anything that doesn't have the word Lumia and the number 930 written on it.
Other improvements? Well, the Z3 will take a 128GB memory card up from the Z2's maximum of 64GB and there is the addition of a High-Res Audio output, which I think makes the Z3 the first smartphone to support DSD audio playback through its USB port to an external DAC.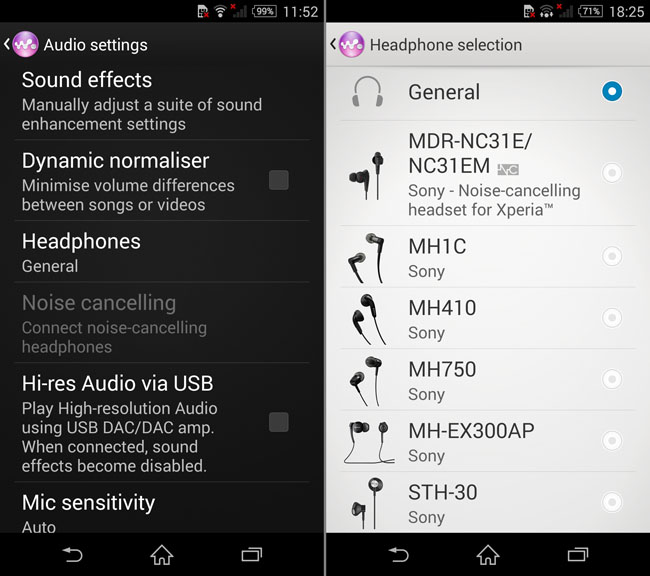 HD audio can be shunted out via USB port and you can pick your earphones for optimised playback
While talking about audio output, if you dig into the Walkman settings you will find custom presets for a selection of Sony-made headphones including the bundled NC31E noise cancelling headset (missing from my review package, alas) which takes advantage of the noise cancelling hardware built into the Z3.
If the Z3 sounds like your bag of onions but it's too big or too expensive (or both), then the new Z3 Compact offers an almost an identical spec list – except that the screen is a 4.7-inch 720 x 1280 affair and there is only 2GB of RAM. The battery is also rather smaller with only a 2,600mAh capacity. Other than that the two devices are technically identical and share a very similar design language.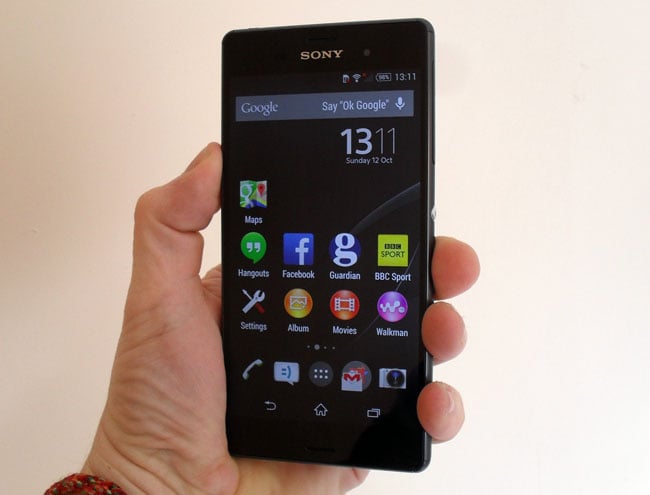 Smaller than before but easier to hold and a longer battery life too
The Reg Verdict
With the arrival of the Xperia Z3, it's now becoming clearer what Sony's philosophy is regarding its flagship update programme: incremental changes every six months and evolution rather than revolution. As a result the Z3 is by some way the most refined Xperia flagship to date. The new rounded profile makes it much easier to handle than the Z/Z1/Z2 and it's also smaller and lighter.
The battery is also smaller but it lasts longer, the camera hardware is near enough the same but it produces better results and the screen – despite showing a similar on-paper specification – is brighter, warmer and uses less power. The PlayStation compatibility should prove a major attraction to PS4 owners too. ®
Thanks to Three for the loan of the review sample.

Xperia Z3: Crikey, Sony – ANOTHER flagship phondleslab?
Sony's Xperia flagship features a 5.2-inch 1080 x 1920-pixel display, a 2.5GHz quad-core Qualcomm CPU and IP68 water and dust proofing.