That's PROFESSOR Woz to you from now on, young whippersnapper
Apple co-founder signs up to teach at Australian University
Apple co-founder Steve Wozniak has joined the University of Technology, Sydney (UTS), as an adjunct professor.
Woz will teach in the "Magic Lab" (Innovation and Enterprise Research Laboratory), School of Software and the Centre for Quantum Computation and Intelligent Systems at UTS' Faculty of Engineering and IT.
Magic Lab director Professor Mary-Anne Williams has allowed herself to be quoted saying Wozniak is the "coolest person in the Universe" and "loves the energy, the vibe and the robots in the Magic Lab."
"Woz constantly highlights the new possibilities for technology to change the world and enjoys sharing his insights and experiences," Williams added. "The students have been totally wowed by the attention he has given them – one claiming he had changed her life in less than 60 seconds."
Just what Woz will do isn't explained*, but UTS' deputy vice-chancellor for research Professor Glenn Wightwick said he "... remains a leading voice in innovation and a promoter of creativity and ingenuity, especially among the young technologists who will take the next step."
Wozniak has apparently made one trip to the Magic Lab already, plans another in December and will also do some teaching by teleconference.
That digital gig may explain the real lure of putting Woz on the payroll, as Australian universities are very keen on exporting their services with Asian students a favourite target. Vulture South imagines it wont be hard to sign up fee-paying students for a course featuring Woz.
Hiring Woz is on-form for UTS, which is currently adding the finishing touches to two landmark one designed by superstar architect Frank Gehry and known as "the paper bag".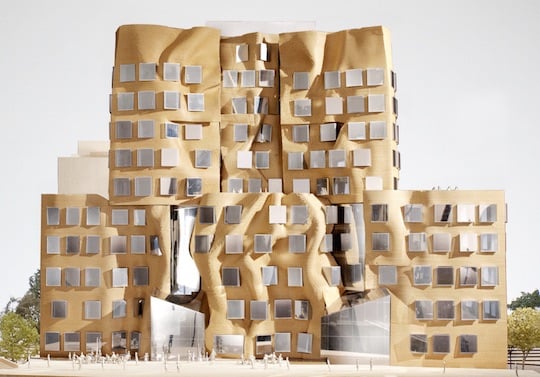 The Dr Chau Chak Wing building at UTS, aka "the paper bag". Image: Gehry Partners LLP
As this report explains, building the paper bag has required extraordinary effort by brickmakers and bricklayers, among other trades. And a lovely donation from Dr Chau Chak Wing to make it possible.
The combination of Woz and Gehry gives UTS a certain chic that rival universities across the region – and maybe the world - will struggle to match. ®
* Stop us if you've heard this one before.