Nokia France leak: Windows Phone DUMPED in Microsoft Lumia revamp
Haricots renversés sur Facebook
The French wing of Microsoft's Nokia mobile device division appears to have confirmed some Windows Phone rebranding efforts that have been rumored for the past few months.
Earlier this year, leaked legal documents related to Microsoft's acquisition of Nokia's Devices and Services business revealed that Redmond was only given 18 months to use the Nokia brand for its smartphones before it reverted to the exclusive property of Finnish telecoms firm Nokia Oy.
What would replace the Nokia name, however, was anybody's guess. But the most logical move seemed to be for Microsoft to keep using the Lumia trademark but market any new devices under its own brand.
On Tuesday, Nokia France appeared to confirm that this is exactly what's going to happen. In a post to its official Facebook page, the company said to expect a message in the coming days about rebranding the page to "Microsoft Lumia."
Assuming the note – which has been pinned to the top of Nokia France's page – isn't some awful mix-up, it's the most concrete evidence yet of Redmond's mobile branding plans. In September, the software giant shifted the UK version of Nokia.com over to a new Microsoft Mobile Devices site, but it had nothing much to say about the fate of the Nokia brand.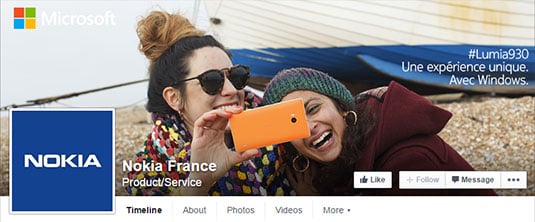 Windows Phone no more? Nokia France's Facebook page suggests unified Windows branding is coming soon
Nokia France may also have inadvertently confirmed another rumor that's been making the rounds, which is that Microsoft is planning to drop the name Windows Phone from future handsets and unify its desktop, server, and mobile operating systems under a single Windows brand.
The image at the top of the Nokia France Facebook page on Wednesday was an advertisement for the Lumia 930, and the copy read, "Une experience unique. Avec Windows" – note, not "avec Windows Phone."
The Register has asked Microsoft to confirm the branding changes, but there's been no official word so far. ®