This article is more than 1 year old
Want to own .app, .blog or .pet? Best sell a third of yourself for $100m on London Stock Exchange
Registry Afilias preps float ahead of gTLD auction battle
Internet registry Afilias hopes to build a $100m (£62.3m) war chest by floating on the London Stock Exchange – just in time to spend the cash snapping up the rights to new dot-word domains.
The company will sell 30 percent of itself next month, ahead of a critical dot-word auction planned for 17 December.
Some 21 valuable new generic top-level domains (gTLDs) – including .app, .blog, .pet, .bet and .casino – are up for grabs. Each is expected to go for millions of dollars based on auctions run last month that saw $6.8m paid for dot-tech; $4.6m for dot-buy; and $3m for dot-vip.
Dot-app has no less than 13 companies vying for it, making it the most popular out of the 1,400 names that were applied for last year.
Looming over Afilias are internet powerhouses Amazon and Google, as well as a number of well-financed companies focused solely on acquiring gTLDs – such as Donuts, Famous Four and Top Level Domain Holdings.
Afilias, headquartered in Dublin, Ireland, may be overselling itself: by asking for $100m for 30 per cent of its business, it is valuing itself at 4.3 times its annual revenue. Even with a healthy 40 percent profit margin, that seems a generous valuation to your humble correspondent.
While competition between the small group of companies vying for control of the internet's naming system is heating up, the broader stock market is taking a cooler view.
Shares in other publicly traded companies focused primarily on internet registries – from Centralnic (CNIC) to Minds and Machines (MMX) – have fared poorly this year, as the uptake of new gTLDs has fallen short of expectations. And last week, net overlord ICANN revised down its take of revenue from new registry operators by $10m.
Another sign of a possible overheated market is the fact that a number of companies have started raising funds with the sole aim of buying failing gTLDs at cut-prices.
There is some excitement over the availability of new domains however, with backend operator of the dot-nyc domain, Neustar, this week being invited to ring the bell at the opening of the New York Stock Exchange.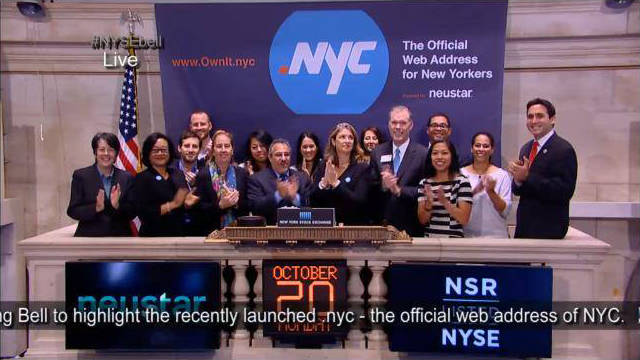 You can view the auction schedule for new gTLDs here [PDF]. ®