This article is more than 1 year old
Forget the $2499 5K iMac – today we reveal Apple's most expensive computer to date
Unbelievable specs, too
Pic When Bonhams put a vintage Apple I computer on the block, the Brit auction house thought the tech antique would fetch as much as $500,000.
It was wrong.
Instead, the 1970s-era circuit board fetched an eye-watering $905,000 (£564,000) in New York on Wednesday. The winning bid came from the Henry Ford Museum, which said it will put the Steve Wozniak-built machine on display for the public.
"Similar to what Henry Ford did with the Model T, Steve Wozniak and Steve Jobs put technology directly in the hands of the people with the creation of the Apple-1, completely altering the way we work and live," said museum president Patricia Mooradian.
"The Apple-1 was not only innovative, but it is a key artifact in the foundation of the digital revolution."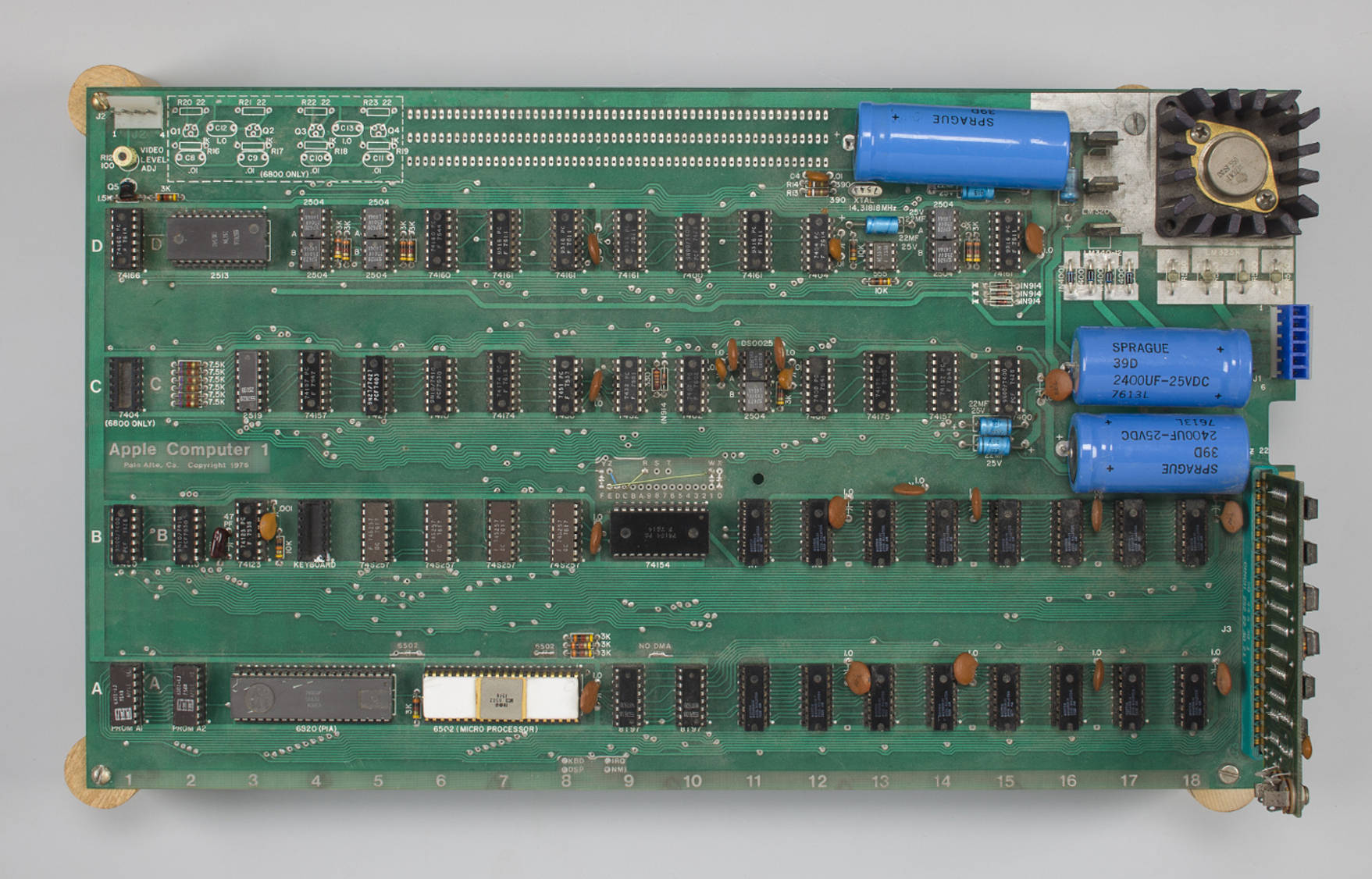 The Apple I sold at auction
The Steves hand-built the Apple I in 1976, and sold about 200 of the systems to hobbyists at $666.66 each. While not particularly successful, the proceeds help to fund the creation of the Apple II, which propelled Apple to global prominence.
This particular Apple I was part of an order of 50 machines Wozniak hand-assembled for a nearby computer shop.
Last week, Apple unveiled the iMac 5K. Had the Henry Ford Museum opted to put its money in Apple's latest machine rather than its oldest model, it could have installed a mighty fleet of 362 mega-Macs, albeit with far less historical significance.
So, how does the iMac 5K stack up with the Apple I? Let's do a side-by-side comparison... ®
|   | 5k iMac | Apple I |
| --- | --- | --- |
| Year produced | 2014 | 1976 |
| Enclosure | All-in-one aluminum case | Build it yourself from scraps of plywood |
| Processor | Intel Core i7 4GHz | MOS 6502 0.001GHz |
| RAM | 8GB | 0.0000038GB |
| Screen | 27in LED backlit Retina | The spare TV in your garage |
| Resolution | 5120 x 2880 (5K) | 280 x 192 (0K28) |
| Peripherals | Apple wireless keyboard and mouse | Not yet, er, inspired by Xerox |
| Operating system | OS X Yosemite | Monitor plus a copy of BASIC Woz stuck on a cassette |
| Cost close to a million dollars? | Depends on configuration | Yes |