This article is more than 1 year old
Vulture trails claw across Lenovo's touchy N20p Chromebook
The Googlebook you can fondle
Review A friend recently introduced me to a North West fast-food tradition called half-and-half. That's chips, rice and curry sauce to those of us born and raised in the more enlightened parts of the realm. It's not a combination I'd considered before, but truth be told it's a pleasant repast. Especially after a beer or three.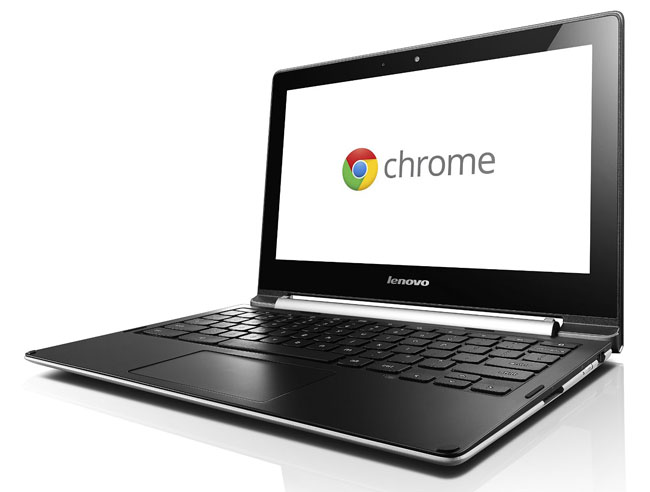 Fondle friendly: Lenovo's N20p touchscreen Chromebook
The idea of a touchscreen Chromebook struck me as equally incongruous, but since I was wrong about half-and-half, maybe I was wrong about Lenovo's new touchy-feely N20p Chromebook too.
After yanking the N20p out of its box, the first thing that struck me was how thin and light the thing is. At 17.9mm thick and weighing 1.4kg, the Lenovo N20p gives little away to the 11-inch MacBook Air – which is 17mm thick and 1.08kg. Of course, the MacBook Air costs three times are much so it darned well ought to be a little lighter and thinner.

USB 3.0 together with a micro HDMI and the mic/headphone combo jack socket
Take a quick shufti around the new Lenovo and you'll see it's laid out pretty much as expected. One the left-hand side you'll find a USB 3.0 port, micro HDMI and 3.5mm in/out audio connectors along with the power socket. On the right there's a USB 2.0 port, on/off switch and SD card slot. More about that last feature below. With Bluetooth 4.0 and dual-band 802.11ac Wi-Fi, the N20p is pretty well connected for a budget laptop.

USB 2.0 on this side and an SD card slot
An unusual design twist is the ability of the screen to fold back through 300 degrees so you can set it up up Yoga-style, with the keyboard acting as a stand. Four little rubber feet – two on the lower corners of the keyboard deck and two on the inside of the screen hinge cover – keep the keyboard off the surface when it's resting in "Yoga" mode.
On paper there's nothing overly special about the N20p's screen. 11.6 inches and 1366 x 768 pixels is par for the Chromebook course. That said, the Lenovo's glossy display is one of the brighter and more colourful ones that I've come across on a Chromebook. It's a bit of a shame that it's not blessed with more robust viewing angles though. And of course it supports 10-point multitouch, which isn't unheard of but is certainly not the norm for a Chromebook.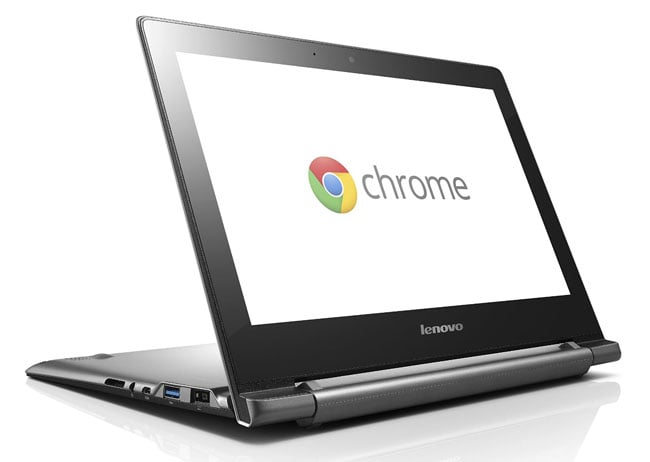 Yoga stylee
My initial doubts about the point of a multi-touch Chromebook were based on the fact that Chrome has never been even partly optimised for a touchscreen. In Google's world, that's Android's job. As far as this Chromebook goes, no part of the OS has been changed, tweaked or altered to make better use of the touch screen. Yet in spite of that, I found myself regularly stroking, poking and fondling the N20p's LED display.