Kingston's aviation empire: From industry firsts to Airfix heroes
Sir Thomas Sopwith's suburban Surrey hub
Squeezed in and ready for take off
Initially with just six workers by WW1 150 staff were squeezed into the rink - wood workers, panel beaters and polishers, wirers, fitters and welders. Machinists hollowed out wood to make their aircraft's spars lighter while others beat and fashioned metal brackets, bearings, flanges, plates and made fuel tanks.
Women sewed the linen fabric for the wings and bodies, painted dope on the fabric and painted the wood and fuselage with varnish.
It was dangerous work and in those pre-health-and-safety days the women donned gloves to protect against blisters caused by the caustic dope and drank milk every day in the belief it would stop the powerful fumes damaging their lungs, according to Kingston Museum and Heritage Services.
As WWI developed and more men went to the front, women moved out of simply doping wing fabric and onto the shop floor, soldering, running presses and carrying out inspections so that by the final year of WWI nearly a third of Sopwith's workforce of 3,500 were women.
Such was the pace of orders that Sopwith soon needed a bigger factory: he picked a site just 109 yards up the road, a facility that became the heart of his empire - at the corner of Canbury Park Road and Elm Crescent.
The Island Factory, with Sopwith's offices behind the bay windows credit: BAE Systems via Royal Air Force Museum
Surrounded by roads, this site became known as The Island. It began as a 14,000 square foot shed in 1913 but by 1917 stretched to 40,000 square feet, was built from brick and reached up three storeys.
The Island was self contained: it featured a sawmill, machine and sheet metal shops, tool stores, aircraft assembly floors and separate dope and paint shops. One whole wing – along the Canbury Park Road side – was dedicated to design while there were separate departments for sales, ordering and accounts. It was through these that orders for essentials such as engines and machine guns flowed.
From Canbury Park came the design of every one of Sopwith's aircraft between the years of 1916 to 1958 – from biplane, to monoplane to jet aircraft.
This was the Henry Ford approach to aircraft production, coming at a time when most aircraft firms had one or two models that were delivered in small runs. And the results showed: 25 per cent of British fighter aircraft designs in WWI came from Sopwith; 60 per cent of all single seater aeroplanes in the British and allied air forces were a Sopwith. This includes models designed and built in Kingston or just designed in Kingston and built under license elsewhere.
Kingston produced 16,237 aircraft of 32 designs for WWI. The best known of these is arguably the Camel, which made its first flight in December 1916 and during it's relatively short time claimed more enemy aeroplanes shot down than any other aircraft: 1,294. Five-thousand and five hundred Camels were built – 550 in Kingston alone.
The Camel became a hit because it was a revolutionary aircraft, with a winning combination of firepower, speed and maneuverability.
In a design first the Camel featured twin, forward-facing guns - a pair of .303" Vickers machine guns. It was a mounting that became an RAF standard. The guns used the fledgling synchronization gear technology, developed to allow fixed forward-firing guns to fire through the aircraft's propeller blades without shooting them off. Anything caught head-on by a Camel got a hot-lead shower.
The most common model of the Camel featured a nine-cylinder 130 horse power Clerget air-cooled engine giving it a climb of 1,085 feet per minute – double that of the German's Fokker D.II and nearly twice as fast as the D.III. It was faster, too, with a top speed of 118mph and it could fly higher – touching 19,000 feet.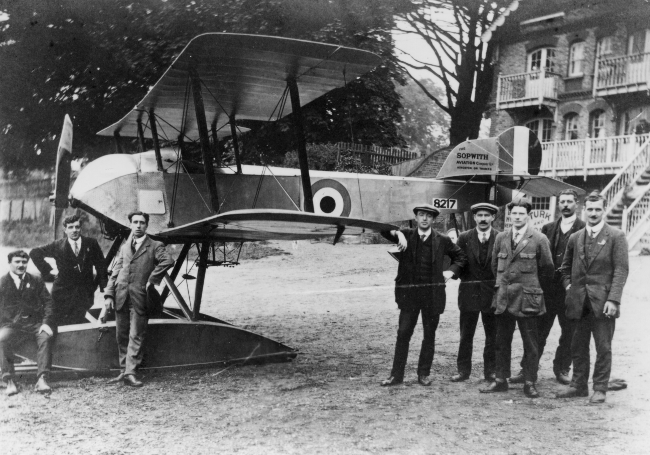 Testing on the Thames at Kingstron's Canbury Gardens. Credit: BAE Systems via Royal Air Force Museum
What made the Camel so lethal was its manoeuvrability. Ninety per cent of the plane's weight - engine, fuel, guns, ammunition and pilot - were packed into the first seven feet of the fuselage, making it compact and finely balanced.
It wasn't perfect: front loading made the Camel fast on the turn but too fast for the inexperienced pilot. Pilots also had to combat a powerful clockwise rotary effect in the engine that made left turns nearly impossible and saw pilots forced to sweep right.
Kingston Aviation's Hassard credits the Camel's design and performance to the driving desire of Sopwith's chief test pilot, Hawker, who was a motorbike fanatic. "He wanted something so compact you could throw it around," Hassard told us.
It was a Camel pilot who was closely involved in the shooting down of Manfred von Richthofen, the infamous Red Baron with 81 allied kills and who flew a Fokker Dr.I triplane painted a brilliant red at the head of Germany's pre-eminent Flying Circus. Richthofen's Fokker was a copy of Sopwith's own triplane model; the Germans had studied one that crashed behind their lines. But, while the German three-winger was highly manoeuvrable it was slower than Sopwith's and it was dogged by structural failures, with the top wing prone to breaking.
The Camel features in a planned First World War Air Exhibition at the RAF Museum, Hendon, in December 2014, marking the 100th anniversary year of WW1.
By 1917 Sopwith's factories couldn't keep up with demand. In April 1918, Sopwith opened his third Kingston plant - the then new National Aircraft Factory No. 2 that had been built by the Ministry of Munitions in a period of just 26 weeks during the winter of 1917, which stood on a field near the Thames just outside Kingston and off Richmond Road. Less than a mile away from Canbury Park Road, it was leased to Sopwith and became known as the Ham Factory.
The Island factory as Sopwith House with Sigrist Square behind. Credit: Gavin Clarke
The Ham Factory looked like a series of hangars squatting next to each other, and behind their huge front doors lay a cavernous belly. In here hundreds of Sopwith Snipes, Dolphins and Salamanders were lined up and churned out.
But Ham, or possibly peace, killed Sopwith's company. War finished seven months later, leaving Sopwith with piles of parts and unwanted orders.
Sopwith limped on, trying to retain his remaining 1,400 staff by turning them to produce civil aircraft and ABC motorcycles. Yet, faced by immediate repayment of wartime profits, Sopwith was liquidated in 1920 and Ham was sold to British lorry maker Leyland Motors for £227,000.