Kingston's aviation empire: From industry firsts to Airfix heroes
Sir Thomas Sopwith's suburban Surrey hub
Vertical take off, at last
The Harrier saw combat two decades after entering service in 1969, during the Falklands War against Argentina in 1982. 26 Harriers and Sea Harriers were embarked aboard the Royal Navy aircraft carriers HMS Invincible and HMS Hermes on the mission to recapture the Falklands. Their presence helped stop the Argentinians inflicting heavy losses on the British task force so close to the Argentinian mainland and military machine.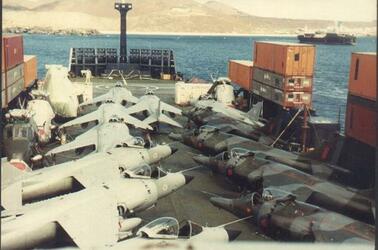 Harriers on cargo-ship-turned-aircraft-carrier, the Atlantic Causeway. Credit: CPO Bob Gellett
As it was Argentinian aircraft struck 17 ships, sinking five warships and one civilian vessel, the Atlantic Conveyor. Of the Harriers, five were lost – two to bad weather – in return for 20 Argentinian aircraft downed.
The Harrier found a niche in military planning – short take off and landing, suited to the role in the Falklands; conceived to serve against the Soviets launching without airstrips from the forests of Europe. Some 14 Harriers had arrived in the Falklands packed on the decks of the Atlantic Conveyor - fortunately they had been flown off before she was sunk.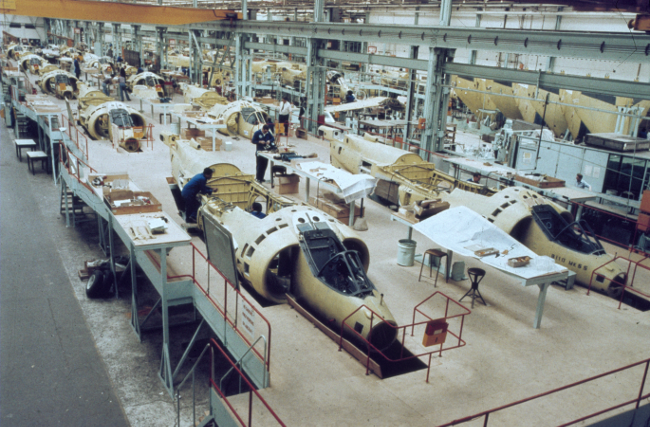 Harriers in production at Ham. Credit: BAE Systems via the Royal Air Force Museum
Work on the P.1127 started in 1957, in a Bristol outpost of what had become Sopwith's aviation empire. Michel Henry Marie Joseph Wibault developed the concept for a vertical and short take off and landing (V/STOL) engine using a Bristol BE.25 Orion turboprop engine. Wibault's engine directed thrust down via two nozzles on the outside of the aircraft. The Orion powerplant hailed from Sopwith's Bristol Siddeley firm.
The engine evolved to a more powerful BE.53 but Bristol needed help ironing out lingering technical problems – plus, it also needed an airframe to mount the new engine in. The firm approached Hawker and Camm, who suggested the addition of two extra external nozzles to direct the airflow, solving the problem of balance. The Hawker and Bristol teams began work on the P.1127 as a "high-speed helicopter."
NATO funded 75 per cent of the cost of developing of the engine and the teams meshed. The British Ministry of Aviation ordered two prototypes and four developmental aircraft in 1960.
The P.1127 was actually designed at Canbury Park Road but built by hand at Richmond Road. The Harrier was a long way from the early biplanes: 200,000 components with a quality-control process that inspected things like welding joints using X-ray systems. The work had become more specialized, too, giving rise to apprentices. Over time, aircraft bodies shifted from aluminium to carbon fibre.
"In this area of North Kingston there was hardly a family who didn't have somebody who worked there," Hassard says. "You couldn't get a more complete industry or broader range of skills."
The Ham factory closed in 1992 and was knocked down after BAe pulled out of London and as the local authority succumbed to housing developers. The land was carved up between these developers building more than 300 homes, the council that owns the large field, and the Hawker Athletic Social Club.
According to Hassard grown men cried as the wrecking balls tore into the Ham factory. It's not hard to see why, as you stand on the football pitch outside the Hawker Athletic Social Club and superimpose the image in your head of what was once on this now mostly wide-open vista.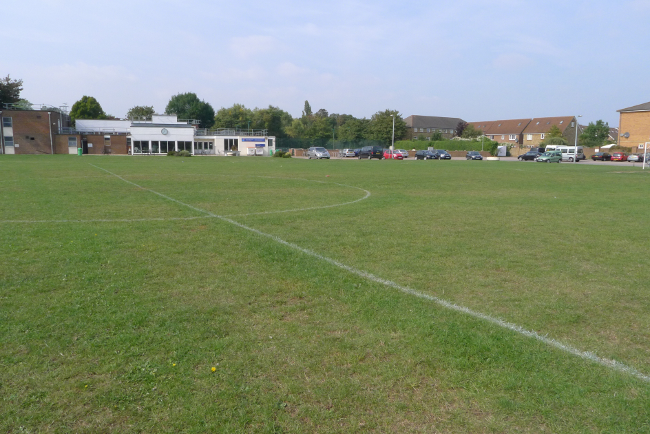 Home of the Harrier now homes and sport, site of the Ham Factory. Credit: Gavin Clarke
Today, Richmond Road would have been turned into urban dwellings. At least the façade might have been retained, like at Canbury Park Road.
Like the factories, Sopwith and his team are gone, too. Harry Hawker died in a plane crash in 1921, Sigrist passed away in 1956 and Sydney Camm – knighted for his services to the nation's defence, like Sopwith - passed away in 1966.
Sopwith outlasted them all, dying in 1989. He retired from day-to-day business in 1963 and became board chairman. He was still there aged 90 and then made president for life of British Aerospace. BAe pulled out of the town where he'd started a few years after he passed and the wrecking balls flew.
We're at the end of our solo flight. Your best bet is to loop back to Kingston for refreshments and – if you want – shopping. There's a cinema and theatre, too, if you want to linger, and lots of riverside bars and cafes.
My advice? Go riverside, near the theatre and where cheeky swans bob about waiting for passers-by to throw them pieces of bread, and reflect: reflect on the boat building business that helped lure Sopwith to Kingston, turning this rural market town into an industrial powerhouse. ®
GPS
Skating rink
51.413165, -0.299371
The Island and Siddeley House
51.413001, -0.298608
Post Code
KT2 6LX
Richmond Road (YMCA Hawker Center)
51.427225, -0.308873
Post code
KT2 5BH
Getting there
By train: Between 30-40 minutes from London Waterloo to Kingston upon Thames, then a short walk from station. Bus: No. 65 bus from Kingston station, stop T towards Ealing Broadway and get off at Tudor Drive.
Other resources
Kingston Museum and Heritage Services