Adorkable, photobomb, overshare, Tinder. What do these words have in common? Apart from being ridiculous portmanteaus and brand names that have made their way into common usage, they're also words that will feature in this year's new dictionaries.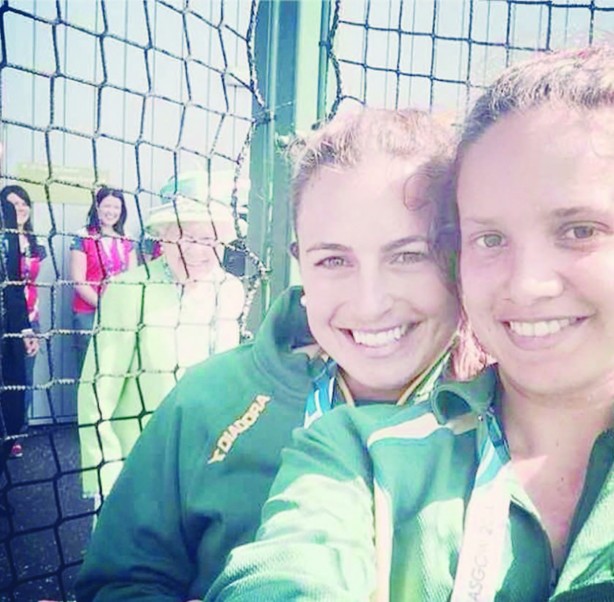 The Queen accidentally photobombs the selfie of Aussie hockey team players Jayde Taylor and Anna Flanagan at the Commonwealth Games
A whole raft of ridiculous new words will be included in the Collins and Chambers dictionaries' new editions this year and a few of them have made the cut for words of the year.
Collins reckons "photobomb" – "to intrude into the background of a photograph without the subject's knowledge" is the top pick for 2014. The word was first used in 2008 but has gone mainstream after famous examples like the Queen unwittingly photobombing the Aussie hockey team at the Commonwealth Games, Benedict Cumberbatch purposely dropping in on U2's photo-op at the Oscars and the many, many photobombs of Jennifer Lawrence.
Runners-up include "normcore" – "a trend in fashion emphasising the practical and/or ordinary", Tinder for the dating app and "bakeoff" for a baking competition.
Meanwhile, Chambers reckons "overshare" – the subtle yet devastating putdown for a post online, is the top word this year. Usually used to condemn excessive relationship pics and updates on Facebook or endless tweets about the faecal matter of one's offspring, "overshare" topped a list at Chambers that also included "bashtag" – "a hashtag used for critical or abusive comments" and "digital native" for someone who's used computers since they were a child.
Chambers was forced to redefine the word "hipster" for this year's edition of its dictionary, from "a person who knows and appreciates up-to-date jazz; a member of the beat generation, 1950s and early 1960s" to "a member of the generation born in the 1980-90s who look down on their native middle-class culture, and self-consciously adopt a bohemian lifestyle and mode of dress".
Other words included in this year's Collins Dictionary include "adorkable" for "socially inept or unfashionable in a charming or endearing way", "al desko" for eating lunch at your desk at work and "textonym" – "one of two or more words that can be generated by pressing the same key combinations on a mobile, e.g. kiss and lips".