Rackspace launches big red rack eater
RackConnect 3.0 release gives Rackspace a much better hybrid cloud story
---
Rackspace has flicked the switch on the third version of its RackConnect hybrid cloud-maker.
RackConnect is the company's tool to marry dedicated hosting and the public cloud. The idea is that you might have some of your own kit in a data centre or dedicated boxen in a public cloud, plus some public cloud instances running in a multi-tenant "you'll never know what server this is on" mode. RackConnect lets you manage them as one, or have RackSpace do so. All while having the chance to use the elasticity on the multi-tenant side of the equation.
Here's how RackSpace illustrates the product's workings.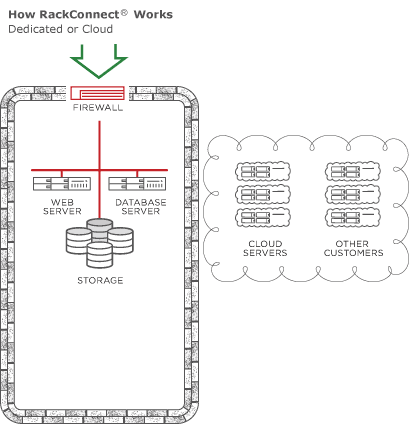 Turn this jolly .GIF into a meme. We dare you.
The enhancements to RackConnect 3.0 are said to make such scenarios simpler, especially thanks to a new feature that connects cloud networks to hosted networks. Rackspace says there's also a new API that lets users "seamlessly add and remove cloud servers from your load balancer pools, add and remove public IP addresses from your cloud servers, and list the cloud networks associated with your RackConnect configuration." You also get the chance to provision new cloud servers from within the tool.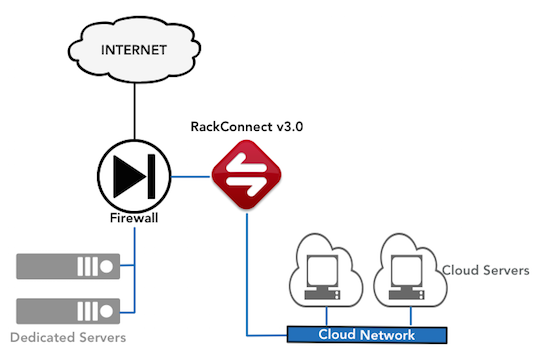 Where the bits flow in RackConnect three-point-oh
Automation has been improved in many ways, as one would expect for a service last updated in November 2011, and networking is also rather more nuanced.
RackConnect 3.0 went live on Thursday. Those using RackConnect 2.0 are free to continue doing so, but no new customers for version 2.0 will be allowed. Upgrades from 2.0 to 3.0 are possible and Rackspace says it will explain how in the next few weeks.
Rackspace is clearly changing: the company knows it cannot outspend AWS, Google or Microsoft so will struggle to win on scale or price. It also lacks the latter's – and VMware's - ability to leverage on-premises software to encourage users into hybrid clouds.
RackConnect 3.0 looks a decent effort to offer a hybrid alternative, and with the new version scaling up to 2,500 servers – if your network boxen can take that much traffic – it gives Rackspace a considerably improved hybrid cloud story just as the concept is gaining serious traction. ®