This article is more than 1 year old
Activist investors force Riverbed into climbdown over cash 'n' costs
Bad news for the stronghold firms
Comment Another one bites the dust as activist investor Elliott Management forces networking biz Riverbed into a strategic review of its options.
Despite announcing good second and third quarter results with increasing revenues and profits, Riverbed has had to bow to activist investors' concerns about shareholder value by initiating a restructuring plan so as to reduce annual costs by $20m to $25m.
Riverbed is also undertaking a review of strategic and financial alternatives "to enhance shareholder value." The restructuring plan is due to be completed by the end of the year.
This is in response to a somewhat audacious, unsolicited and unwanted $3.1bn bid for the firm by Elliott Management, the same activist investor pursuing EMC to break up its federation.
The restructuring plan should improve annual operating margins by one to two per cent. Jerry Kennelly, the beleaguered firm's CEO and president, talked of improving cost structure to drive enhanced operating performance. It means streamlining sales and marketing and up to 100 job losses.
That's the minor part of the news really, with the strategic review opening the door to a company sale or asset sell-off or acquisition. There is no set timetable for this and Riverbed isn't actually committed to doing anything. But the momentum is with Riverbed reacting and being forced to fight on Elliott's battlefield.
We at Vulture Central think it most unlikely that the review will conclude there is no need for change, not unless Kennelly is playing a devious, time-consuming game during which he'll get the share price up by developing Riverbed's products, marketing and sales.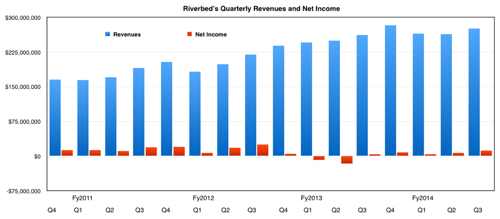 Riverbed GAAP quarterly revenue and net income results
The third quarter results were, on their own, fine but undramatic. Revenues of $276m were five per cent higher than a year ago and also than the second 2014 quarter. Profits of $11.5m, a lowish 4.2 per cent of revenues, were 202 per cent more than a year ago, and 69 per cent better then the preceding quarter, so showing solid improvements. But profits used to be between six and 11 per cent of revenues, so there is a way to go.
The macro problem facing Riverbed is that WAN optimisation, the Steelhead business, is a mature market and location-independent computing, faster access to apps executing remotely or Application Delivery Control (ADC), isn't delivering the revenue growth goods.
Meanwhile cloud storage gateway providers like Panzura are offering strong competition and Riverbed needs to come up with dramatically better and different technology to get the growth rocket firing strongly again.
Some Riverbed product lines are doing well, with William Blair analyst Jason Ader noting: "SteelFusion (formerly Granite) once again generated revenue growth in excess of 100 per cent (revenue in the eight-figures), while SteelCentral (formerly Cascade plus OPNET) grew 21 per cent year-over-year, suggesting some traction for the beleaguered OPNET acquisition."
The Federal business was strong. Yet these bright lights didn't overcome the dimness elsewhere.
Ader says Riverbed management is seeing potential growth prospects lowered by "lower-than-expected growth in the company's WAN optimisation and virtual ADC businesses, noting specific sluggishness in WAN optimisation sales in developed markets (e.g., United States, United Kingdom, and Australia)."
Also: "Fourth-quarter guidance came in below the Street, with revenue expected in the range of $285m to $290m (Street estimate of $299m)" meaning lower growth prospects; all grist to Elliott's shareholder value-based complaint.
Ader judges Riverbed's situation like this: "With diversification efforts showing mixed progress and WAN optimisation secularly challenged, it is becoming increasingly difficult to attach a "growth" label to Riverbed's business."
Ouch. He is projecting only 1 per cent sales growth in 2015, hence the caving in to Elliott's demands.
Riverbed management is in a low-growth hole and can't find a way out, which must leave a sour taste on Kennelly's tongue. Who after all, likes the idea of being harried and chased out of their company by short-term focus activist investors?
What will happen in Ader's view? "We view a private equity takeout as the most likely outcome for the company at this point, as Riverbed holds a set of high-quality assets at differing levels of maturity, and maintains healthy profitability and cash flow."
Game over? Not yet but things should be clearer, we think, by the middle of next year. ®